The evidence is pretty compelling. Whether your kids are growing up to be actors or farmers, physicians or plumbers, their jobs are going to require a level of technical proficiency. But, according to code.org and the Information Technology and Innovation Foundation, only 10% of US schools offer computer programming classes. There are currently more than 600,000 open job positions requiring computing skills, but our schools graduated only 42,000 computer science majors last year. Obviously there's an opportunity here.
Casting a pragmatic eye on the situation, the same parents that force-feed music, dance and sports lessons on their offspring are now looking at coding as the talent of the future, talent worth fostering. Code.org is a good source for local courses. Websites like award-winning The Foos and Tynker offer online lessons and gaming adventures in coding. Both are good starts for kids with a natural affinity for screens.
The toy industry's approach is interesting because it melds the physical with the digital, providing a less abstract way to gain coding skills. The toy alternatives give kids something to manipulate offering a cross between coding and building. Don't expect these toys as a guarantee that you're raising the next Bill Gates, but they do a nice job of spiking curiosity about the connection between building and coding.
Fisher Price's Code-A-Pillar was a highlight at this year's Toy Fair, touted as being the coding entrée for the toddler generation. You build the caterpillar out of interchangeable USB connected pods. Each pod has its own embedded logic to do something - propel the caterpillar forward or back, make noise and more. Kids as young as three can piece these plugins together to make the Code-A-Pillar perform. There's no writing code per se, but kids will get the cause and effect of ordering these modules and watching what happens. Code-A-Pillar will be on store shelves soon. Cost $50.

Primo Toys also caters to the youngest circuit builders by combining the traditional puzzle with some circuitry knowledge with Cubetto by plugging circuitry units into the puzzle spaces. These British made puzzle boxes will be available this spring.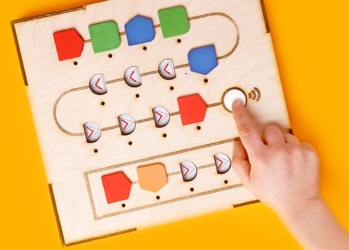 Another coding game that fosters young engineers-in-waiting is MakerBloks. Think of them as magnetized dominoes. Each block has its own function including music, circuitry and cameras. One unique feature of MakerBloks is the storytelling element. Each project has an accompanying storybook app. I read a story that helped a policeman put together his siren by reading the story and attaching the blocks as instructed. MakerBloks is beautifully packaged with a set of 26 blocks and is expected to launch this summer for over $100.
For a slightly older crowd with a more hacker-like sensibility (the home page is built as a wiki), mCookie also uses snap together programmable blocks to build things. Each block looks strikingly like a LEGO, but contain microduino chips that are each assigned a functionality. You stack the pieces into place to create projects that include drones, robots, GPS trackers, communication devices and more. An online community houses tutorials and ideas for creation. You're encouraged to write own code or use snippets and modules available as you learn by creating variations on the theme. The basic kit containing, battery, USB, Bluetooth and sensor hub and some simple sensors for buzzers and microphone, is $99. Advanced kits contain even more sensors and there's even a family kit available for family-oriented projects.
Another variation on the theme of building uses a physical grid where you can design your own video game. Bloxels provides a game board made of plastic squares where you insert colored blocks to create a pixel-like image. Using a smartphone to capture the image along with your Bloxel app, what you build in real life is cleverly translated into pixels on a screen. The app is smart enough to assign functionality to these screen creations, allowing you to add things like characters, land, water and more. $50 from Pixel Press Technology.
Also for the 10+ crowd is CodeGamer due out this fall from Thames & Kosmos ($150). It uses a game controller as the center of an experience where you plug in one of four sensorbots. The sensors include temperature, sound level and light teaching you about creating video games as you play.
Code Master from Thinkfun is a board game that fosters programming skills-- no computer required. The game has a backstory starring avatars and saving crystals as you chart your way through logic diagrams on the game board. The game costs only $20 and since there's only one correct sequence to get you through your challenge, you learn programming like if and then, looping and more. But the game can be tedious since it relies on numerous instruction sources and printed materials. This spring, ThinkFun introduces Circuit Maze a more tangible game that electrifies logic puzzles but still keeps the price to a low. $40.
Coding Through Robots and Droning
Still in Kickstarter mode, Codrone from RoboLink mashes up a programmable module with a drone. Not available yet ($119), but it can be pre-ordered on the website. The idea is to program your drone to follow you along or fly in patterns. The company has already created a programmable robot called Kamibot, the drone takes the same premise to the air.

WowWee's new COJI robot teaches you to code using emojis (hence the name coding + emojis). COJI is a robot you control from a smartphone app but app is made of emoji commands instead of word commands. Kids can play games with emojis, sent from their phone, that will appear on the COJI robot's LCD head. The robot is also responsive to real world tilting and shaking making it fun even for those without a smartphone in hand.
Old Favs in New Coded Clothes
Nancy Drew, as any mom will tell you, is the original "It girl" of logical deduction. She's back as an app that's aptly named Codes and Clues. This time Nancy Drew teaches programming skills while she solves a mystery about a missing science fair project at school. In six chapters, young girls are introduced to basic if/then and/or programming sequences while they're solving the mystery. The app ships later this spring.
The Benefits of Toys that Code
Blending the worlds of coders and builders is an important step to create the link between engineering and coding that's been lacking. Don't count on these toys as your guarantee that you'll be raising the next Bill Gates. And they will be on the pricey side. But as the demands for these skills in the workplace continues to grow, playing is a great way to fulfill them.
Robin Raskin is founder of Living in Digital Times (LIDT), a team of technophiles who bring together top experts and the latest innovations that intersect lifestyle and technology. LIDT produces conferences and expos at CES and throughout the year focusing on how technology enhances every aspect of our lives through the eyes of today's digital consumer.
Related
Popular in the Community