How do private equity firms assure investors that they really do get up every day and work hard to deliver great returns? Part of the answer is by showing that they really do get up (exceedingly early in some cases) and go to work.
At a 2012 investor conference, private equity giant TPG, which manages about $65 billion, showed a video documenting a day in the life of the firm to the audience of pension fund managers and other large, institutional investors. " The video is set to the chords of Coldplay's "Viva La Vida" and zooms around to TPG's global offices.
The video, which has not previously been made public and was obtained by The Huffington Post, tries hard to make that day seem like an ostentatiously unglamorous, elite, ultra-competent corporate mission where value is delivered to investors with a smile.
It's a lot of clearly sleep-deprived middle-aged men taking video selfies. Mainly, they ride in cabs, go to meetings, dial into conference calls at absurd hours and walk through airports. It's enthralling to think that the people who made this video think it's enthralling.
We hear a groggy voice saying "time to go to work" as the alarm clock shows 3:48 a.m.
"Day in the life?" one TPG employee asks a colleague as they ride in a cab. "Day in the life: on the way to a meeting," the other replies, with a combination of sincere pride and, as his voice trails off and the camera cuts away, weary resignation.
"I'm on a flight to Cleveland, about to make a presentation," says another TPG employee in another scene. Now that is a day in the life of a private equity dealmaker.
"Hi, I'm Dick Boyce," says the firm's head of operations from the back of a town car. The camera turns to the the seat next to him, as a familiar face says, "Hi, I'm Mitt Romney, I'm a friend of Dick Boyce's." Romney sounds more genuinely excited about their friendship than he ever did about running for president -- which he was doing at that precise moment, in fact. "We are TPG," Boyce says, with Romney just in the frame.
Another part of a day in the life of a private equity executive: dealing with all the money you've made. Because when you're worth $2.1 billion, like Jim Coulter, TPG's co-founder and CEO, figuring out what to do with your money becomes a job in and of itself. Sure, you can, like Coulter did, throw a big 50th birthday party where Alice Waters cooks, and the Eagles, John Mayer and an ABBA tribute band are booked as entertainment. But that's really just playing within the margins.
The day-to-day job of managing and giving away your fortune requires diligence and organization. Of course, you don't do the job alone. You have staff and your staff needs structure.
So, according to a TPG spokesman, when Coulter was mulling creating a family office to manage and donate his wealth, he did the common-sense thing and asked someone else for their thoughts. In response, Coulter got a PowerPoint deck, also obtained by HuffPost.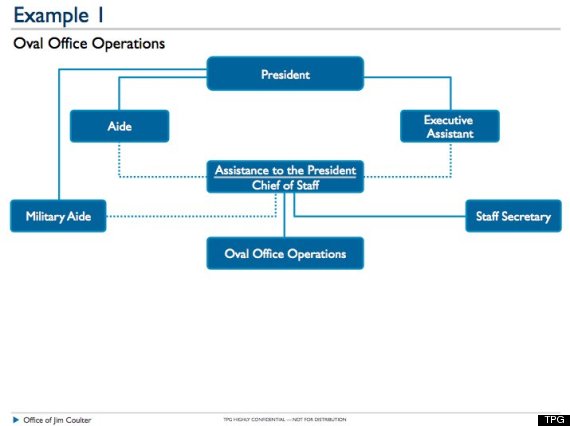 The creator of the slides drew up ideas ranging from a "flat organization" to a "tiered support structure" to examples modeled after the Oval Office, Bill Gates' staff and the office of J. Crew CEO Mickey Drexler.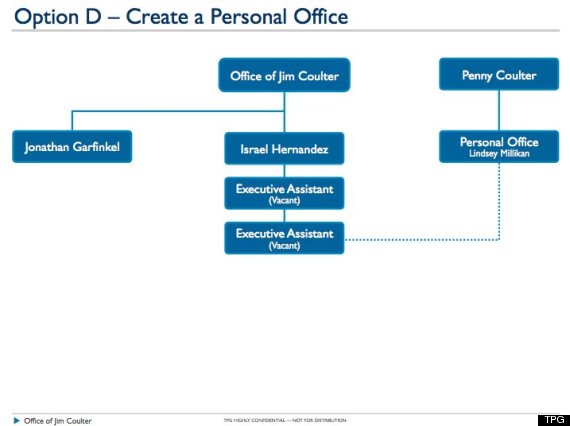 It's a problem unique to the extremely wealthy or powerful. You ask for someone to think about something, and -- especially if you're known in the industry by the name "Mr. Optionality" -- they respond with what in many ways is the opposite of real thought: a PowerPoint deck.
Mr. Optionality, the spokesman said, chose none of these options.
Shahien Nasiripour contributed additional reporting.
REAL LIFE. REAL NEWS. REAL VOICES.
Help us tell more of the stories that matter from voices that too often remain unheard.
BEFORE YOU GO
PHOTO GALLERY
Aging in Office