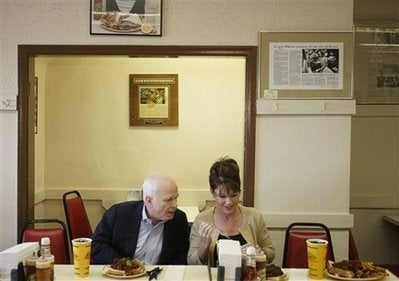 I spent most of the day today traveling and then giving a talk up at Union College a few hours north of New York City. So I was offline most of the day. And though I heard about Charlie Gibson bagging the first interview with Sarah Palin, I was eager to get home and read the details.
Well, now I've read them. And it's pretty clear this farce is going to be close to unwatchable. Set aside that this comes just on the heels of McCain campaign manager Rick Davis saying Palin would not sit for any interviews "until the point in time when she'll be treated with respect and deference." The tell comes high up in the AP story by David Bauder. The second graf reads ...
Palin will sit down for multiple interviews with Gibson in Alaska over two days, most likely Thursday and Friday, said McCain adviser Mark Salter.
Political interviews are never done like this. Because it makes the questioning entirely at the discretion of the person being interviewed and their handlers. The interviewer has to be on their best behavior, at least until the last of the 'multiple interviews' because otherwise the subsequent sittings just won't happen. For a political journalist to agree to such terms amounts to a form of self-gelding. The only interviews that are done this way are lifestyle and celebrity interviews. And it's pretty clear that that is what this will be.
REAL LIFE. REAL NEWS. REAL VOICES.
Help us tell more of the stories that matter from voices that too often remain unheard.
Read more on Talking Points Memo