In a new line of attack against the Trans-Pacific Partnership trade deal, the AFL-CIO and the United Steelworkers union released an online video ad on Wednesday focused on the impact of manufacturing job losses on African-Americans in cities like Baltimore.
The ad, titled "American Refugee," features Mike Lewis, who worked as a crane operator at the Sparrows Point steel plant outside Baltimore for 32 years. Lewis, who is African-American, was among 2,100 workers laid off when the plant closed in August 2012.
In the video, Lewis blames U.S. trade policies for the erosion of Baltimore's manufacturing base, echoing the longstanding complaints of labor unions and other advocacy groups. "The person that you are looking at now considers himself a refugee of our failed trade policies," Lewis says. He then invites President Barack Obama to visit the empty industrial areas at Sparrows Point and explain to the laid-off workers how the TPP will benefit them.
The ad campaign will target U.S. House members who are undecided on the upcoming vote to give Obama fast-track authority on trade, according to an AFL-CIO spokesperson.
The fast-track bill would force Congress to vote on the pending TPP with 11 other Pacific Rim nations -- and other trade deals over the next six years -- without offering amendments or launching filibusters. The legislation may come up for a vote in the House as early as Friday.
In the middle of the 20th century, Baltimore was a hub for manufacturing and shipping, vital sources of middle class jobs in the city and surrounding areas. The Sparrows Point steel plant alone had more than 30,000 workers in 1957 and still employed 17,000 when Lewis began working there in 1979.
But beginning in the 1970s, manufacturing began to decline in Baltimore and many other U.S. cities. By 2000, Baltimore had lost over 73,000 manufacturing jobs.
While the decline of manufacturing affected residents of all races -- a fact famously depicted in the second season of HBO's TV series "The Wire" -- it had a disproportionate impact on Baltimore's black population. Many of them had moved there during the Great Migration to find work and escape the South's more-institutionalized racism. As the Baltimore Sun reported in a profile of Sparrows Point's laid-off workers, Lewis' father and great-uncle moved to Baltimore from North Carolina in 1927 and found work at the plant. From 1970 to 2010, as the city hemorrhaged industrial jobs, the employment rate among the city's black men dropped from 72.8 percent to 57.5 percent. Nationwide, only 8.6 percent of African-Americans were employed in manufacturing by 2013, according to U.S. Census data.
Many observers noted the lasting impact of industrial job losses on the African-American community when Baltimore erupted in sometimes violent unrest in late April after the death of Freddie Gray in police custody.
The degree to which trade deals can be blamed for all this is a matter of debate. But even proponents of trade agreements acknowledge that increasing U.S. commerce with countries that have lower labor and environmental standards often leads to lost jobs in the United States. The nonprofit Economic Policy Institute estimates that NAFTA has eliminated over 700,000 U.S. jobs and that trade with China since that country entered the World Trade Organization has resulted in 3.2 million lost jobs.
Yet Obama has called the TPP "the most progressive" trade deal in U.S. history. "I would not be putting this forward if I was not absolutely certain that this was gonna be good for American workers," he said.
Baltimore Mayor Stephanie Rawlings-Blake (D) is one of a number of Democratic big-city mayors whose endorsement of the trade deal was solicited, and subsequently touted, by the Obama administration.
This article has been updated to include the mayor's support for the trade deal.
Before You Go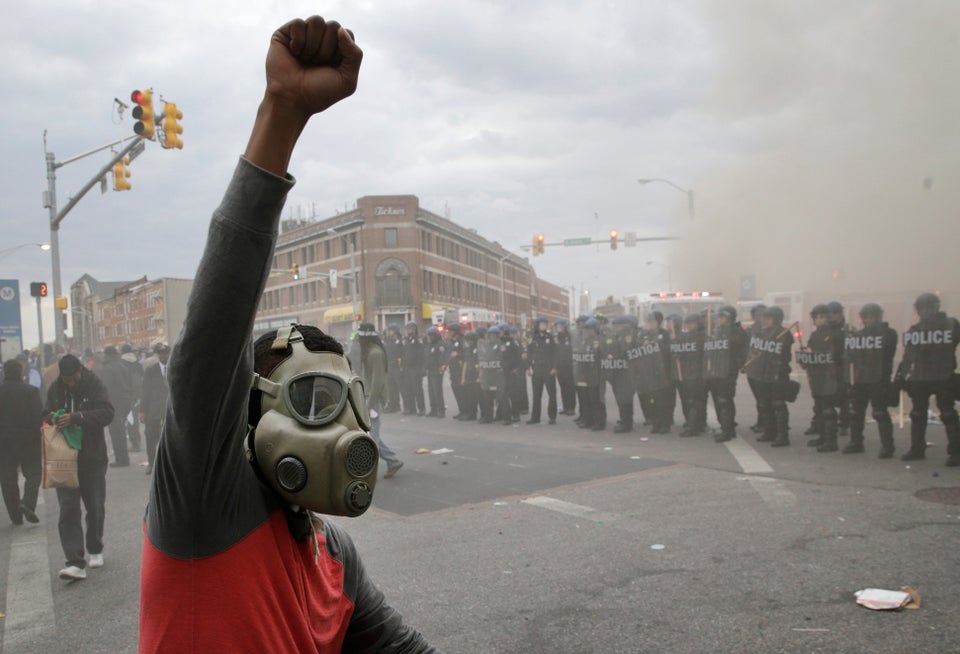 Baltimore Protests
Popular in the Community