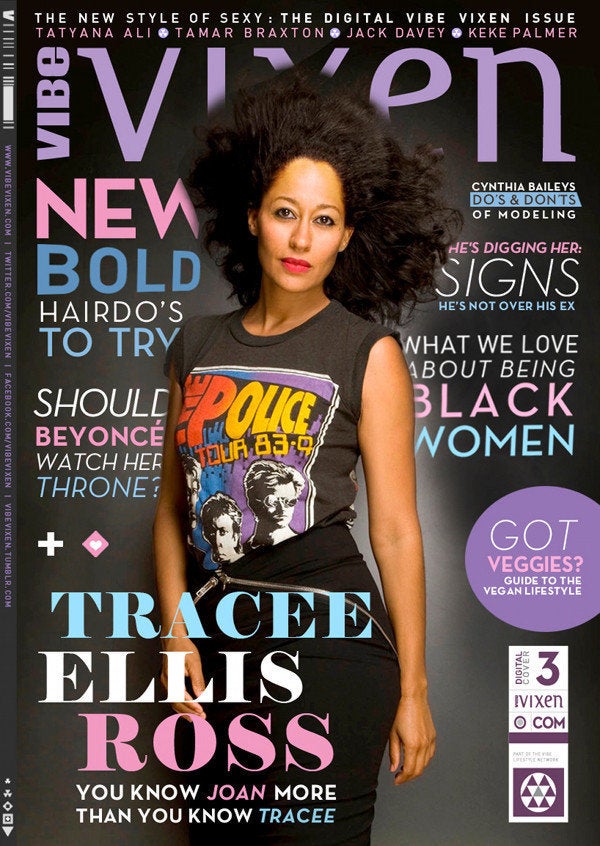 We simply adore Tracee Ellis Ross for so many reasons. She is an incredible actress, talented producer, has enviable personal style, and we can't get enough of her fabulous hair.
Here are a few excerpts from the cover story...
On both producing and starring on "Reed Between The Lines":
I wouldn't say difficult, but it's definitely makes for a long day. But it is the kind of full plate that I adore. I adore this kind of work and it's very rewarding. The producer role very much plays into the kind of person I am. In the evolution of my career it is a really exciting step for me because I am the kind of creative person that has a real opinion about the kind of images that I want to portray and want in the public in general. So having a seat at the table with the many voices that is part of the collaborative art of television is really and exciting and wonderful for me.
On making the distinction between Joan from "Girlfriends" and Carla from "Reed Between The Lines":

The way I went about Joan and Carla is I always ask myself who this woman is. Every once in a while people say Carla is so much like Joan, and I'm like, 'People, Tracee plays both people.' So what you're seeing that's the same between Carla and Joan is not Carla being like Joan, but it's Tracee. Tracee was Joan and Tracee is Carla. It's so funny people don't understand that, it makes me laugh.
On "The Cosby Show" comparisons:
For some people, it's a great context to know what the show might be, and for some people, it makes it hard because you're comparing it to something that you have such a clear idea of. BET seems to be promoting it as the new Cosby, which I don't think it helpful, and I don't think makes sense.

The way Malcolm [Jamal Warner] and I have been describing it is that we are in no way, shape or form trying to be a new "Cosby Show." What we are doing is taking the recipe of what Cosby did, which was a family show that was timeless and good, and use those elements.
You can read the entire interview at VibeVixen.com on December 19. In the meantime, check out Tracee's rock star inspired cover and a few of her most stylish looks.
Calling all HuffPost superfans!
Sign up for membership to become a founding member and help shape HuffPost's next chapter