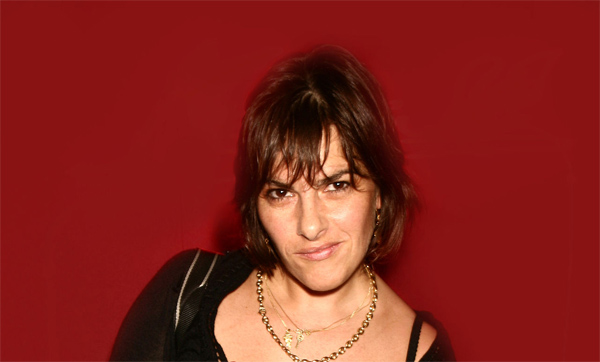 The seaside town of Margate in England is not exactly the most fashionable of destinations but the return of the troubled resort's most famous daughter, artist Tracey Emin — recently appointed as the local torch bearer for the Olympics — heralds a sunnier future for Emin's place of birth. Amid boarded up guesthouses and dreary cafés lies a handsome and slightly out of place building, Turner Contemporary, the town's recently opened gallery designed by the progressive architect, David Chipperfield. The museum, which over the past year has attracted a staggering half a million visitors, is another reason why Margate is in the headlines. Emin, who has returned to open her first show at the gallery pays homage to her beloved hometown in her exhibition, "She Lay Down Deep Beneath The Sea."
Dispensing with any seething, man-hating undercurrents, Emin here displays a much calmer, much more serene sensibility, befitting Turner Contemporary's glorious location on the seafront. Emin has created fresh pieces for the exhibition in palettes of blue and white that lend the exhibition a sense of tranquillity and coming to terms -- with herself and with her hometown. While her previous work referenced Margate in a somewhat harrowing light (after all, this is where she was raped and experienced trauma), here, she meditates instead on all the good memories about the town with a hint of nostalgia. From "Nothing is Real," a turquoise neon of a reclining nude to female bodies embroidered on white calico, Emin's works are emotional, beautiful and devoid of any anger or resentment. It's a new phase for Emin and one which admirers will surely welcome.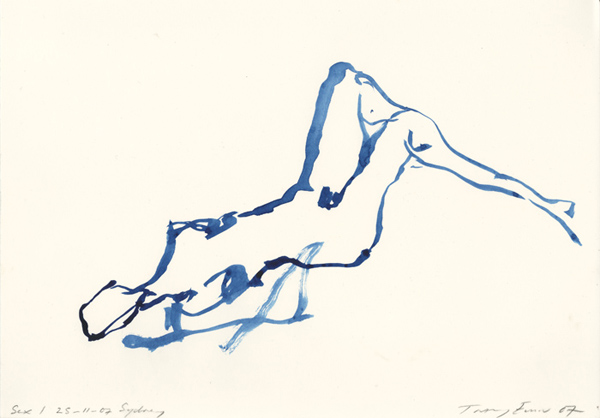 We talk to the artist below about her relationship with her hometown, why art can be a cathartic experience and how writing and fellow artist Sarah Lucas saved her.
Can you tell us a little bit about the exhibition, and how it is different from your recent Hayward Gallery show?

My Hayward show last year was a survey show of works over the last 25 years whereas this is all new work, all new work that's been made in the last year, specifically for this show. Very few museums ever have an artist doing a solo show with work that is all new. And that's what makes this show very different from a lot of others.
What was it like growing up in Margate?
Growing up in the Seventies in Margate was actually quite exciting. It wasn't all bad, I promise you. First of all, on days like this, what better place to grow up when you're a child? It was really fantastic. I wasn't that happy as a child, that was my problem, that wasn't Margate's problem, that was my problem. I became sexually promiscuous when I was around 13, so I grew up very quick and very sharp. By the time I was 15, I left Margate. So my memories of Margate are a mixture of a kind of romanticism, a backdrop to growing up. Margate has given me a lot. It is not negative. It's not all negative, it really isn't. A lot of my early works were all based on my experiences growing up here. I was lucky because of that. A lot of artists don't have that richness, which they can work from. I was lucky to have this sort of gritty, strange, hardcore place which I grew up in, which at the same time was very evocative and very beautiful. So there was a kind of contradiction to it, which is exciting, and as an artist, that's an interesting phenomena.
You're not shy about broaching topics and issue that are private to you. Do you find art as a sort of therapy?
I think art is a cathartic thing for lots of people, whether people make it or not, for people viewing it. When I saw my first Rothko painting at the Tate, the pink and yellow one, I sat down and started crying. I didn't understand why I was crying. I didn't know anything about Rothko. I didn't know that he'd committed suicide. I just felt these things emanating from this painting. I could feel it. Art works in lots of different ways for lots of different people.
In the early 90s, you stopped making art. When you met artist Sarah Lucas, you started making art again. Can you tell us a little bit about her influence on you?
I stopped making art for a couple of years. I had two abortions, one after the other, and I realised that I couldn't make art anymore because I was feeling too much of a failure within society. I was also probably feeling quite mentally ill because of that experience. And I couldn't justify creating and making things when I just had an abortion. I couldn't balance the things up in my head. For a couple of years, I didn't make any art but I did write. And it was that time that I met Sarah Lucas, and Sarah encouraged me to make things again.
You once said that you don't consider yourself to be the best visual artist. What are your thoughts on that?
There's more to being a visual artist than just how things look. There's got to be an integrity there. There's got to be a feeling there. It can't be about how things look. So I don't care if I'm not the best visual artist in the world; that isn't my job.
Correction: In an earlier version of this post, we listed the town, rather than Emin, and the torch bearer for the Olympics, which makes absolutely no sense. We regret the error.
Popular in the Community