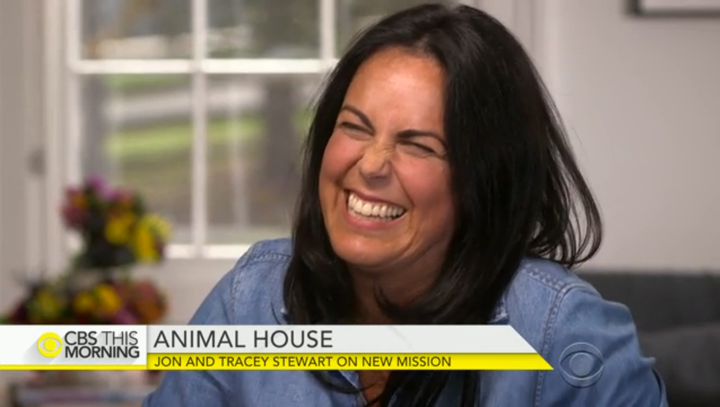 How sweet it is for Tracey Stewart to finally have more time relaxing with her husband, Jon, who retired in August after 16 years hosting The Daily Show with Jon Stewart. The hugely popular Comedy Central program tackled (with a generous dose of satire) everything from politics and world events to environmental issues and animal welfare.
Jon loved the work, the people and the laughs. But his days were long and exhausting, says Tracey, who jokingly asked him one morning soon after retirement when he had to leave for work. "He looked up in horror at me," she says, "and then we just started laughing."
But while Jon was busy working all those years, Tracey's docket was full, too. She took veterinary technician courses and stayed busy raising their two children, now ages 10 and 11, caring for a menagerie of rescued pets and writing for her website, moomah.com, about how to live better and improve the lives of animals. She recently wrote Do Unto Animals, a richly illustrated and heartwarming book about helping pets, wildlife and farm animals.
Tracey says she loved animals even as a young girl. Later in life, visits to animal shelters reinforced that passion, and her adopted mutt, Enzo, became the encouragement she needed to end an unhealthy relationship. She would later meet and marry Jon. "Had [Enzo] not come into my life," she says, "I wouldn't be on this path that I'm on now."
Jon encouraged her to get a veterinary technician degree, something she'd been pondering for some time. While on a school break, she discovered a book on factory farming by Farm Sanctuary founder Gene Baur. "That book had a profound impact on me," Tracey says, ultimately inspiring her to eliminate animal products from her diet.
Those experiences, along with projects at home with her kids and at a creative arts café she previously owned and operated in New York, became the basis for Tracey's new book. In it, she combines interesting facts about domestic and wild animals with practical advice, personal stories and hands-on projects she's done with her family—like whipping up pet treats, learning how to help injured wildlife, growing a pollinator garden and making jewelry from photographs of their foster pets.
The Stewarts' latest venture is a sanctuary near their New Jersey home for rescued sheep, pigs, horses, cows, chickens and ducks they're adopting from Farm Sanctuary. In this edited interview with HSUS staff writer Ruthanne Johnson, Tracey discusses her book and the deep influence that helping animals has had on her family.
What inspired you to write a book?
I was learning so much about animals and started to think about how I could make something really beautiful and fun that people would enjoy sitting down to read. When I met with the book publisher and rambled off my ideas, she said, "Your life in and of itself is remarkable, what you have been doing for kids." So we formed the book around that idea, of interspersing my own story and the beautiful and impactful experiences we've had as a family.
The book has so many unique projects. Do you have any favorites?
My kids love to massage our pets. We really do it up. We put on the spa music and my daughter does aromatherapy. It's really relaxing for the animals and makes you feel like you're connecting in a more intimate way. And gardening—it's so meditative. Our hamsters, rabbits and guinea pigs get a lot of the vegetables that we grow in our home garden. If there's a hole where wildlife is getting in, we pick some stuff and leave it outside for them and then patch the hole with fencing.
What about Jon's favorite projects?
Jon is such an animal lover. I would never have gotten away with everything I've done had he not been. We have 17 animals at home right now, so he is excited about virtual adoption—anything that puts an animal into a good home, someone else's home. Fortunately, I have a full-time vet tech working with me. She jumps in whenever I need. Otherwise, I would probably never leave the house.
What's virtual adoption?
We pick an animal in the shelter to advocate for. My daughter is really into it. She'll talk about them to family and friends. She'll make posters and T-shirts so that her friends ask about them. With adults, it would take the form of using social media to promote the dog or cat, or using a lunch date or when you drop off the kids to talk about a particular animal.
You write how helping animals nurtures the feeling of selflessness that's critical for developing young minds. Have you seen this with your children?
My kids are just the most compassionate and beautiful people. My daughter wants to be an animal whisperer. She likes the shy ones. She'll sit next to them and wait for them to come up. She's like a little Jane Goodall.
Last year, a boy was being bullied in my son's class. We talked about it, and he wrote a letter to one of the boys who was bullying and put it in his locker, saying, "I feel really badly for him. You are upsetting him, and I would like for you and I to team up and protect him." And it worked. It was incredible. I really think his work helping animals has shown him that he has the power to make a difference.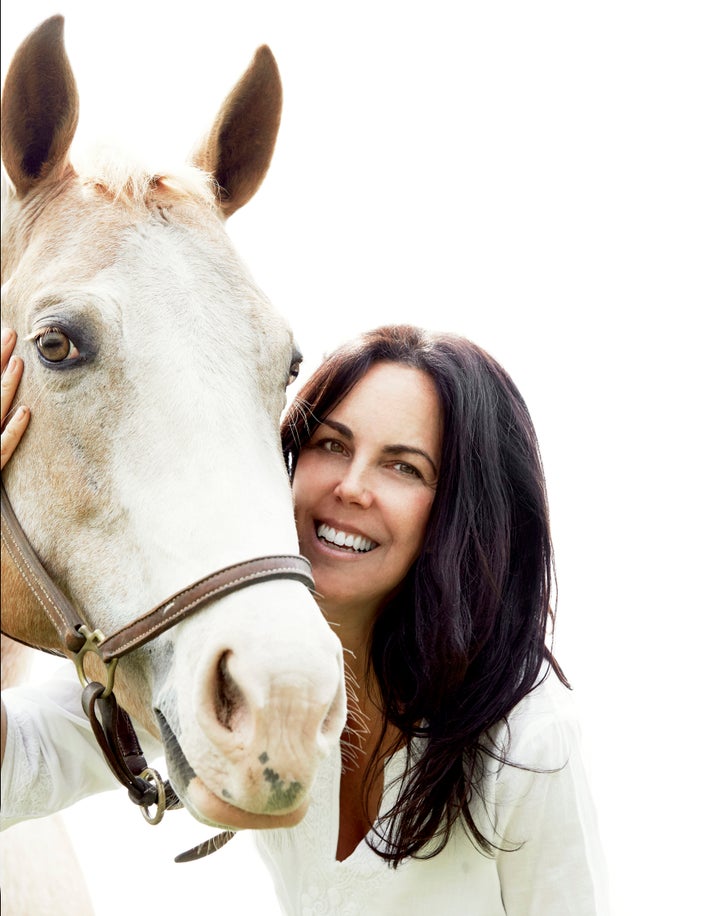 Why did you decide to talk about farm animals in your book?
They're part of our everyday lives, whether we realize it or not. Because we don't get to see them all that often, we forget how much they are giving to us. I feel if we can understand that and spend time with them, we'll start to think differently. And not in a way that would be limiting to our lives but would add abundance.
Did your family's advocacy influence Jon's outspokenness about animal welfare on The Daily Show?
At home, animal welfare is all I talk about. I would like to think it was me who had that kind of influence to have him cover some of those topics on his show. But he had some really great people working for the show. There were lots of animal lovers, and I'm sure they were paying attention.
Do you have favorite segments?
I love the segment about gestation crates: Team Turn Around and Team No Turn Around, where one person was fighting for the pig to turn around and the other person was fighting against it. It just showed how ridiculous the whole thing was. And then I loved when Gene Baur was on. I was backstage with the kids and they saw me fill up with excitement because I felt like I was doing something to make a difference, in a bigger way than I could ever have hoped for. The next day, we started tracking his book Living the Farm Sanctuary Life and it was moving up the best-seller list. The kids were watching this and could see that their dad has impact.
What's next?
We're going to get in shape. We're going to run and eat healthy. At least that's what we say we're going to do. Jon's very excited to run errands. I'll be working on the farm sanctuary, and he'll be trying to keep me from bringing more animals into the house. But really, we're just going to relax and live a little.
For more stories like this, check out All Animals. Also, watch Tracey and Jon Stewart talk about their animal sanctuary in a new interview for CBS This Morning.
Related