Rev. Traci Blackmon, who spoke at a worship service at a local church on Friday and witnessed the white supremacists marching, called out the president for lying.
"Donald Trump is lying," Blackmon told MSNBC host Joy-Ann Reid on Tuesday. "I am telling you that we were in a church, having a worship service. At no point during that service was there even a protest. It was a multifaith worship service in a standing-room-only, capacity-filled church with children, with mothers, with elderly."
Blackmon, who is executive minister of Justice and Witness Ministries of the United Church of Christ, said she didn't hear people quietly marching outside. Those in the church were ordered to stay inside, she said, because of the potential danger posed by those loudly chanting threats from the street.
"Close to the end of our worship service, we received the message that we could not leave the church because a mob was approaching the church with torches," she recalled. "They were chanting, 'Blood and soil.' They were chanting, 'You will not replace us.' They were chanting, 'Jews will not replace us.' They were chanting, 'White lives matter.'"

Blackmon said the people in the church couldn't leave for over 30 minutes. David Straughn, a Charlottesville-based organizer for Black Lives Matter who also attended the event, told HuffPost that they were essentially held hostage.
"Two hundred white nationalists were seen harassing and assaulting college students," Straughn said. "A group were seen approaching the church. No members were allowed to leave and we were held hostage in that church, including Cornel West [who also spoke at the service] and Traci Blackmon. It was like something from the '60s. It was something I had heard about and had never thought I'd witness in my lifetime."
"When we were finally allowed to leave, we were not allowed out of the front door for fear that we would be assaulted," Blackmon told Reid. "We were ushered out the side door and the back into alleys."
"And this president wants to talk about revising history? Read some history. Black people built this country."
Blackmon told Reid that she wept as she saw people "who had exchanged sheets for polos and oxfords. Many of them were wearing the 'Make America Great Again' baseball cap. Holding baseball bats in one arm and torches in the other."
"Yes, they had a permit for the park. They did not have a permit to harm people," she added. "They did not have a permit to throw full bottles of water and full cans of soda and splatter urine on people who did not agree with them."
The group she was with did not engage in any acts of violence, Blackmon said. It was the neo-Nazis who led the violence, she said, while clergy stood peacefully in protest before they were attacked.
"There were clergy standing on the steps to the entrance of the park singing 'This Little Light of Mine.' Neo-Nazi groups burst through them with shields, began to beat them and trample on them," she said.
"We knew that this was going to be violent because we had the flyers that these groups sent out," she added. "Flyers calling for a race war, flyers calling to say we're coming to take back our country. Are you kidding me? And this president wants to talk about revising history? Read some history. Black people built this country."
Blackmon then posed some questions for Trump, wondering when he would even express his sympathy to those hurt the most by the weekend's violence ― including the family of 32-year-old Heather Heyer, who died after a white nationalist drove a car into a crowd of counterprotesters.
″[Trump] has had time now. Has he even taken a moment to call the family of Heather and offer condolences on behalf of this nation? Has he taken a moment to consider the 20 people who were hurt and offer the sympathy of this nation?" she asked. "This is not a leader. And I am ashamed about what is happening in our highest office."
Before You Go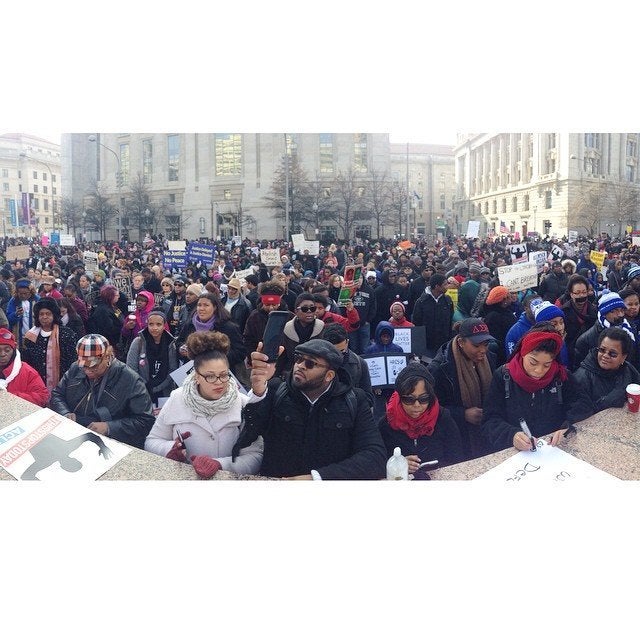 Powerful Black Lives Matter March In Washington
Popular in the Community