UPDATE: A source tells the Huffington Post that Traci Lynn Johnson accompanied Barber to the Olympics in Vancouver where he introduced her as his "assistant."
According to our source, Johnson was "very quiet, very meek, and walked around with a backpack that made her look like she was 17!"
Is a 23-year-old former NBC intern behind Tiki Barber's split from his wife Ginny?
The young and beautiful Traci Lynn Johnson was spotted sitting next to the former New York Giants running back at a screening of a documentary on Senegal that he hosted for the Travel Channel recently.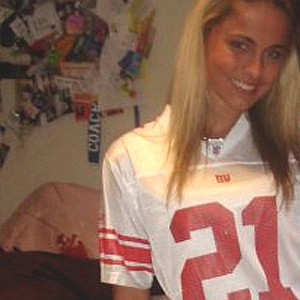 According to the New York Post, Johnson traveled to the African country with Barber last year while Ginny was three months pregnant.
Before this sordid affair, Barber had consistently been known to be a family-first father, and was said to have given up his football career for their sake.
On her MySpace page, Traci Lynn Johnson can be seen photographed wearing a Giants jersey with Tiki's number 21 emblazoned on it.
Ginny, who is now eight months pregnant with twins, remains at their Upper East Side home while Tiki is said to now be living on the Upper West Side.
The sports website SPORTSbyBROOKS has more photos of Barber and Johnson together.
Related
Popular in the Community