I was expecting big, hot and busy when I set off for Beijing. Words failed as soon as I arrived.
Getting into the Chinese capital by train is like trekking through a great urban mountain range. The landscape keeps building and building until you think you've reached the peak only to discover it wasa false summit.
When the train finally stopped and I stepped out of Beijing Railway Station I was hit in the face by a blast of hot air and my eyes suddenly had a billion things to focus on.
Getting my bearings and finding my hostel felt like a daunting task, but I found much to my relief that, unlike Moscow, everything is translated into English, and the transport system is superb.
Everything makes sense, works properly and is beautifully clearly explained to the baffled traveler trying to make their way around.
The Beijing Metro is a genuine pleasure to use, although it's understandably crammed with people.
I found my way to the alley my hostel was on with very little stress which was a big relief in that heat because the sweat on my back was beginning to be slightly offensive even to me.
When I huffed through the front door of the Peking Yard Hostel, the first thing I noticed was the trickling sound from a little water feature in the reception. Then I realised that I had instantly cooled down and a strange feeling of calm had come over me.
The place is so cool and quiet and sheltered you feel like you've just walked into some kind of expensive spa, or botanical gardens, not a youth hostel. The yard out back is a tranquil little spot with trees and benches and there's a beautiful roof terrace for chilling out in the evening.
The other big benefit of the Peking Yard is that it's right in the middle of the Hutongs. This network of narrow alleys covers a big part of the city centre and is in many ways the most intriguing thing about it.
Many of them are centuries old and most have a great story behind them, often told on a plaque at the entrance. There are plenty of Hutongs that have been taken over by canny developers promising tourists the real Hutong experience, who ironically in their efforts to cash in on the charm of these unique lanes have really dumbed it down.

The ones with the flash restaurants, bars and coffee shops feel like a Hutong theme park, but around the Peking Yard the lanes remain wonderfully untouched and you can walk around them - or even better, hire a bicycle for about £2 a day - in among the lives of the people who live there.
If you have even a vague interest people you won't find anywhere in the city centre so compelling.
You'll see ordinary people doing ordinary things - chatting, eating, sleeping, playing, washing, buying, selling and more and more and more - that seem totally extraordinary.
Just keep walking and walking and discreetly looking all around you, and I promise you'll be in a people-watchers' heaven.
It's just bliss to amble lazily around, as that hot air and the smells of Asia drift into your nose. Children run around and play without a care in the world, mothers wash their babies, families sit together and eat, couples walk hand in hand, friends play cards, badminton or anything they feel like and the wise old folk just sit and natter long into the night.
I felt totally at ease in Beijing, especially in the Hutongs. I could have walked around those alleyways for a year and not got bored.
There are plenty of big things to see and do in Beijing. It's a huge modern city, a global epicentre in every sense and the power and energy of the place is staggering.
Of course there's Tian Men square, the Mao Mausoleum, the many temples, the Drum Bell Towers, and if you have enough time you can spend a whole day traveling to the great wall. And all those things are great, of course.
But if you want something a bit different, my advice is spend a few hours walking around the fabulous 798 District.
If you have any interest in art it's a spectacular and frankly very surprising neighbourhood in the Dashanzi district to the north of the city where a series of disused factories and, I thought very appropriately, old railways buildings, have been converted into artists' studios, galleries and fashion houses that would be at home in any major European city.
You could easily spend a whole day walking around all the galleries, and often you can meet the artists themselves, like the charismatic Dr Alex Wu who took me on a private walk and talk through his work and the inspiration behind it.
There's a wonderful old train sitting on a set of tracks outside the disused station known as 751 Factory. It's a sign of China's evolution that this hub of creativity has sprung up, and in many cases the artwork has been allowed an irreverent poke at the communist establishment.
The food in Beijing is wonderful, almost unrecognisable from Chinese food served in the UK. You can get basic meals of noodles and rice from an infinite choice of street cafes and sellers on every available inch of city centre space.
The whole size and density of the place can get to you sometimes, and chill out spots are hard to come by. The guide books will tell you to try Hou Hai, a lake near right on the edge of the Hutongs. It's very nice, and you can get a boat or pedalo out onto the lake, but even this is buzzing with people and it was clearly too good an opportunity to miss for the many restaurants and bars around the edge.
My advice is take a walk down along a little man-made offshoot on the south east corner of the main lake, where relatively few people seem to go and you can stand on little bridges over the water and take a lovely calm moment to smell the lotuses. You can reach it from Dongbuyaqiao Hutong, which itself is one of the untouched lanes in the area.
The only really hard thing about Beijing is the size of it all. You have to be very well organised and I'd say you should double your estimations of how long anything takes.
I left the city from Beijing West Railway Station, which is bigger than the main station in most towns, and just getting there was a good 45 minute slog by taxi through the traffic.
So here I am in the waiting room about to board the train to Guilin, frazzled, the only tourist among a thousand impatient locals escaping the capital, seeing the Hutongs of Beijing every time I close my eyes.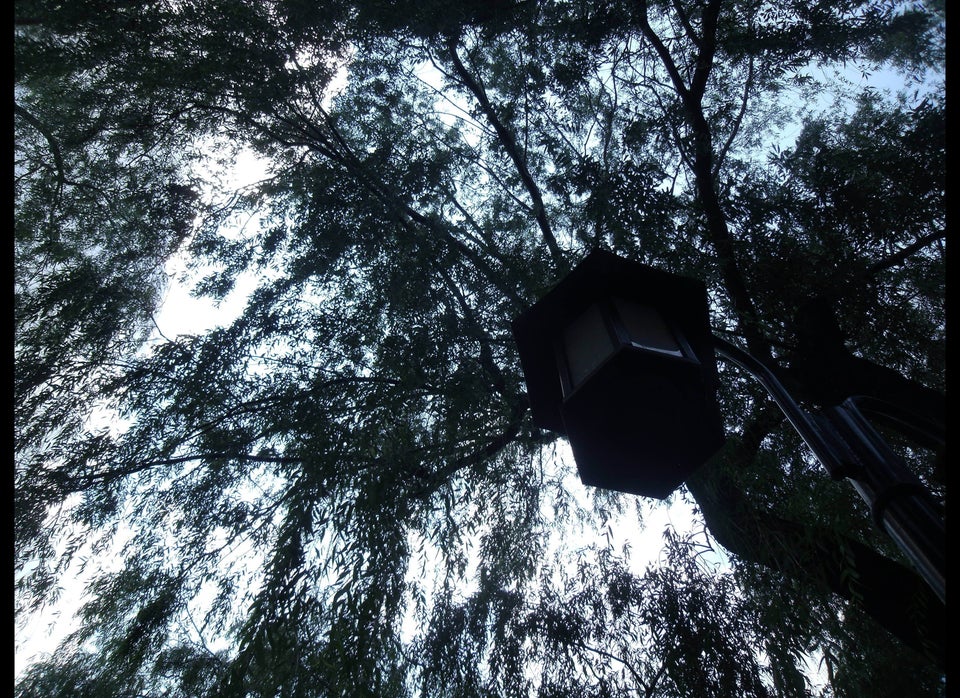 Beijing's Hutongs
Popular in the Community