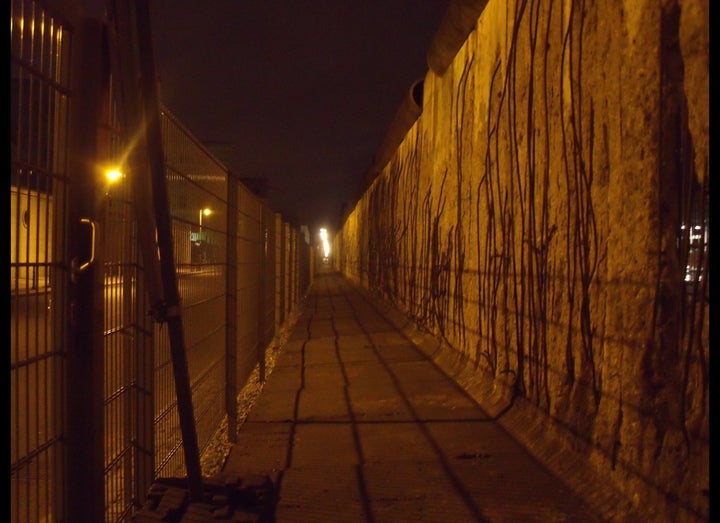 If walking around Paris last week during La Fete de La Musique was like floating through a breezy dream, climbing the dark brutal concrete steps of Tacheles on Berlin's Oranienburger Straße was like reliving a dark and unsettling nightmare.
Wherever you go in Berlin the urban artwork hammers the senses, nowhere more so than this squat that's been turned into one of the world's most unique creative spaces.
Visiting Techeles is a truly unsettling but gripping experience as you make your way in the half darkness and the smell of urine enters your nostrils, unable to see the grey of the walls for the graffiti that covers every square inch of them like spatters of blood.
The artwork in the studios that have been set up on every floor has a grim, aggressive tone.
The canvasses and sculptures are littered with violent military images and anguished faces, as if it was all some terrible physical flashback to Berlin's totalitarian past.
You get the sense that the city is purging itself of all those years of suffering through an explosion of creative energy.
In many ways Tacheles sums up Berlin. It's totally unique, not necessarily the cushiest place you'll ever go and it has a real dark side, but it also somehow manages to be very relaxed, open and inviting.
Anyone can go into the building and walk around for free (although it's nice to give a donation on the door) and the artists don't mind you loitering around them while they work.
But be warned, the rumor is that Tacheles' days are numbered, as the inevitable forces of commercial and reactionary interests gang up against it, so you should visit this unique place while you can.
If you want to do the big tourist things all the major historical and political sights that have survived the last century are open and are fascinating. Like the magnificent Reichstag, the attack on which by communists in 1933 was the pretext Hitler had been waiting for to set in motion the diabolical chain of events that followed. Or the bunker where he finally ended it all after inflicting his awful pain on the world.
I went to the Berlin Wall late at night and I'm very glad I did. In the daytime you can barely move for tourists which makes you feel very disconnected from the experience. At night when it's just you, the looming dark wall and a guard watching you suspiciously, it comes to life and sends your imagination into overdrive.
And that's my advice for the Brandenberg Gate as well if you want a slightly weird experience. You'll have pretty much to yourself if you don't mind a nocturnal wander.
The streets feel very safe and you get to stand underneath the gate, the symbol of Berlin, and stare up with the floodlights casting some brilliantly ominous shadows.
If you want a bit of a trippy walk, try heading for Karl-Marx-Allee, which I suggest doing deliberately starting in the West of the city, through Alexanderplatz (Alex to the locals).
This way you cross through the ghost of the wall into the old Eastern side, and once you're through Alexanderplatz you leave the big mall and shops of the new, consumer friendly Berlin behind and deep into the heart of the old German Democratic Republic.
And just take a good look around as you walk. The wall's gone, yes, but that doesn't mean the osmosis is by any means complete.
The old GDR side has a totally different feel; much starker and less colourful, with straight lines and wide open boulevards flanked by rows of Sovietesque apartment blocks and official looking buildings.
Karl-Marx-Allee itself is pretty impressive, in the same vein, especially when you imagine the parades and processions that were staged along this boulevard, meant to be shows of strength and heralds of the success of communism in the East.
You get to Strausberger Platz which has a bust of Marx in one of the corners. From there you can have a stroll around the few inconspicuous shops, see if you can find the florist with a little section of second hand books in the corner, or stop for a breather in the lovely and delightfully incongruous La Toscana café/restaurant.
And if you're a real Cold War history geek like me, I think you'll love a visit to the Rathaus Schöneberg, where JFK delivered his spine-tingling 'Ich bin ein Berliner' speech at the height of the tensions.
Berlin has been through so much; the scene of so much destruction and pain, but nowadays walking around you don't see evidence of that in the people or the places.
There's a really warm, relaxed air about Berliners and there's plenty to do to have fun. Like spending an evening in White Trash bar, with its stylish low-lit atmosphere and a buzzing live music scene - and tattoos if you fancy getting one done.
And if you want to have a chill after the music you can have a coffee and smoke a hookah in the café next door.
Or take your pick from the pubs and cafes around the Bergmannstrasse, where you'll find far more locals than tourists winding down with a great selection of beers and snacks.
If you get good weather you can hang out on one of the best parks in the city for Berliners', Mauerpark, where the hipsters loaf away their sunny afternoons in the north of the city.
My hostel this time was something truly unique. Set in a listed 1874 building with some very surprising features, the Grand Hostel, is as hip as hostels get and the guys working there really know their city. Ask them for a bit of advice and you'll be given some great tips about Berlin's hottest spots.
I had a good feeling about Berlin as soon as I stepped off the train and gazed up at that stupendous multi-storey station.
The city has a very strong identity and a genuinely arty edge that makes it compelling just to walk around, but it doesn't have any kind of pretentiousness or exclusivity.
I board the Berlin to Warsaw express and prepare to begin another strange chapter. But as I stare out of the window I'm taken back for one last glide through the city.
This time it's from above the streets I walked happily along for hours, on this great magic carpet floating at roof level over Berlin.
I think sadly about how short a time it's been and how I've barely lifted the lid of this truly magnificent place.
We leave behind the city and its outer circle and cut a line straight though a dense, dark forest, moving East towards Poland and deeper into the unknown.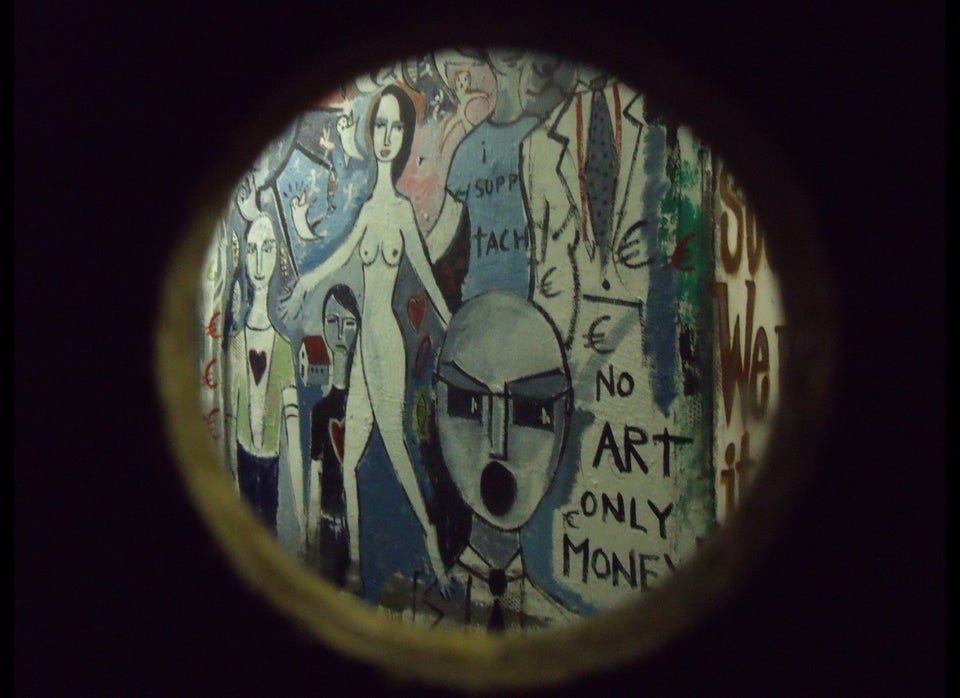 Track Records: History, Brutality and the Last Days of an Artists' Squat in Berlin
Popular in the Community