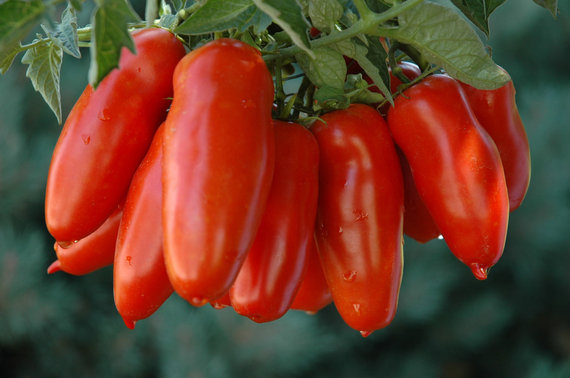 photo: Pbenjay's Blog
Let's suppose, just for a moment, that you feel like trying a somewhat exotic delicacy beyond the flavorful bounty that your local CSA offers, or that you are experimenting with a recipe that calls for a specific product that does not originate in you area... Immediately, you'd be dealing with the puzzling ebb and flow of international food trade.
Once again, illustrator Nicholas Blechman has graced the pages of the New York Times with an infographic meant to help readers navigate the intricacies of the global food chains. This time, ten colorful, green and red panels focus on San Marzano tomatoes, explaining what they are and where they come from, while alerting shoppers that the chance they have been buying fake ones is high.
Blechman is not new to this kind of exposé.
Some time ago, his piece about extra virgin olive oil from Italy divulged how the product bottled in Italy and labeled as Italian may be originating from other Mediterranean countries, namely Greece and Turkey. Worse, other cheaper oils, beta-carotene, and chlorophyll may be mixed with olive oil. Uncovering widespread adulteration, the piece provoked heated reactions in Italy among those extra virgin olive oil producers that stick to the highest quality standards.
In his olive oil infographic, Blechman seemed oblivious to the existence of many DOP (PDO in English, Protected Denomination of Origin) olive oils. Following the European Union legislation, areas of production for PDOs are clearly defined, the varieties included precisely listed, and production methods strictly regulated.
Tackling San Marzano tomatoes, instead, the illustrator has chosen to delve into details to which the American Public usually does not give much thought. Very practically, one panel is dedicated to explain how to recognize San Marzano tomatoes through ID numbers, seals, labels, and the basic rule of thumb that they are "never sold crushed, dices, or pulped."
Quite thoughtfully, the piece points to complex issues in global commerce, in particularly what the Agreement on Trade-Related Aspects of Intellectual Property Rights (TRIPS), one of the World Trade Organization treaties, defines as "geographical indications." Strange as it may seem, these matters fall under intellectual property laws and norms, just like patents and copyright.
Of course, here we are dealing with very different categories of products. But much confusion among consumers derives from the existence of two divergent perspectives on geographical indications, both legal and rooted in long and respected legal traditions. On one hand, there is the European approach, hinted to in Blechman's piece, that considers food and wine products as the outcome of traditions maintained by communities in specific places whose name becomes itself an indicator of quality. On the other hand, the approach embraced by the US and many other countries uses existing mark systems to protect food products, emphasizing the creativity, uniqueness, and entrepreneurship of individual producers rather than traditions and their connections with specific places. In this system, producers like those of San Marzano tomatoes are required to register the name and characteristics of their goods in order to have access to actionable legal protection.
Many producer associations around the world do not have the financial means or the legal savvy to do that, with the result being that in many countries it is permissible to use denominations like "san marzano" for crops grown locally, as long as their provenance is clearly indicated. On other instances, a product not originating in Italy may be sold as "made in Italy," like in the case singled out in the infographic of tomato paste coming from China and packaged in Italy as "Italian."
As Blechman observes, it is up to consumers to know the difference. However, most shoppers do not bother reading labels, including the nutritional ones whose goal is to help them make healthy choices in their daily diets. For many users, it does not really matter if a product comes from one place or another, as long as it is good, convenient, and affordable. It is an uphill battle that the U.S. producers belonging to the American Products Origin Association, such as the Quatro Puertas/New Mexico native chile peppers, the Kona Coffee Farmers Association and the Maine Lobstermen's Association, are also embracing. Their efforts depend largely on major changes in shoppers' behaviors and preferences, which are hard to achieve without massive investments in PR, communication, and marketing. Blechman's infographic, although focusing on a foreign product, cannot but be welcomed by those who in the U.S. are trying to introduce a new sensibility towards the connection between food and its place of origin.