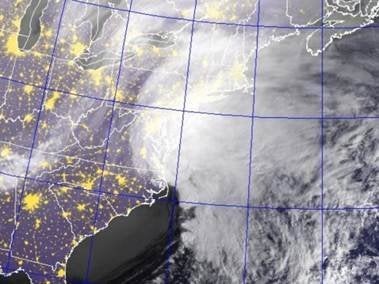 Alerts Broadcaster Blizzard of '13 Update: Friday morning, Feb. 8, 2013. Complimentary sample for Huffington Post readers.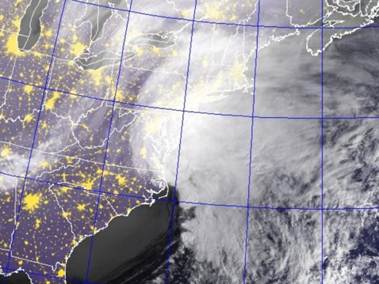 What Has Changed Since Thursday:
* Frequency of Alerts Broadcaster Briefings. Why so many? Because this storm will negatively impact more people in the northeast than even Superstorm Sandy did in late October and early November. Although coastal flooding won't be nearly as severe, the impact of heavy snow, high winds and potential power outages will result in a very high-impact weather event for New England and metro New York City. 23 million Americans are under a Blizzard Warning right now.

* 2,912 flights have already been cancelled today, another nearly 800 flights Saturday, due to the impending storm. The latest cancellations for Friday and Saturday are here, courtesy of flightaware.com. United Airlines is closing most northeast operations as of midday today.
* Big Snowfall Variations Across New York City. The southern edge of the heaviest snow will set up directly over New York, heaviest amounts north/east of the city. The latest range is 6-16", closer to 6-10" for Manhattan and Brooklyn, but 12-16" from Westchester and Fairfield counties into portions of central and eastern Long Island.
* Mission Impossible. There are 6,300 miles of streets to be plowed/salted in New York City. That's the equivalent of driving from NYC to LA and back.
* Heavy Wet Snowfall. The latest models print out over 3.5" of liquid water for New York City by Saturday. A rain-snow mix today changes to all snow by this evening and tonight, tapering by late morning Saturday. Winds will gust to 40-50 mph in New York, 50-60 mph in Boston and much of coastal New England. I said it earlier, I'll say it again: this will be the biggest test of the power grid in the Northeast since Sandy.
* Coastal Flood Potential. Boston's National Weather Service office is releasing (experimental) graphics showing the extent of coastal flooding by Saturday. Low-lying inundation and beach erosion is likely, especially on Cape Cod. Details below.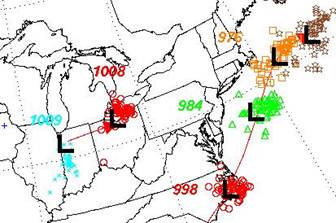 * 1+1=3. Much like Sandy we have an imminent convergence of two weather systems; a clipper-like system approaching from the Great Lakes will merge with a developing coastal storm over the Carolinas. The northern storm provides much of the energy, while the southern storm provides a jolt of southern moisture, spiked with moisture off the Atlantic. That's why this storm will be formidable: impacting such a huge area with 1-2 foot snows.
* Timing. The height of the storm comes from late this afternoon (when a mix changes to all snow from north Jersey to New York City to Hartford) into Friday night and Saturday morning for New York City - during the day Saturday and Saturday night for Providence, Boston and Portland as the Nor'easter pushes northeast.
* Emergency Generators. Check on the availability and readiness of back-up power supplies. The combination of heavy snow and sustained winds of 30-50 mph will bring down tree limbs; I'm increasingly concerned about the potential for extended power outages across the northeast, starting tonight. Once the power goes out, crews will have a very difficult time battling the elements. The storm pushes out to sea Sunday, but I could envision some coastal New England communities without power thru at least the first few days of next week, or longer.
* Supplies and Expectations. If you're hunkering down for the storm, make sure you don't need to travel for a period of at least 2 days, possibly 3 days from Hartford and Providence to Boston and Portland. Some New England highways won't be fully opened up for business until the middle of next week. Stating the obvious: I think it's quite likely that many New England facilities will be in cold shut-down mode Monday and Tuesday of next week, especially from Hartford and Providence to Boston, Worcester, Manchester, Portsmouth and Portland, Maine.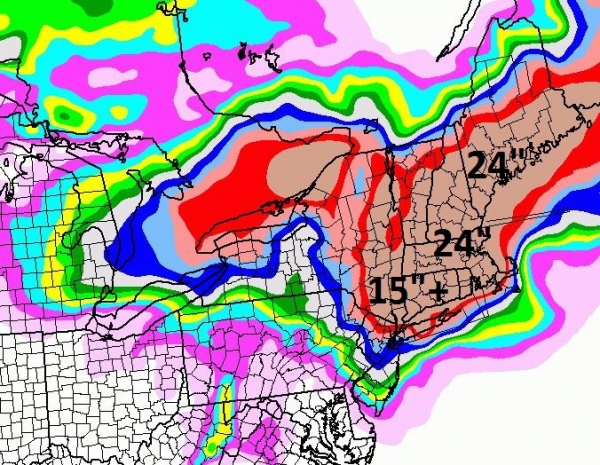 On Edge. New York City is on the edge of the heaviest amounts, a much better chance of 10-20" or more from Connecticut to Boston and much of New England. South Jersey may pick up 2-4", with some 12-15" amounts from north Jersey into Fairfield County, anywhere from 6-12" in New York City.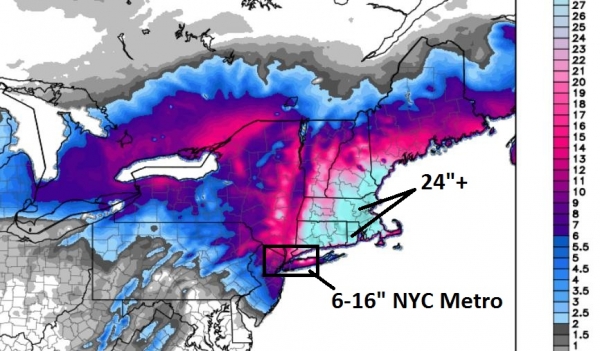 Latest High-Res Model Outlook. This is from the most recent (06z) run of NOAA's 4 km. NAM model, which continues to show the heaviest snowfall amounts (light blue - over 24") from New Haven and Darien to Providence, Boston and Portland Maine. A tight snowfall gradient is predicted for New York City; it still looks "plowable", but "crippling" conditions may be limited to Long Island and the northern/northwestern suburbs. It will be a very close call for NYC.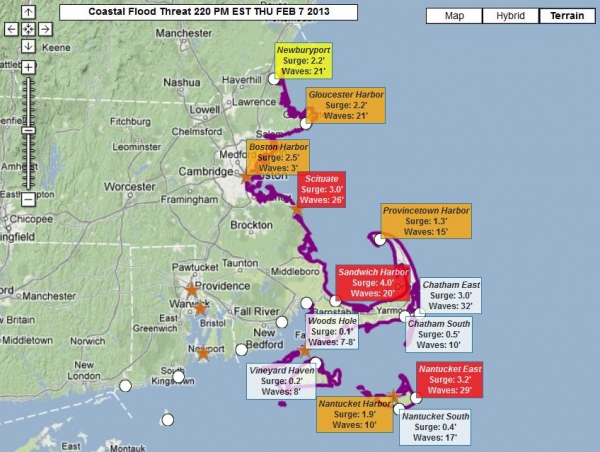 New England Coastal Flood Potential. Here is the experimental NOAA graphical tool showing the extent of expected coastal flooding from Portsmouth southward to Nantucket. A 2-4 foot storm surge is likely from Boston to the Cape, but waves superimposed over the surge are forecast to reach 26 feet at Scituate, and 32 feet at Chatham, capable of moderate to major damage for low-lying areas.

Latest Snowfall Trends for New York City. We watch model trends very carefully; the models (usually) fairly reliable within 24 hours of the onset of a major storm. The latest models are suggesting 7-14" of snow, starting wet and slushy Friday evening, becoming more powdery and light (and prone to blowing and drifting) by late Friday night and Saturday morning. The NWS is officially predicting a foot of snow for Central Park. It will be enough snow (and wind) to impact transportation and infrastructure for a period of 24-36 hours or more. Plan on widespread flight cancellations at EWR, LGA and JFK from Friday thru Sunday morning.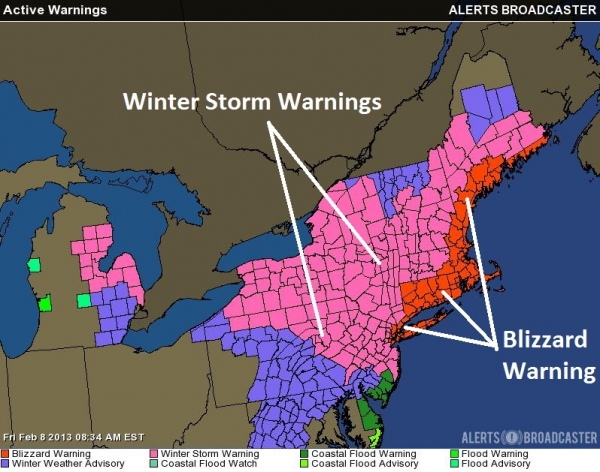 Blizzard Warnings New York to Hartford, Providence, Boston and Portland. NOAA has expanded the Blizzard Warnings, which means blizzard conditions are imminent. A blizzard is defined as sustained winds of 35 mph or higher, with 1/4 mile or lower visibility in falling/blowing snow. We will have those conditions as of Friday evening in New York, by Saturday morning in Providence and Boston.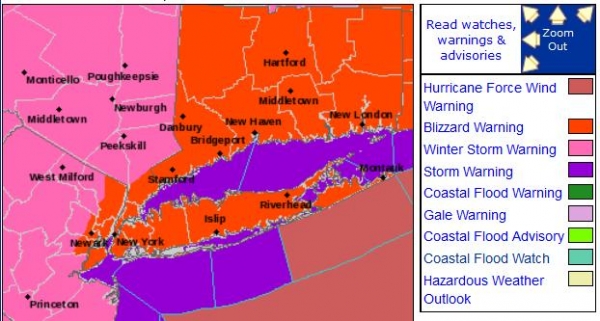 Blizzard Warnings for Metro New York. The best chance of true blizzard conditions: the suburbs of north Jersey into Connecticut and Long Island. Keep in mind that Coastal Flood Warnings are also posted; the height of the storm expected Saturday morning when sustained winds reach 40-50 mph.
Summary: New England will still bear the brunt of this blizzard. Winds may reach 60 mph tomorrow from Cape Cod to Boston and coastal Maine, leading to moderate coastal flooding and a heightened risk of power outages. New York City is still on the edge of the heaviest snowfall amounts, but I expect enough snow to shovel/plow and create treacherous travel conditions from tonight into much of Saturday. New York City may miss the very worst of the blizzard, but it will be a very close call - conditions only marginally better in Manhattan than Fairfield County, CT and Long Island.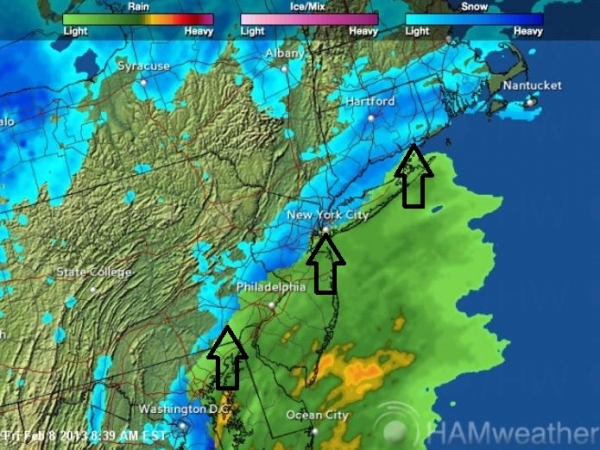 Rain/Snow Line. We realize you have many sources for Doppler Radar information, but here is another useful link, A Doppler Radar Mosaic, updating every 10 minutes, from our subsidiary, Ham Weather, which shows precipitation type. You can toggle interstates, counties and city names, and access other information relevant to the impending blizzard. Note the rain/snow line runs from Bucks County, PA to New York City, with all rain now from central New Jersey into Delaware and the D.C. area. A changeover to all snow is likely by late afternoon or evening as temperatures aloft cool rapidly on the backside of an intensifying Nor'easter.
Confidence Level (scale of 1 to 10): 8 for at least a 6-14" of snow in New York City, a 9 for two feet of snow in Boston.
I'll have another briefing later today. Our goal with Alerts Broadcaster is to give you the Big Picture, a running (hype-free) narrative to help you set expectations and lower risk. That, and facility-specific alerts that include company-centric protocols and a call to action for each corporate location.
Good luck - it's going to be a long (19th century) weekend for much of New England.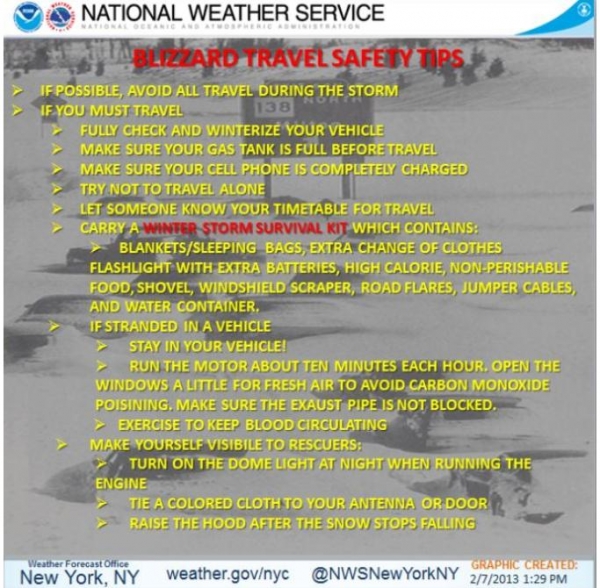 New New York City (FEMA) Flood Maps Miss Climate Threat. Bloomberg reports that even though the number of homes and businesses in the New York City region's flood zone has doubled since the last major revision in 1986, the new maps do not take into account more sea level rise due to warming oceans and melting ice, as the climate continues to trend milder over time. The simulation above shows a 3.5 meter rise. It is NOT a forecast for Saturday, I'm happy to report.
* The revised FEMA Flood Maps for New York City (post-Sandy) are here.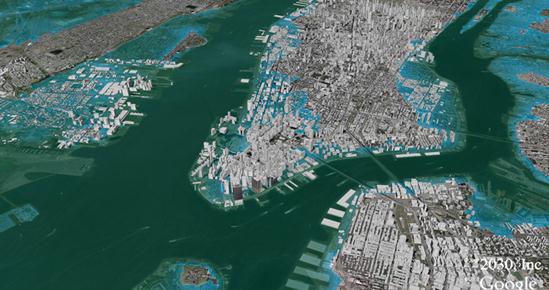 Only The Brave and Foolish Will Be Driving Tonight & Saturday. Graphic above courtesy of the New York City National Weather Service.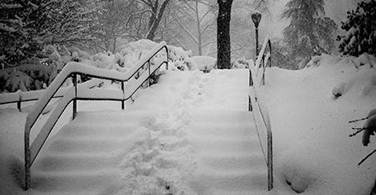 New York City's Biggest Snowfalls. NYC.gov has more details here: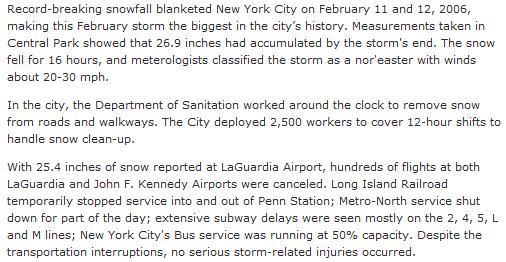 Popular in the Community