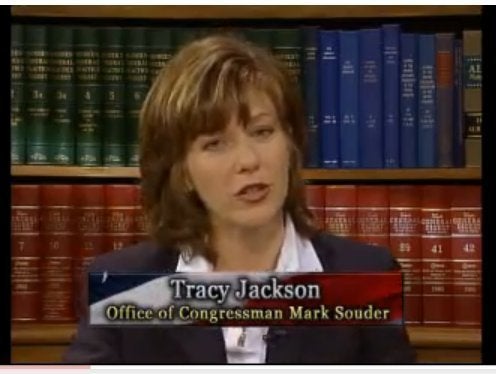 Mark Souder, a Republican congressman from Indiana, has announced that he will resign his seat over an affair with a female aide. Fox News identified Souder's mistress as Tracy Jackson, a "part-time aide who worked in his northern Indiana district office."
"Jackson is still on staff," Fox News reported. "She is described as being in her mid-40s and married. Jackson handled communications for Souder in the district and periodically travelled with him." Jackson's salary information is available here.
Last November, Souder's office posted a video of Jackon "interviewing" the Congressman about an abstinence-only education hearing. The caption of the video noted that Souder was "one of the only voices speaking in defense of abstinence education." (This video was pulled from Rep. Souder's YouTube account on Tuesday afternoon, but HuffPost saved a copy of the clip.)
The affair began after Jackson was hired in a part-time role in 2004, according to a source knowledgeable about the relationship. Jackson, who is married, was hired to play guest host with Souder for a daily radio spot he recorded for WFCV, a Christian radio station in Ft. Wayne. The spots were taped once a week and aired daily. Jackson played host, asking Souder questions about what he was working on in Washington for his constituents.
After news of the affair broke on Tuesday morning, Souder released the following statement: "It is with great regret I announce that I am resigning from the U.S. House of Representatives as well as resigning as the Republican nominee for Congress in this fall's election. Diane and my family were more than willing to stand here with me. We are a committed family. But the error is mine and I should bear the responsibility. I sinned against God, my wife and my family by having a mutual relationship with a part-time member of my staff. I am so shamed to have hurt those I love."
Popular in the Community