"We're The Judds of comedy," says Saturday Night Live comedy legend, Laraine Newman. "We're the Redgraves of comedy," adds Laraine's Emmy Award-winning sister, Tracy Newman with a laugh.
Indeed it is a very rare treat to find three women (and two generations) from the same family lending their collaborative talents to an ensemble piece as hilarious and clever as Charlotte's Shorts, a must-see tapestry of memorable, comedic mini-stories. Written by Charlotte Dean, directed by her mother, Tracy, and featuring Laraine in the brilliant cast that includes Tim Bagley, Lynne Marie Stewart, Jonathan Stark, Jordan Black, and Bridget Sienna -- all Groundlings' alum (both Tracy and Laraine are founding members of Groundlings).
Laraine Newman, Charlotte Dean, and Tracy Newman (photo by James F Dean)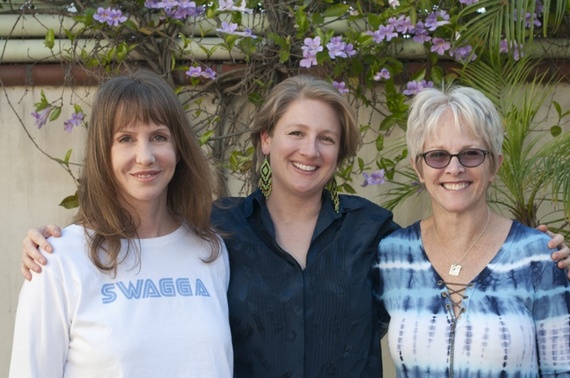 Charlotte's Shorts is the freshest showcase of creative writing and storytelling to grace the stages of Hollywood in a while. And given the sheer variety of the stories, it's incredible that they all flowed from the same writer's mind. Check out the show when comes to the Theatre Banshee (3435 West Magnolia Blvd, Burbank) on May 2, 3, and 4.
I had the pleasure of sitting down with the Judds/Redgraves of comedy (Laraine, Tracy and Charlotte) to find out how this wonderful show came to be.
Xaque Gruber: The show's sheer variety of tone and character spans such disparate lives -- from the woman face down on the 7-11 floor during the robbery, to the little boy miserable at Summer Camp -- all of these characters were so real to me that by the end of the show I felt I had all these new friends. What is your writing process?
Charlotte Dean: I didn't do all at once -- it was over the course of several years beginning in 2009 at my husband's suggestion. I started a short story blog called Charlotte's Shorts -- and every Monday I would add a new one. I picked 25 of those short stories for this show.
XG: How short is each story on the page?
CD: About half a page long. We had one that was a full page, but the rest are 250 words or less.
XG: Abraham Lincoln once said "I am sorry I wrote such a long letter, I did not have the time to write a shorter one." I mean writing something short sounds easy, but it's tricky.
CD: Yes, I love that. My mother (Tracy) has helped me so much with editing, and having Laraine and the other actors help me with "do these words need to be here -- how can we understand this character better." The six actors I was thinking about when I was writing all said "yes." We are a tight knit group.
Left to Right: Charlotte Dean, Tracy Newman, Laraine Newman and interviewer Xaque Gruber (Photo by Roxie Sarhangi)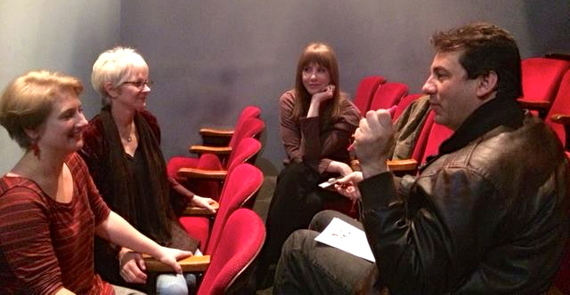 XG: You three are an impressive trio -- and so rare to see mother, daughter, and aunt all working together.
Laraine Newman: It's the first time we've all collaborated -- and it works. Tracy would help me with editing and writing at The Groundlings. Tracy's an amazing writer, and I was just astonished by Charlotte's ear for character dialogue.
XG: So all three of you are writers. And Charlotte, you are also a painter, and an art teacher.
CD: Yes, and I live in Seattle. I had a reading of my stories at my art showing, and Laraine got up and did a child character and I was like "Oh my God!" -- she just brought it all to life with her own character inflections -- it was genius.
XG: Tracy, I caught your band's show at Genghis Cohen recently and you're one of my favorite songwriters. I actually have your CDs in my car right now.
TN: Thanks! I left writing TV comedy to write songs, and when you come to see my music shows, you'll see that I still write comedy. Music was always my main thing though. I discovered that you can't really make a living in music, but you can make a living in television. When I got out of the Groundlings, you are so prepared for rewrite, and that's really what television is, and if you do well you just move up the ladder in television. But now I'm back in music -- and Charlotte wrote one of the songs on my new album.
Charlotte and her mom, Tracy Newman -- Laraine in the background (Photo by Roxie Sarhangi):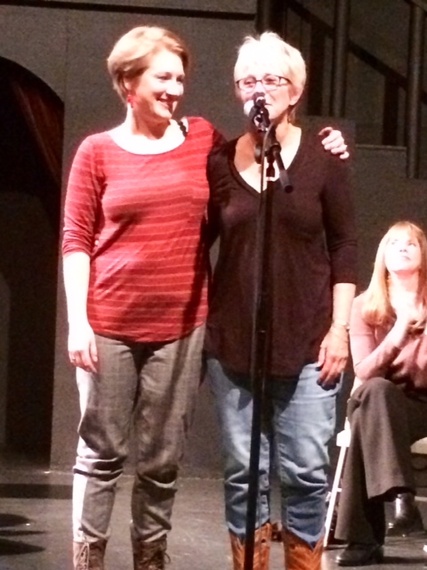 XG: Laraine, tell me about your writing.
LN: In the last four or five years, I've been asked to do these spoken word shows, and decided to say YES to everything. And in doing so I developed a whole other side of my writing. All I had been doing is character monologues, and I never came out as myself so this challenged me. I developed autobiographical pieces including one about taking my daughter to Coachella for the first time (laughs). I really want to develop that piece into a show.
XG: I want to ask you about Groundlings -- you were founding members and it's still going as strong as ever.
TN: Groundlings has had such longevity because the company runs it, instead of a director, and the company keeps changing. So it's like a self-perpetuating thing, and I don't think it can die in a land where there's show business. It started as a place for performing and improvising -- we weren't really thinking about writing -- we would just get up there sometimes a piece would stay in the show for three years (laughs). Now, because of the success with crossing over into television and movies, it has developed into a place where you can find talent not only to perform but to write -- so its a real farm.
LN: I had no idea that The Groundlings or SNL would go on as long as it did.
(At this point Charlotte's Shorts castmember Lynne Marie Stewart -- best known as Miss Yvonne, the Most Beautiful Woman in Puppetland on Pee Wee's Playhouse walks over).
Lynne Marie Stewart: I'd like to comment --
LMS: Of course I've had quite a bit of wine tonight, but I remember when I first went to the Groundlings and saw Laraine perform -- before Saturday Night pulled her away -- and she was this kid who did this character The English glitter queen -- and she could do anything! And I heard at Saturday Night Live, people were teasing you about The Groundlings --
LN: Well, Danny (Aykroyd) and John (Belushi) would tease me -- they never heard of The Groundlings -- and I finally got them to come with me to see a show and it was not a good show. Oh my God, I never heard the end of it from them. I was horrified -- it undermined my credibility as if it could have been undermined any more (laughs).
Laraine, Charlotte, and Tracy (Photo by James F Dean):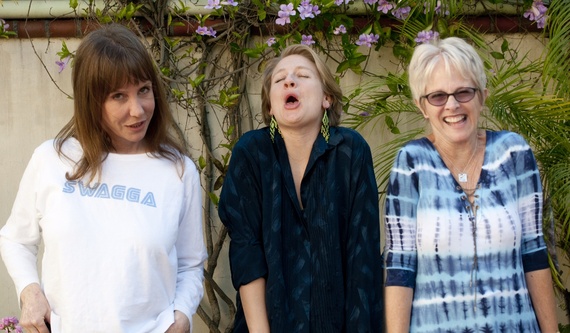 XG: Who are your heroes comedy-wise?
LN: Eve Arden and Madeline Kahn.
TN: Eve Arden, yes, but probably more than anybody, Betty White when she was starting in the 50s and 60s -- I would watch her as a kid and she would laugh in the middle of the sketches, and watching this woman doing comedy on TV and laughing, made me feel it was okay, and comfortable for me. So thank you Betty White.
LN: (in character voice) It's an Amana Freezer, Bob.
TN: When we were at the Groundlings, I didn't even think of it as "comedy" really it was just the most fun place in the world to be.
XG: And Charlotte, who are your comedy influences?
CD: (looking at Tracy and Laraine) Well, you're looking at them.
Charlotte's Shorts comes to the Theatre Banshee (3435 West Magnolia Blvd, Burbank) on May 2, 3, and 4. Dean's blog that inspired Charlotte's Shorts at: www.charlottedean.wordpress.com For Tracy Newman's music shows: www.tracynewman.comFor info on Laraine Newman: http://larainenewman.com/Laraine_Newman/Hey.html
Related
Popular in the Community