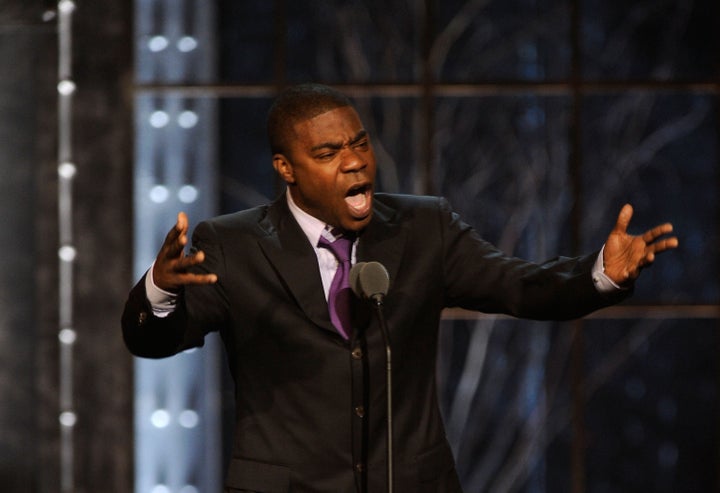 UPDATE: Morgan has agreed to go to Nashville with GLAAD to protest the state's controversial "Don't Say Gay" bill, according to E! Online. He spoke to the site's Marc Malkin about his regrets over his rant, emphasizing his belief that all children should be loved, regardless of sexuality.
"I know how bad bullying can hurt," Morgan said. "I was bullied when I was a kid. I'm sorry for what I said. I didn't mean it. I never want to use my comedy to hurt anyone. My family knew what it was like to feel different. My brother was disabled and I lost my father to AIDS in 1987.... Parents should support and love their kids no matter what. Gay people deserve the same right to be happy in this country as everyone else. Our laws should support that."
_____
PREVIOUSLY: Tracy Morgan said on Friday that he's sorry for his homophobic rant earlier this month -- and it looks like he's willing to put his words into action.
"Of all the sicknesses, there is probably none more abusive than homophobia. My heart is committed to giving everyone the same rights that I deserve for myself," Morgan said. "I don't care if you love the same sex as long as you have the ability to love someone I am deeply sorry for the comments I made. What I am most sad about is the comments I made about kids and bullying."
Morgan also noted his support for gays serving in the military -- an issue solved by the recent repeal of "Don't Ask, Don't Tell," and then insisted he believed in gay marriage, too.
"I believe everyone deserves the right to be happy and marry who they want too; gay, white, black, male or female. Let me know where the rally's at Russ. I'm there!" Morgan promised.
The words came as he works to make amends, not only with his public, but his friends, too. Tina Fey, his "30 Rock" co-star and executive producer slammed his comments but noted that she believed Morgan was a loving person.
"It also doesn't line up with the Tracy Morgan I know, who is not a hateful man and is generally much too sleepy and self-centered to ever hurt another person," Fey said in a statement.
Popular in the Community