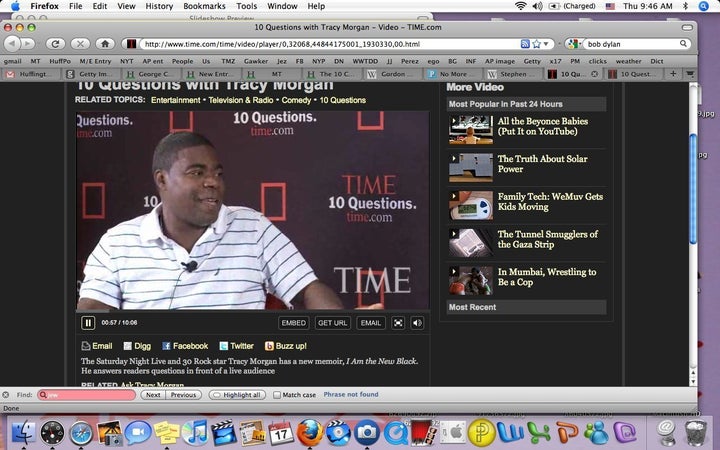 "My dad, Jimmy, was one of so many young men who went to Vietnam. He was drafted in 1965 and served four or five tours. When I was a kid I'd wake up at night and find my dad walking around the house, patrolling. I'd be on my way to the bathroom and I'd ask him, 'Dad, are you all right?' And he'd just stare at me. I don't even know if he knew I was there. He was just in his head, still patrolling, still in Vietnam. He couldn't shake it ... Vietnam was like a big girl everybody in the hood had been with but no one greeted on the street. Vietnam was a fat girl with gonorrhea; it was an embarrassment that nobody in America would be able to forget. Society asked those soldiers to suffer things they couldn't handle, all alone, in silence, because society couldn't handle the aftermath."
Tracy Morgan,
I Am The New Black, 2009
On the cold floor beneath the searing bright lights of Television's cathode ray (now plasma/PDP) are hordes of dying moths; their infinitesimal wings aflame and fluttering into a 15-minute countdown to triviality. Maddening crowds of the famous-ish trample over each other in order to squeeze into that tiny, shiny, and slippery rabbit hole marked celebrity: Jon and Kate, Balloon Boy, fraudulently Real Housewives in authentic foreclosure. Yes, Virginia, there really is a light at the end of that tunnel; but it's an oncoming train populated with unrealistic expectations.
For nearly a century, we have grown up on television, and television has grown up with U.S.: McCarthy, The Kennedys, Dr. King, Cronkite, Apollo 11 and One Giant Leap for Mankind, Vietnam, 4 April 1968, The Riots, I Am Not A Crook, Carter Country, Mo(u)rning In America, Iran Contra, Read My Lips, Michael Jackson Moonwalking on Motown 25, If The Gloves Do Not Fit, You Must Acquit, The Clintons, Air Jordan Six-peat, I Did Not Have Sexual Relations With That Woman, Hanging Chads, 9/11, Simon, Randy, and Paula, 4 November 2008 (Yes We Can), President Barack Obama, The King of Pop is gone.
Television -- for better or worse -- has been the epochal prism of American Courage, Achievement, Tragedy, Art, and Narcissism. For better or worse, comic actor Tracy Morgan -- a genuine TV star -- has embodied all of those attributes in his surprisingly powerful new memoir, I Am The New Black.
It may be hard to believe, but I Am The New Black (co-written with Anthony Bozza, and published by Spiegel and Grau on 20 October 2009), is truly compelling: especially if you were expecting the ghetto-fabulous Tracy Jordan, Morgan's character from the hit NBC sitcom, 30 Rock, or the street corner Sam Walton, Hustleman, from Martin Lawrence's storied '90s television show, Martin, to be the centerpiece of some goofball hood tome. However, Tracy Morgan's memoir is a complex self-portrait of an often brutal drip-painting; we observe him contextualize his abstract grief on each page.
The double-entendre of the title itself, toys with a cultural fashionista's notion of obsolescence, and the brave new world of an African American President of the United States. I Am The New Black is tailor made for the Age of Obamica: black men who were once viewed as invisible through the opaque lens of racism, are now power-walking in living color, on the runway of global significance. Tracy Morgan's yarn is inspiring, because even though his tenuous right-of -passage through New York City's infamous crack era -- Morgan even slung "red tops" in the same neighborhood where notorious '80s Bronx cop-shooter, the late Larry Davis, grew up -- may have left him somewhat scarred, he is still appreciative of God's grace. Yes He Could.
Morgan waxes movingly for each and every day he gets above ground, and showers effusive praise on Martin Lawrence -- who gave Morgan his first shot on network television -- Chris Rock, Alec Baldwin, Saturday Night Live creator Lorne Michaels (who hired Morgan as a cast member in 1996), and Tina Fey, who crafted the 30 Rock juggernaut -- which just won its third consecutive Emmy For Outstanding Comedy Series -- with him in mind. His work on the show has been so good, that Morgan was also nominated for an Outstanding Supporting Actor In A Comedy Series Emmy this year (he lost to Two And A Half Men's Jon Cryer).
Of course, Morgan posits a fair amount of fodder for the blogo-mongers, like his disdain for former SNL cast members Chris Kattan and Cherie Oteri ("Where's Chris Kattan now," Morgan fumes in one chapter. "Where's Cheri Oteri now? That bitch can't even get arrested.") and even greater animus towards Paris Hilton. Morgan pities the singing socialite: "I feel sorry for suckers like Paris Hilton. That bitch wouldn't know what to do if she had to work for a living, or face some real struggle. She's got everything, and she's still bored. What is her career? She's got no talent -- I've seen the porn video."
However, Tracy Morgan's harshest critique is aimed at the man -- or the men, as he struggles with own inner Dionysus, named Chico Divine -- staring back at him in the lighted vanity mirror.
In sometimes unnervingly lurid detail, Morgan describes the agonizing divorce from his long-suffering wife and mother of his three sons, Sabina (they met in high school in the South Bronx) the estrangement from his mother and his siblings (one day after middle school, Morgan decided to leave his mother's home in Brooklyn, and took the subway to live with his father, who lived near Yankee Stadium), and his teetering on the precipice of career-icide and real death -- by ignoring his grave diabetic condition -- with a near-wreckage from his use of alcohol and drugs.
The most powerful moments in I Am The New Black are when Tracy Morgan reflects on his loving and close relationship with his father Jimmy Morgan. The elder Morgan was a talented local musician and Vietnam veteran, who died from AIDS -- while Tracy was a student and star athlete at De Witt Clinton H.S. in the Bronx -- as a result of dirty needle from his long term heroin use. An addiction Morgan says his father picked up as a young soldier during a horrific tour of duty.
Jimmy Morgan's heroin habit forced his son to grow into manhood sooner that he needed to; Tracy adored the man with a sickness he absolutely despised. Morgan told me as much in an interview I conducted with him backstage at Spike Lee's historic Michael Jackson Brooklyn Birthday Bash in Prospect Park, on 29 August 2009. Morgan shared the following with me:
"My father with all his kids, going out to Coney Island on the subway, at two in the morning, and us looking out the window, asking, 'Why he noddin'? Why he scratchin'? ' I watched him O.D. twice. Watched my mother put ice under his balls. Watched my mother kick him out. He's under the window on the first floor of the projects, calling up to my mom, asking, 'Leece, let me back in!' And my mom would tell him, 'I can't. I got kids in here. And the people you f*%k with ain't gonna leave you alone. You can't bring that around here.' The devil was following my dad. He knew he was a man, and he had to go."
Although I Am The New Black clocks in at 194 pages, I couldn't help but notice how Morgan and Bozza (and a great editor, of course) crafted the memoir like an extended series of self-revealing tweets; a breezy read, indeed. But those winds are blown from the binding with the force of an F-5 hurricane, making Tracy Morgan's story truly indelible. As a matter of fact, his memoir may have the potential of a new sort of literary classic, say Twitter meets Richard Wright's Black Boy, or Dick Gregory's Nigger? I Am The New Black is Manchild In 30 Rock's Promised Land; Claude Brown for the 140-characters-or-less generation. Or Twit-Lit that could make the best-seller list.

Popular in the Community