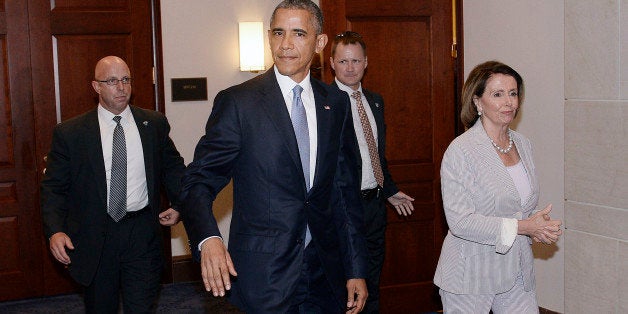 Wanda Perdue of Rocky Mount, Virginia, said she signed up for a federal program that helps workers whose jobs are shipped overseas when her job was, in 2010. With Uncle Sam paying the tab, Perdue, who had worked for furniture manufacturer Stanley Furniture, enrolled in an 18-month office administrator certificate program at Patrick Henry Community College.
"It was beneficial to me because I learned things that I didn't know -- how to really do office work, how to use Windows on the computer," Perdue, 61, said in an interview, adding that she relished using her mind and got good grades, too.
It wasn't beneficial in the way the program is supposed to be, however, because Perdue didn't get an office job.
"I had several interviews but evidently someone else was more qualified to do the work," Perdue said.
Uncertainty over the effectiveness of the Trade Adjustment Assistance program -- the 41-year-old program meant to help people like Perdue get better jobs -- partly explains why Democrats were willing to vote against it Friday. President Obama and Republican leaders had hoped they could force Democrats to support Obama's free-trade agenda by pairing it with help for workers, but it turned out Nancy Pelosi (D-Calif.) and rank-and-file Democrats, for whom beating Obama's trade agenda was the top priority Friday, were willing to shoot the hostage.
Obama had asked Democrats to "play it straight" and not vote against a policy they support just to prevent the passage of Trade Promotion Authority -- also known as fast track authority -- which would make it easier for the president to strike a trade deal called the Trans-Pacific Partnership. Several House Democrats lamented Obama's strategy on Friday.
"I don't fault him for trying to get what he wants, but I do reserve the right to disagree with him when he says 'play it straight,'" Rep. Keith Ellison (D-Minn.) told The Huffington Post. "He doesn't really care about -- he cares about trade adjustment assistance, but he is using adjustment assistance as a bargaining chip to get what he really wants, which is TPA. Is that playing it straight?"
The Obama administration made trade assistance an important part of its lobbying effort for the broader trade deal. In a letter asking House members to approve the TAA bill on Thursday, Secretary of Labor Thomas Perez appealed to Democrats' historic support for the policy and encouraged them not to let their opposition to trade fast-track authority affect their vote on help for workers.
"While I appreciate that there are differing views on Trade Promotion Authority, the TAA program has always received strong support because it provides a critical lifeline to workers who need assistance and training to transition to new careers," Perez said.
Perez also specifically addressed the claims of several labor unions that the current trade assistance bill is inadequate because it would not apply to public sector workers. Perez noted that the only time the program included public sector workers was in 2009, but since the Department of Labor did not receive any petitions from workers in a public agency during the following two years, their eligibility was discontinued in the 2011 reauthorization bill. That bill, Perez added, garnered support from all 189 House Democrats at the time, of whom 125 remain in office.
According to the White House, 2.2 million workers have undergone job training through the TAA program since 1974 -- less than half of the 4.8 million who have been eligible in that time. More than three-quarters of workers that participated in TAA-funded programs received jobs within six months of completing their programs in 2013 and 90 percent of them were still employed a year out.
Other data suggest that TAA doesn't necessarily enable workers to maintain the standard of living they enjoyed in the jobs they previously held. In other words, even if the program helps them find a new job, they might wind up taking a significant pay cut. Looking at manufacturing workers displaced between 2011 and 2013 who have since found new jobs and reported their earnings, 57 percent are earning less than they were before losing their jobs, according to an Economic Policy Institute analysis of data from the Bureau of Labor Statistics.
Although not all of those displaced manufacturing workers lost their jobs due to trade, Josh Bivens, research and policy director at the Economic Policy Institute, said they are a reliable proxy for trade-induced job losses. The vast majority of workers who lose their jobs due to trade are in manufacturing, Bivens said; research shows that people displaced from jobs by trade fare slightly worse in the labor market than other displaced workers.
That may be difficult to avoid. Dean Baker, co-director of the Center for Economic and Policy Research, has noted that the same features of trade deals that often eliminate the jobs of manufacturing workers make it harder for those same workers to maintain their earning potential in a new job -- whether they have access to job training or not.
It is a matter of supply and demand. In effect, trade deals that make imported goods cheaper eliminate manufacturing jobs, and in so doing, dramatically increase the supply of workers available to do other jobs that don't require a college degree. In a more crowded labor pool, the demand for all workers without a college degree declines, reducing their leverage over employers. As a result, wages for non-college-educated workers go down across the board -- for displaced workers and those who keep their jobs alike.
What's more, those workers who do not lose their jobs due to trade, but still earn lower wages, are not eligible for trade assistance benefits at all.
The TAA program works like this: when a plant closes or a mass layoff occurs, workers can file a petition for assistance with the U.S. Department of Labor. If the department certifies that foreign trade is an important cause of the layoffs, the group of workers becomes eligible for training. The department certified nearly 80 percent of 1,480 petitions filed in 2013, making 104,158 workers eligible for help.
Back in 2010, Wanda Perdue took a part-time job at Walmart while she studied to become an office administrator, but that temporary gig has become her new career. She now works from 29 to 36 hours a week as a cashier. She likes the work but earns about $10.50 per hour, after receiving several raises -- essentially the same wage she had with the furniture company, she said. Her old job came with health insurance, she said, unlike her current one.
HuffPost asked Perdue if she had any reaction to news that there's a chance trade assistance could die at the end of the year if Congress doesn't reauthorize it.
"Well," she said. "I don't."
Ryan Grim contributed to this article.
Calling all HuffPost superfans!
Sign up for membership to become a founding member and help shape HuffPost's next chapter
BEFORE YOU GO
PHOTO GALLERY
Scenes From 114th Congress And Capitol Hill