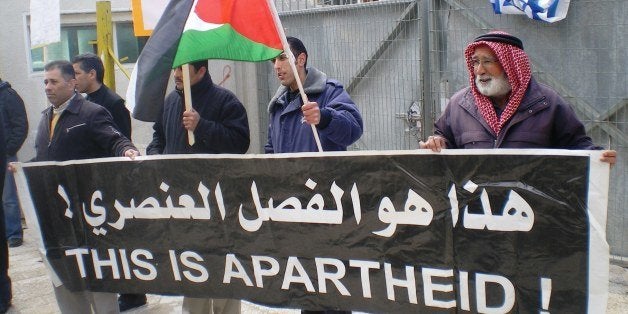 WASHINGTON -- The White House on Tuesday slammed a provision in the recently passed trade bill instructing U.S. trade negotiators to pressure European partners not to boycott Israeli businesses operating in the occupied Palestinian territories.
"The United States government has … strongly opposed boycotts, divestment campaigns, and sanctions targeting the State of Israel, and will continue to do so," State Department spokesman John Kirby said, referring to the European "boycott, divestment and sanctions" movement against Israel. "However, by conflating Israel and 'Israeli-controlled territories,' a provision of the Trade Promotion Authority legislation runs counter to longstanding U.S. policy towards the occupied territories, including with regard to settlement activity."
The clause, an amendment to the original fast-track trade bill, requires the U.S. Trade Representative to discourage European Union countries from boycotting "Israel or persons doing business in Israel or Israeli-controlled territories" during free-trade negotiations between the U.S. and the EU. The amendment received bipartisan support in Congress and was touted by the American Israel Public Affairs Committee -- which helped draft the legislation -- as a strong stand against the so-called BDS movement. Critics of the language, including pro-Israel organizations like J Street and Americans for Peace Now, described the amendment as an underhanded effort to protect Israeli settlements, which are a violation of international law.
President Barack Obama personally whipped votes in Congress to pass the fast-track trade bill, despite staunch opposition from members of his own party (for reasons unrelated to the Israeli-controlled territories amendment). Tuesday's statement was the first time the Obama administration commented directly on the Israel reference.
The strong White House response came as a relief to groups that have long lobbied against anti-BDS legislation. Those groups had faced a muted reaction from lawmakers, who typically shy away from any action that could be perceived as anti-Israel.
"It's a welcome signal that the United States government refuses to join efforts to conflate Israel and the territories it controls, or to allow itself to be cast in the role of defending, supporting or legitimizing illegal settlement activity," said Dylan Williams, vice president of government affairs at J Street. "Those who truly support a negotiated two-state solution as the only means to ensure Israel's security, Jewish character and democracy will be grateful for this clear and principled statement."
"It's very positive that the Obama administration has drawn a line in the sand, reiterating what has long been U.S. policy -- policy that some groups are clearly trying to shift in favor of protecting settlements," echoed Lara Friedman, director of policy and government relations at the pro-Israel group Americans For Peace Now.
For the State Department to publicly blast a section of a trade bill that the president lobbied for and signed into law on Monday suggests that the administration has little intention of adhering to Congress' recommendations that the U.S. condition trade deals on its trade partners agreeing not to boycott Israeli settlements. The text of the amendment lays out "principal negotiating objectives" for the U.S., but includes no enforcement mechanisms.
Similar language equating the state of Israel with Israeli settlements is included in House and Senate versions of a pending customs bill, aimed at improving the enforcement of trade rules. Both chambers of Congress are likely to resolve remaining differences in their versions of the customs bill and send the legislation to Obama before their August recess.
While the State Department declined to comment on the Israeli settlement section of the customs bill, Tuesday's statement offered a strong indication that the Obama administration would oppose future efforts to equate Israel with Israeli settlements.
"The U.S. government has never defended or supported Israeli settlements and activity associated with them and, by extension, does not pursue policies or activities that would legitimize them," Kirby said. "We will also continue to uphold policies integral to preserving the prospect of a two-state solution to the Israeli-Palestinian conflict."
Calling all HuffPost superfans!
Sign up for membership to become a founding member and help shape HuffPost's next chapter
BEFORE YOU GO
PHOTO GALLERY
Israel Boycott Movement