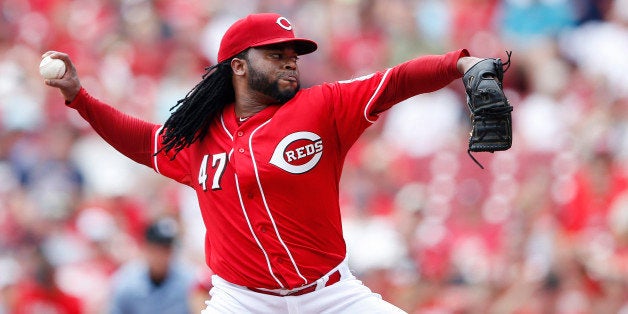 Baseball has returned after an incredibly successful All-Star break, featuring a revamped Home Run Derby that received nothing but rave reviews, and ended with a dramatic victory by hometown favorite Todd Frazier. The day after that, some other event called the All-Star Game showed off the incredible amount of young talent that has popped up in the MLB over the past few years. Mike Trout confirmed his status as the best player on earth (as if it needed proving), by hitting a leadoff home run, and becoming the first player to win All-Star Game MVP back-to-back.
This would lead you to thinking the game is in excellent shape, and while that is mostly true, the one thing the league is missing to put this year over the top is a couple truly great regular season teams. The Cardinals have a great record, but they're not quite world beaters, and most of the other teams in first place haven't been as good as you might expect them to be. The Dodgers are the same slightly underwhelming team they have been the last couple years, the Nationals have not been the dominant team they should have been looking at them on paper, the Angels are a seriously flawed team that grabbed first place on the back of Albert Pujols's power surge and the slow burn of the Astros, the Royals rotation is shockingly bad for a first-place team, and the Yankees have simply scratched and clawed to the top of a division where every team (except for the Red Sox) seems just as worthy of first place. The Cardinals should be the favorites among these division leaders, but there seems to be little difference among any of the others, so the moves they make from now until the trade deadline could end up deciding how the playoffs go. Here are some trade options these teams should explore.
Los Angeles Dodgers
Weaknesses: Back of Rotation, Shortstop
Strengths: 1-2 Starting Pitchers, Rest of Offense
What the Dodgers are looking for is fairly obvious. Clayton Kershaw started the season fairly slowly, but he's back on his MVP-level pace, and paired with Zach Greinke pitching better than ever (even better than his own Cy Young winning season), the Dodgers have the best 1-2 punch in baseball. The Dodgers couple that with a top-three offense in terms of OPS+, and are getting above average production from every position except for shortstop. A move for a shortstop might be overkill, considering they already traded prospects for the underperforming Jimmy Rollins before the season, and they have Corey Seager, arguably the best prospect in the minor leagues, playing shortstop in Triple-A. Where they can improve is the rotation behind that epic 1-2 punch. Brett Anderson has done a fine enough job as the number three pitcher, but with Hyun-jin Ryu and Brandon McCarthy out for the season they had to turn to horrible options like Carlos Frias, Yimi Garcia, and Scott Baker to make spot starts. Mike Bolsinger has turned into an okay fourth option, but the Dodger definitely need more arms in the rotation.
Some have discussed the Dodgers going after Johnny Cueto, but I think the Dodgers have enough aces for this season. Why double dip and give up a lot of prospects for a pitcher you're going to have pay big time (Cueto is reportedly looking for a $200 million contract) to keep when his contract expires when the season is over? Instead, why not trade for some less expensive arms, and just sign Cueto in the offseason if you're really intent on getting him.
Another natural trade partner may be the last-place Oakland A's, who despite a great run differential, find themselves eight games under .500. Scott Kazmir and Jesse Chavez are two veteran starters having very good seasons, who really aren't worth all that much to the A's outside of being trade chips. Kazmir's contract expires at the end of this season, and Chavez's at the end of the 2016 season. If the Dodgers decide to go after one, or even both of these starters, they should be able to come to a reasonable trade with the A's for a couple of lower level prospects from the Dodgers deep, deep farm system. Billy Beane is always looking to wheel and deal and I'm willing to bet they're aware of the Dodgers need and their rich group of prospects; a deal seems very realistic to me.
Washington Nationals
Weaknesses: Right Field, Lineup Depth
Strengths: Rotation, Bryce Harper
The Nationals looked to be a juggernaut before the season started, and despite MVP and Cy Young level seasons from Bryce Harper and Max Scherzer, they have been somewhat of a disappointment. Their record outside of the NL East is only one game over .500. The roster has been pretty banged up, with Ryan Zimmerman, Denard Span, Jayson Werth, and Anthony Rendon all hitting the DL. The outfield has been a particular problem for them, Jayson Werth has been hurt for a lot of the season, and ineffective when he does play. Michael Taylor has been unproductive since pushed into the lineup, and while Denard Span has been playable, he has also struggled with injuries. All of this makes a pretty clear case for outfield depth being a priority, and where better to look for help there than the biggest outfield logjam in the league, the Dodgers. A conventional front office might have reservations for helping another playoff team in the same league, but Andrew Friedman and Farhan Zaidi of the Dodgers have shown a willingness to do all sorts of trades in the past, and already did a trade with a team in their own division, the Padres.
Scott Van Slyke has been very good in his limited playing time with the Dodgers over the past three seasons, and really deserves a shot at serious playing time, which he never has received. He could provide some consistency to a tumultuous lineup, and probably not for a particularly high price. The Dodgers simply have way too many outfielders to play, even after trading Matt Kemp away, and might accept a package of Clint Robinson, a utility player having a good season, and one or two lesser prospects. The Nationals can probably go for a bigger name, but they simply might not be good enough this season to bother going all in for a rental. Their core is locked up for the next couple of years, so giving up more to get a player who's going to have to be payed a lot more, such as Justin Upton or Carlos Gómez, just doesn't seem like the optimal move at this time. The Nationals should grab someone smaller, and if they don't think Van Slyke is their guy, Alejandro De Aza could be another good option on another team with too many outfielders (the Red Sox).
New York Yankees
Weaknesses: Lack of Ace, Middle Infield
Strength: Bullpen, Outfield
The Yankees are in a weird place, last year was an underwhelming season for them and there wasn't much reason to think the aging team would fare any better this season. However, they've jumped out to first place on the backs of an incredibly good bullpen, and the revitalized duo of Mark Teixeira and Alex Rodriguez. The problem is, they have three pretty good starting pitchers, but no one you'd feel comfortable putting out there for a Game 1 or 7 of a playoff series. The good news, they're still the incredibly rich Yankees so no trade is outside of their possibility. Johnny Cueto could be a great short term get and give them a legitimate ace. They could also look at James Shields, who has slightly underperformed this year but is still a top line pitcher who the Padres are apparently already looking to move. If the Padres aren't willing to eat much or any of Shields's contract, the Yankees could be one of the few teams with the pockets to still go after him. Cole Hamels is another option, and while he has struggled of late, some teams still consider him an ace, and may be willing to pay Rubén Amaro's reportedly high price in terms of prospects.
Their second issue is an astoundingly weak middle infield, comprised of Didi Gregorius, the failed heir to Jeter's hallowed position, and Stephen Drew, who seems to have completely forgotten how to play baseball since winning the 2013 World Series with the Red Sox. They have matching 72 OPS+'s, meaning they have been 28 percent worse than the average hitter at their respective positions, and neither one of them has made up for that in the field or on the basepaths. Troy Tulowitzki has been discussed as a Yankees target for many years, and if that's really the Yankees man, they'll probably get him. I don't love the idea of grabbing another oft-inured player, so here's another suggestion.
Ben Zobrist of the A's would be an excellent fit for the Yankees here, he plays second base very well, and has been 10 percent better than league average according to his OPS. He also can fill in the outfield, which is helpful considering how injury prone Carlos Beltrán and Jacoby Ellsbury are. The Yankees may need to pay a heavy price in terms of prospects, the Yankees don't have a lot of young player the Athletics would be interested in outside of perhaps Ramón Flores, a 23 year old first baseman from Venezuela who only has 32 at bats in his career, all this year. The price may be a bit steep, but Zobrist could be a very valuable player for the Yankees this year and next, and getting one of Gregarius or Drew out of the lineup could make the difference for the Yankees this year.
Kansas City Royals
Weaknesses: Lack of Ace, Middle Infield
Strengths: Corner Positions, Bullpen
As you can tell by the nearly matching breakdowns, the Royals are in a very similar situation to that of the Yankees; the biggest difference being that the Royals don't have anything resembling the money the Yankees have. So to fill their positions of need, the Royals are going to have to do a bit of bargain searching. Omar Infante and Alcides Escobar have been one of the worst sets of double play partners in the league, even worse than the Yankees ghastly combo. On the pitching front, their bullpen has kept them in a lot of games, but Edinson Volquez and Chris Young are their only pitchers worth something this season, which isn't a good sign of future playoff success.
It's not often a team trades their only All-Star, but the Royals should try seeing if the Red Sox are willing to part with Brock Holt. He's a fan favorite and useful in spots, but he's not an everyday player, and may not figure prominently into the Red Sox's plan for the future. He's making almost no money from now until 2017, and is under team control until 2020. It might be hard to get the Red Sox to part with someone with that favorable of a contract, but he could be a huge boost to the Royals prospects this year. He gets on base enough to make up for his relative lack of power, and plays good defense pretty much everywhere on the field, equally valuable replacing Omar Infante at second as filling in for the injured Alex Gordon in right.
Expensive options are not options at all for the Royals, so if that path doesn't pan out, they may have to look at a trade for a below average player like Chris Owings of the Diamondbacks, who would still constitute a huge improvement over Infante. But really, at that point you may as well just promote from within and start Christian Colón, who doesn't even has 100 plate appearances on the season.
In terms of bolstering the rotation, I like the fit of Yovani Gallardo. He would only be owed about $3.5 million over the rest of the season, and if they give the Rangers a few days to realize they're further out of the race than they think they are, he may not cost all that much in a trade. His contract expires at the end of the season, and he's worth a lot more to the first-place Royals than the third-place and fading Rangers. They'll be strapped to find another front-of-the line guy who they'll have to give up less for, in terms of both what it'll take to get him in the trade and then play him once he's there, so they should take a very serious look at Gallardo.
Los Angeles Angels:
Weaknesses: Lack of Ace, Left Field, Catcher
Strengths: Mike Trout, Albert Pujols
It's almost like we're stumbling upon some sort of trend. It looks like the reason we have so much parity in the A.L is the lack of aces on playoff teams. So now the problem becomes that any team looking to sell an ace has three playoff teams desperately looking for one, meaning the price is going to go sky high. The Angels can go after any of the top of the line pitchers that have already been discussed, they have the money to go after anyone they want at any price, but their rotation is somewhat stronger than the Yankees and the Royals, so they shouldn't feel they have to go after Cueto or Hamels and mortgage their future in the process. They're in a much more flexible spot than these other AL playoff teams, especially because Andrew Heaney has been terrific in the four games he's started this season. So the more interesting question is how they're going to fix their problem in left field, which has been a complete disaster. The Josh Hamilton saga was far from the end of their issues, Collin Cowgill and Matthew Joyce have combined to make one of the worst platoons in the major league.
The previously discussed Brock Holt and Alejandro De Aza would also be good fits for the Angels, De Aza being a more conventional left fielder with a good bat so far this season, and Brock Holt being a fine fit in left, and also able to fill in for Johnny Giavotella and Erick Aybar at second base and shortstop, both of whom have underwhelmed this season. De Aza would probably come cheaper, and if he can maintain something close to his current pace he would immediately become the Angels third best hitter. Other more expensive options are Carlos Gonzalez out in Colorado, who although he's having an underwhelming season, is in the first healthy season of essentially his entire career. Marlon Byrd of the Reds is also reportedly being shopped pretty hard, and although he's not an exciting option, his veteran presence and above average bat would make a big difference for the Angels.
The Angels would assumedly also be interested in upgrading their catcher, Chris Iannetta is not doing a good job at the plate at all (about 25 percent worse than league average according to OPS+), and he's nothing special in terms of pitch framing or calling an above average game from behind the plate. Roberto Perez has done a very good job in Cleveland since replacing Yan Gomes in the lineup, and he's under team control until 2021 at a very good price. I wouldn't be surprised if the Indians considered swapping catchers if the Angels throw in some lesser minor league arms.
Calling all HuffPost superfans!
Sign up for membership to become a founding member and help shape HuffPost's next chapter