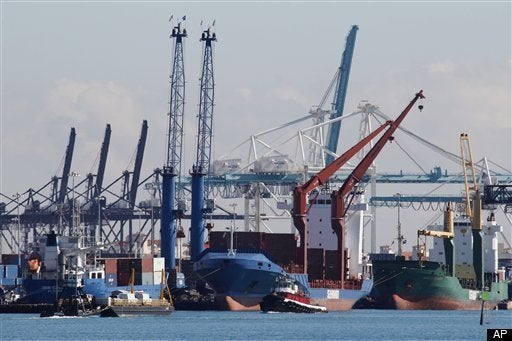 Buoyed by strong demand from China and India, the U.S. trade deficit dropped to its lowest level in 9 months, as exports rose to their highest level in two years.
The trade gap narrowed 13.2 percent to $38.7 billion in October and exports gained 3.2 percent over the same period. A good portion of the this increase has been driven by manufactured goods. "Exports of manufactured goods have accounted for about two-thirds of the total growth in exports so far this year," Mark Dorns, Chief Economist at the Department of Commerce said in a statement.
Analysis by the Economics and Statistics Administration indicate that exports in will this year support close to 9.4 million jobs, an increase from a 2009 estimate that put the number at 8.5 million.

Chris Cornell, an analyst for Moody's Analytics, was optimistic about the trade report. "Trade will improve at a disproportionate rate until it settles into its long-run pattern," he said. He noted that exports had recovered nearly all of their losses since the start of the recession, while imports are perhaps two-thirds of the way to recovery. "Our forecast for fourth quarter GDP growth is likely to be higher, though precisely how much higher remains up in the air," he said.
The White House's five-year export goal may be feasible, at least according to Moody's forecast results which showed exports expected to be about $3 trillion by the fourth quarter of 2014, which would indeed double the $1.25 trillion reported in the second quarter of 2009.
But, much will depend on the economies of China and Latin America, Cornell cautioned. The U.S. trade deficit with China, its largest trade gap by far, dropped 8.3 percent to $25.5 billion in October, but still accounts for about 65 percent of the overall trade deficit.
Related
Popular in the Community