It has been well documented that trade agreements are beneficial to the competitiveness of U.S. firms. Now, a new paper by Jeffrey Hall and Chris Rasmussen of the U.S. Department of Commerce documents the importance of U.S. export performance to jobs in each state. Specifically, they calculate for 2014 (and previous years back to 2009) the number of jobs supported by exports on a state-by-state basis. The results are fascinating in and of themselves, but they also provide a lens into the politics of passing TPA.
To see this, the table below reproduces their findings for the top 10 states, ranked by jobs supported by exports. The jobs range from 1.1 million in Texas down to 191,700 in Pennsylvania. You'll notice that trade benefits each and every geographic region, from the West to the Midwest rustbelt to the East to the South.
In the next column, I show the size of the states' congressional delegations, which range from a high of 55 in California down to 12 in Washington. Interestingly, Democrats hold 121 of the 248 total seats in these 10 states, even though only 20 or so Democrats are supporting TPA. Notice that if delegations of these states uniformly supported TPA, it would pass the House. The final column makes the point that 12 Democrats in the Senate are from states with large numbers of jobs supported by exports. Put differently, if Democrats from just the 10 states where exports are arguably most important joined with supporters of TPA, it would pass the House and Senate handily.
Late last week, Sen. Patty Murray came out in support of TPA -- her home state of Washington is the third-largest beneficiary of exports. That raises an important question: Why are so many other senators from trade-rich states currently on the fence or against a policy that clearly is in their states' economic interest?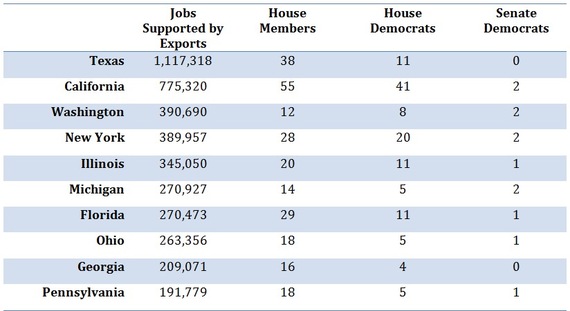 Calling all HuffPost superfans!
Sign up for membership to become a founding member and help shape HuffPost's next chapter