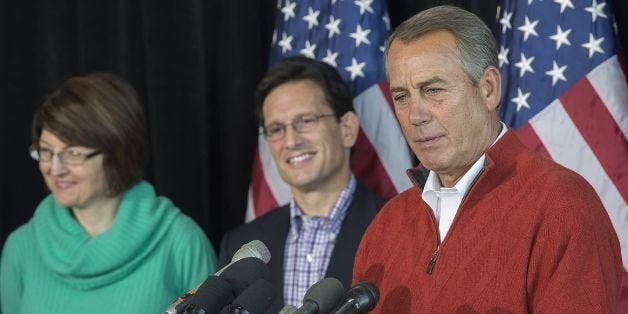 CAMBRIDGE, Md. -- House Republican leaders seized on the divide between President Barack Obama and his fellow Democrats over trade on Thursday, one day after Senate Majority Leader Harry Reid (D-Nev.) rejected Obama's plea to Congress for fast-track authority on trade deals.
Speaking to reporters at the annual House GOP retreat in Maryland, Speaker John Boehner (R-Ohio) pointed out it was Obama who used his State of the Union address Tuesday to reaffirm his commitment to legislation known as Trade Promotion Authority. Boehner said he has made clear for months that Republicans support the TPA, which would essentially allow the administration to negotiate international trade agreements that would then be subject to a simple up-or-down vote in Congress with no chance for amendments.
"Expanded trade means more opportunities for Americans and more exports. So the question is: Is the president going to stand up and lead on this issue?" Boehner said.
"We cannot pass this bill without his help," he added. "If this is one of his own priorities, you would think that he would have the Senate Majority Leader working with him to pass Trade Promotion Authority in order to expand opportunities for our fellow citizens."
House Majority Whip Kevin McCarthy (R-Calif.) took a dig at Obama's so-called "pen and phone" strategy, by which the president would sign executive orders absent cooperation from Congress.
"The president at the State of the Union said he had a phone and a pen. I think the first phone call actually has to be to Harry Reid to talk about trade," McCarthy said. "He might want to -- have to get his own party in line."
Obama underscored the importance of the trade legislation in his speech Tuesday, arguing that it would represent a bipartisan effort to boost the economy.
"When 88 percent of our exporters are small businesses, new trade partnerships with Europe and the Asia-Pacific will help them create more jobs," Obama said. "We need to work together on tools like bipartisan Trade Promotion Authority to protect our workers, protect our environment, and open new markets to new goods stamped 'Made in the USA.' China and Europe aren't standing on the sidelines. Neither should we."
But the president's pitch fell short for Reid and several Democrats who have been blasting TPA as a vehicle to pass "NAFTA-style trade deals." NAFTA, a landmark 1993 free trade deal, eliminated many tariffs -- but critics have cited the agreement for degrading labor and environmental standards. Progressives have been particularly adamant that the unfinished Trans-Pacific Partnership trade pact Obama is seeking also has the potential to undercut labor, environmental and public health standards, in addition to shipping U.S. jobs overseas.
"I'm against fast track … Everyone knows how I feel about this," Reid said. "I think everyone would be well advised just to not push this right now."
If Republicans turn the matter into a political attack, some liberals fear vulnerable House Democrats may crack and prompt further pressure on the Senate to act.
Neil Sroka, communications director for Democracy for America, told The Huffington Post his group has been urging Democrats in the House to resist the pressure and not join the TPA bill.
"What we're telling Democrats is don't do this to yourselves, don't throw yourself into a buzz saw of public anger," Sroka said. He added that progressives are "focused on making sure that Democrats in the House and Senate understand how destructive this is for America, and how their voters would react."
"It's a priority of the president's," White House press secretary Jay Carney said last week. "I'm not going to put a timeframe on it, but it's a priority and we're working towards its passage."
Michael McAuliff contributed reporting.
Calling all HuffPost superfans!
Sign up for membership to become a founding member and help shape HuffPost's next chapter
BEFORE YOU GO
PHOTO GALLERY
Senate Majority Leaders Through The Years