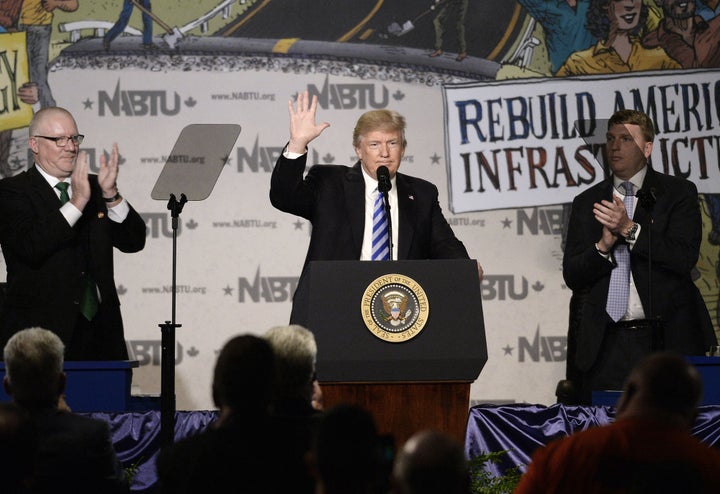 WASHINGTON ― President Donald Trump's speech at a gathering of construction and building trade unions on Tuesday left many of the Democrats there feeling cautiously optimistic about his administration, welcoming his vow to pass a major infrastructure initiative aimed at renewing the nation's crumbling roads, bridges and waterways.
"He's saying things that we've wanted to hear for a long time ― that we haven't heard," said George Boecker, an Elevator Constructors union member from Baltimore.
"I'll be honest with you. I didn't want to see him win. I voted labor. I voted with Hillary," he said, referring to Democratic candidate Hillary Clinton. "But he's here. It sounds right. We've got four years with him, so let's make the best of it."
Trump stuck to his populist, anti-free-trade message at the event, and earned several standing ovations for his executive actions approving construction of the Dakota Access and Keystone XL pipelines. He also drew lengthy applause for withdrawing the U.S. from the Trans-Pacific Partnership, a major trade deal negotiated by President Barack Obama's administration.
"We're a nation of builders, and it's about time you had a builder in the White House," the real estate mogul added, touting his knowledge of building materials such as concrete and rebar.
Trump has courted the support of construction unions, a major Democratic constituency, since Day One of his presidency, when he met with members of the North America's Building Trades Unions at the White House. The umbrella group represents the 14 trade unions that were in attendance at NABTU's annual conference at the Washington Hilton hotel on Tuesday, including boilermakers, bricklayers, electricians, sheet metal workers, painters, laborers, plasterers and plumbers.
Trump's speech was received positively by most in the audience. He drew some boos and chuckles, however, when he claimed that "almost everybody" in the room supported him during the election.
"Nope! Nope!" one man called out amid applause.
Malik Staten, a Laborers' union member from Philadelphia, said he appreciated Trump reaching out to union members, many of whom are Democrats.
"He's not with any particular group or any particular lane," he said. "He's one of those guys that if he thinks something at the time, he'll do it."
Trump has had a few things to offer to the construction trades ― such as signing off on major infrastructure projects ― so their leadership has warmed to him. He has offered very little to service-sector and public-sector unions such as the Service Employees International Union and the AFL-CIO, however, and they remain less enthused by the president.
Marion Davis, a director at the Teamsters union in Washington, said he liked that Trump was "going to finally try and improve our country's infrastructure." He was disappointed, however, that the president did not speak positively about the Davis-Bacon Act, a Great Depression-era law that established "prevailing wages" for publicly funded construction projects. Many conservatives support suspending the law.
"But I understand it would have been a pretty hot topic," he added.
Trump has yet to formally announce his promised $1 trillion infrastructure initiative. Elaine Chao, his secretary of transportation, on Tuesday said the proposal would be unveiled sometime in "late May." Appearing alongside Gary Cohn, Trump's chief economic adviser, at a town hall at the White House, Chao said the administration is looking to fund projects around the country by offering tax breaks to private-sector investors who put money into infrastructure projects.
Many Democrats are leery of such funding vehicles, however, and prefer using hard federal dollars. "If it's an infrastructure bill disguised as a tax bill, it's not going to go," House Minority Leader Nancy Pelosi (D-Calif.) said last week.
Bob Lynn, an organizer for the Plumbers, Steamfitters & Service Mechanics union from Toledo, Ohio, welcomed Trump's talk of infrastructure investment. But he said he remains skeptical about how the administration plans to pay for it.
"The devil's always in the details, just like with his health care bill. It wasn't about health care, it was about tax credits," he said Tuesday. "And if the infrastructure bill winds up being tax credits instead of putting real dollars into public works, I don't know how far that goes. We don't need more toll roads, we need public roads. We need public infrastructure."

REAL LIFE. REAL NEWS. REAL VOICES.
Help us tell more of the stories that matter from voices that too often remain unheard.
BEFORE YOU GO
PHOTO GALLERY
Students' Letters To Donald Trump