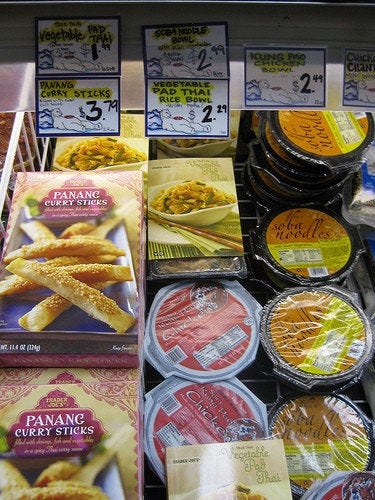 Two moms. Trader Joe's. The Upper West Side. An (allegedly) "obnoxious" teenager. And one package of Trader Joe's brand Frozen Vegan Pad Thai With Tofu THAT WOULD TEAR THEM APART.
Marcella Caprario, an amateur mezzo soprano is accused of slapping Dr. Cathleen London who has appeared as an expert on "The Joy Behar Show," CNN and Fox TV.
Caprario and her lawyer said the incident unfolded on the second Sunday afternoon in January, as Caprario's husband was making a grab for the Trader Joe's brand Frozen Vegan Pad Thai With Tofu -- his wife's favorite.

"You know how they have those awful pillars outside the frozen-food cases?" Caprario told The Post yesterday. "Bill's there, trying to reach around them" to get to the pad Thai.
Then London's son kept trying to get between Caprario's husband and the pad Thai, sending the couple into a rage, according to the defendant.
A verbal battle ensued between London and the hungry couple. Caprario admits she slapped London, but said it happened only after London charged at her.
In some ways, it's not surprising that a scuffle like this took place at a New York City Trader Joe's where consumers are often forced to grab what's left of the frozen dinners and then stand in line for three days. Competition for pre-made food is especially stiff and personal space is frequently penetrated.
Calling all HuffPost superfans!
Sign up for membership to become a founding member and help shape HuffPost's next chapter