Trader Joe's has sued its workers' union to prevent it from selling T-shirts, tote bags and mugs emblazoned with the union's logo and name, Trader Joe's United.
The grocer filed a lawsuit in federal court in California on Thursday claiming the merchandise in the union's online store infringes on its trademark and "dilutes" its brand. The company alleges that the sale of the items ― including a reusable shopping bag that says Trader Joe's United and shows a raised fist clenching a box cutter ― could cause "significant reputational harm."
Trader Joe's asked the court to block the union from selling any such merch to its supporters.
"Certain of [the union's] products use the TRADER JOE'S typed word mark and stylized word mark, the unique Trader Joe's typeface and red coloring, and/or the concentric circle design and general composition of the registered TRADER JOE'S logo," the company claimed in its complaint. "Trader Joe's has not authorized [the union] to use Trader Joe's intellectual property in this way to advertise and sell merchandise."
Trader Joe's could not immediately be reached for comment.
HuffPost reported last week that the company threatened to take Trader Joe's United to court over the items sold in its store run by Bright Blue Ink, a union print shop and web store manager based in Austin, Texas.
Trader Joe's had sent a letter late last month to the union's president, store employee Jamie Edwards, saying the goods infringed on its trademarks and "trade dress" — a legal term that basically means the look and feel.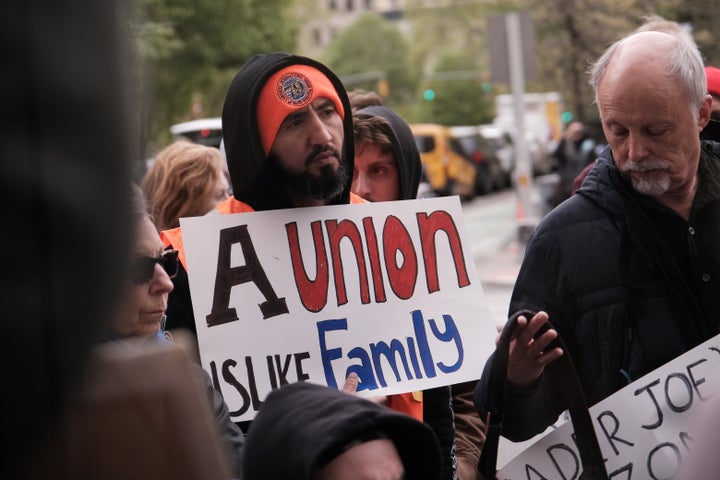 The union's lawyers wrote a letter in return accusing the grocer of trying to "weaponize" trademark law against its own workers. Calling the claims "frivolous," they said the union had no intention of pulling its merchandise.
"This latest threat to the Union is just another in your continuing attack against labor," the attorneys wrote.
A new union unaffiliated with an established labor group, Trader Joe's United has unionized four stores since last year. None of Trader Joe's more than 500 locations had been organized before then.
The union has accused the company of a number of unfair labor practices during its organizing campaign, and the general counsel of the National Labor Relations Board recently filed a complaint accusing the grocer of retaliating against union organizers in Hadley, Massachusetts, where Trader Joe's United was formed.
Support HuffPost
The Stakes Have Never Been Higher
Popular in the Community