Trader Joe's United, a union representing Trader Joe's workers, has accused the grocer of illegally firing an employee because he was an open union supporter trying to improve working conditions at his store.
The employee, Stephen Andrade, worked nearly 18 years for Trader Joe's and made signs at the store in Hadley, Massachusetts, the company's first to organize. Trader Joe's United filed an unfair labor practice charge with the National Labor Relations Board over his firing on Friday.
"We believe this baseless firing is a blatant act of retaliation, and we call on Trader Joe's to do the right thing: reinstate Steve immediately," said Maeg Yosef, a spokesperson for Trader Joe's United and employee at the Hadley store.
A Trader Joe's spokesperson did not immediately respond to HuffPost's request for comment on Friday.
"I was the most vocal in pushing back and saying we need the time to do the work."
In an interview, Andrade said his manager told him he was being fired because he never removed a jigsaw from the back of the store like he was told to do. Andrade said the tool actually belonged to the store and predated his transfer to the Hadley location nine years ago. He had been asked to remove it last October but said he forgot because it was during the store's busy season.
"In the time between October and now, that saw had been used several times by managers," Andrade said.
Andrade is one of the store employees who make Trader Joe's famous custom signage. The jigsaw was there because workers sometimes cut wood, he explained. But it had mostly fallen into disuse and sat in the back of the store.
The "crew member incident report" that detailed Andrade's termination says he was fired because employees are "not permitted to have power tools in the store" and that he had demonstrated "disregard for the company's safety practices" by not removing it. "This follows a continued pattern of you not taking direction," the incident report reads.
But Andrade said he did not buy the tool and didn't understand why it was his responsibility to get rid of it. He estimates it had been in the store for 15 years.
"I don't know why I was the person designated to have possession of the saw," he said.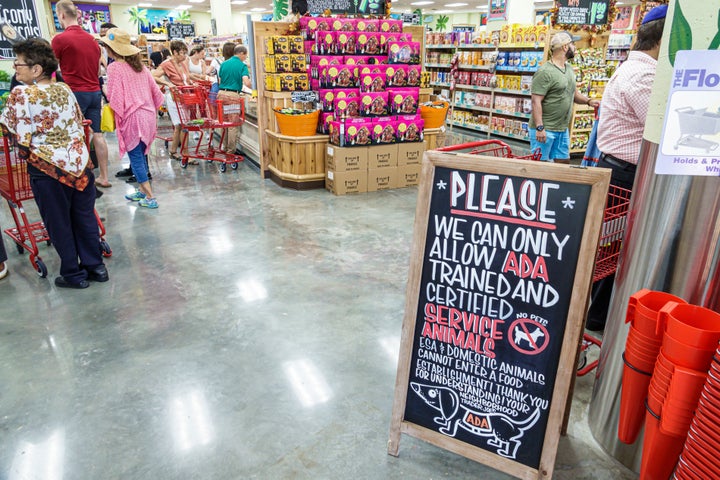 Andrade said he was a union supporter who expressed concern that Trader Joe's had grown less invested in its custom signs. He said managers have been steering sign-makers toward other work, like product stocking, and made it harder for them to carve out time to design and build the signs.
Many of the workers who do signage have art backgrounds, including Andrade, who is an illustrator.
"If you're going to make handmade signs, you've got to have the time to actually do it," said Andrade, whose wife also makes signs at the Trader Joe's in Hadley. "I feel like the fact that I was the most vocal in pushing back and saying we need the time to do the work, that was part of it. I also think part of it is union-related. I am one of the pro-union [employees]."
It is illegal to fire a worker because of their union activity or because they were trying to improve working conditions for their co-workers. Labor board officials will now look into whether there's merit to the union's claims regarding Andrade's firing, then potentially pursue a case against the company.
The store in Hadley is one of four that have unionized with Trader Joe's United since last year, part of a wave of organizing that's hit name-brand companies like Starbucks, Amazon and Apple.
Late last month, prosecutors at the labor board filed a complaint against Trader Joe's accusing the company of violating workers' rights at a union store in Minneapolis. Officials said managers had illegally removed union literature from the break room and forbade employees from posting union fliers on the bulletin board.
"The store in Hadley is one of four that have unionized with Trader Joe's United since last year."
Trader Joe's United was started by workers in Hadley and is not affiliated with an established labor group. The union is trying to negotiate first contracts for its organized stores.
Last year, the company abruptly closed the company's wine store in New York where workers were considering joining a different union, the United Food and Commercial Workers. Employees told HuffPost they believed the company shuttered the store because of their union activity, an allegation the company denied.
Trader Joe's has actively opposed the union efforts, and Andrade said some workers in Hadley have circulated a decertification petition — an effort to have the union purged from the store. He said he suspected that could be another motivation for his firing since it would mean one less vote for the union if another election came to pass.
He said he has to find new health care coverage for him, his wife and their 8-year-old daughter since his wife does not carry enough hours at Trader Joe's to qualify for the company plan.
"I'm trying to look at this as an opportunity. I've been doing illustration work and gallery work, and this is a chance to do that more and see if I can do it full-time," he said of his firing. "At the same time, I'm very disappointed…. They hurt my family's livelihood, and now we have to scramble and find health care."
Related
Popular in the Community