Workers at a Trader Joe's store in Louisville will vote this week to determine whether they become the chain's third store to form a union in less than a year. Trader Joe's has told employees there it welcomes a fair election, but the company doesn't sound thrilled with the prospect of another organized store.
A photo shared with HuffPost shows the Louisville location's break room door filled with what the union supporter called "anti-union propaganda." One flier offered scary-sounding "facts" about collective bargaining, warning that unions promise whatever they need to in order to secure votes.
"A union can trade away things that you might want," it noted forebodingly.
Another flier warned that workers' flexibility could vanish under a collective bargaining agreement. "Think of every time an exception or adjustment was made for you. Will that be allowed under a contract?"
Yet another took aim at the upstart union, Trader Joe's United, that has successfully organized two stores so far, one in Hadley, Massachusetts, the other in Minneapolis. "The union refuses to accept other opinions,'" the flier charged, "including that there are Crew who do not want a union."
"Is this the organization that you want representing you and speaking for you?" it asked.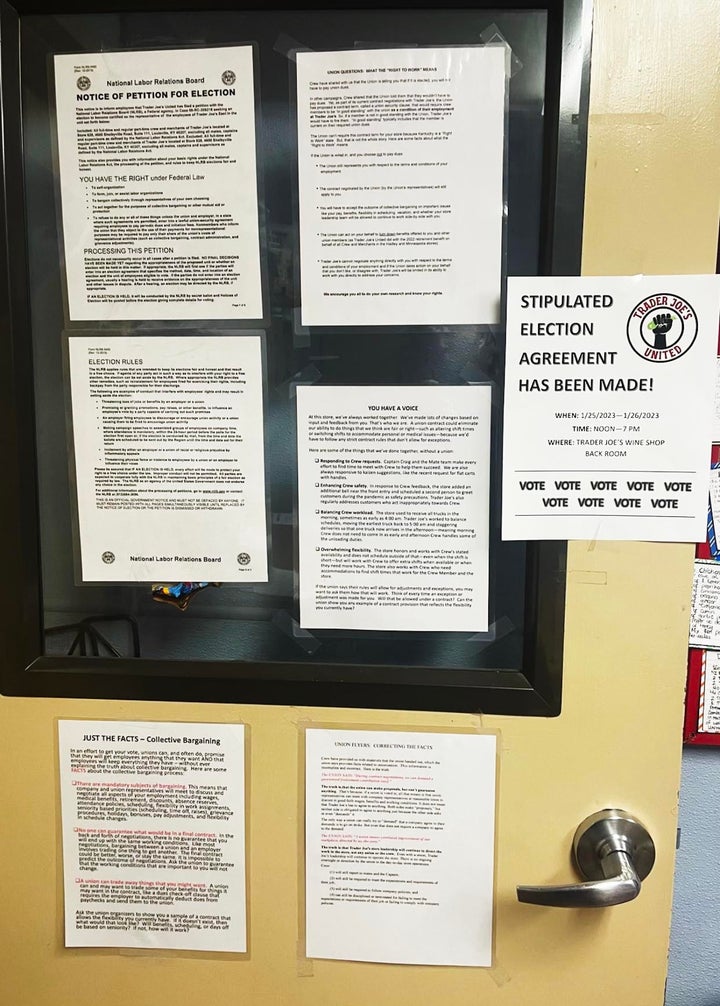 Connor Hovey, a worker at the store active in the union campaign, said the company was to blame for any antagonism surrounding the organizing campaign. He called the content of the fliers "either untrue or very grossly misrepresented."
"It's just another way to try to keep crew members at our store divided and to keep having that divisive mentality," said Hovey, who has worked at the chain for four years. "It's very one-sided. Most people see right through it."
Hovey said fliers that the union had put out in the break room were "promptly removed."
Trader Joe's didn't respond to a request for comment on Tuesday. It isn't clear who put the fliers up in the Louisville store, but they were written from the perspective of management.
"It's just another way to try to keep crew members at our store divided."
The Louisville election is an important one for the young labor campaign. Trader Joe's United, which is not affiliated with an established union, won its first two votes last summer by healthy margins: 45-31 in Hadley and 55-5 in Minnesota, creating the first unionized stores in the California-based chain's history.
But it lost a third vote at a store in October in Brooklyn, New York, where workers voted 94-66 against unionizing. (The company shut down its wine store in New York City shortly before workers there planned to announce their intention to join the United Food and Commercial Workers union.)
A victory in Louisville would not only add another store to the union's column but plant a flag in the South, where union density tends to be lower. Just 7.9% of workers in Kentucky are members of labor unions, compared to 10.1% for the U.S. writ large.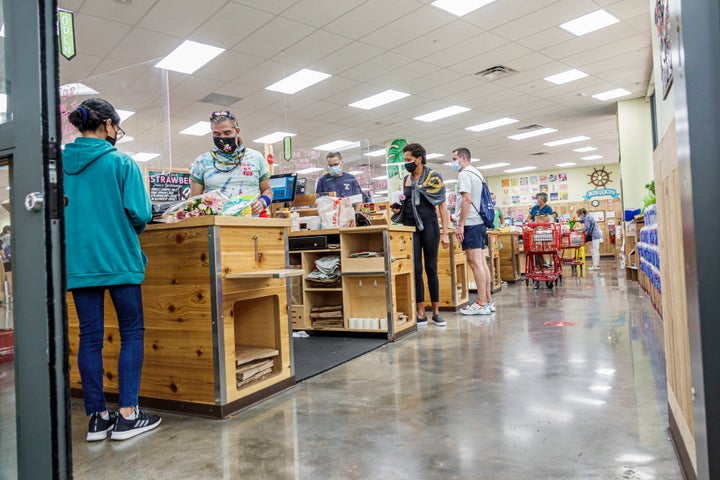 A union needs to gather signatures from 30% of workers at a site in order to get an election scheduled by the National Labor Relations Board, but must receive a majority of votes cast in order to win and become the workers' representative. Hovey declined to say how many workers signed union cards. Roughly 100 workers at the store are eligible to unionize.
Trader Joe's has been encouraging as many workers to vote as possible. "Remember you can vote 'no union' even if you signed an authorization card," one flier noted. Hovey said in recent days managers have pulled workers aside and told them "not voting is the same as a 'yes' vote."
The Trader Joe's campaign is part of a wave of new organizing that has hit major food and retail employers over the past year and a half. Workers have formed the first U.S. unions at Starbucks, Amazon, Apple, REI and Chipotle, among others, and are now trying to bargain first contracts at all of those companies. The labor board recently said last fiscal year saw the largest increase in union election petitions since 2016.
Much of the organizing was spurred on in part by the stresses of the pandemic, when many workers came to feel their employers were indifferent to their safety and well-being. In the case of Trader Joe's, benefit reductions have also played a role. Many workers were furious when the company reduced its discretionary 401(k) contribution for most employees by half last year.
"Higher-ups have crafted this lovely image that they take care of us so well, but that isn't the case when benefits get slashed," Hovey said.
"The Trader Joe's campaign is part of a wave of new organizing that has hit major food and retail employers over the past year and a half."
Trader Joe's United recently circulated a document entitled "Trader Joe's Union Busting Campaign – A Guide for the Crew, by the Crew." It rebutted a number of "tactics and talking points" the union said the company had deployed, including disciplining workers for wearing union buttons, pulling workers aside and encouraging them to vote against the union, and telling them a union will lead to rigid rules and schedules.
"We are hearing the same false talking points at every store that's filed for an election," the workers wrote.
The document drew a direct response from Jon Basalone, Trader Joe's president of stores, who sent a letter to workers at the Louisville store in early January, a copy of which was provided to HuffPost.
Basalone denied that he or other Trader Joe's higher-ups were visiting particular stores expressly because of union activity (Basalone had spent time in the Hadley store before the election there).
"Visiting stores and talking with Crew Members is what we do," Basalone wrote, noting that he worked in Trader Joe's stores for 11 years.
He called the implication that those in the corporate offices don't care about workers in the store "as humorous as it is insulting."
Hovey said the Louisville store has not received a visit from Basalone since going public with their union campaign, though a regional manager for the company has dropped by at least twice.
Support HuffPost
The Stakes Have Never Been Higher
Popular in the Community