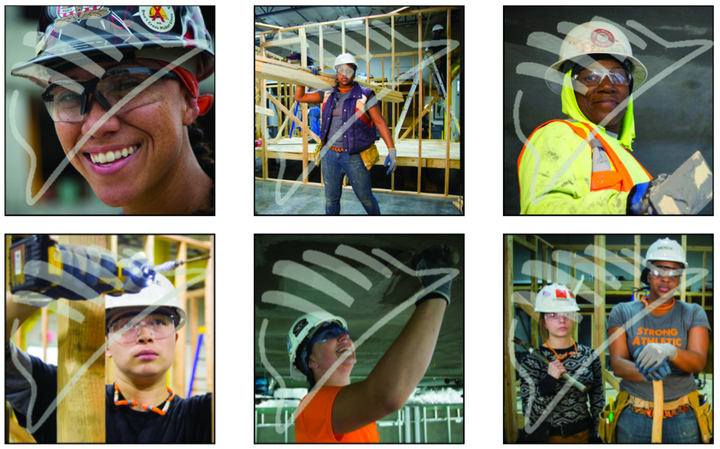 The National Association of Workforce Development Professionals held its annual conference in New Orleans last week. Admittedly, the "Big Easy" makes a great backdrop for a conference, but this time the pulse was in the professional workshop rooms at the Hilton Riverside.
Choices were difficult amidst an array of well selected topics, but one of my favorites was the workshop sponsored by the National Center for Women's Equity in Apprenticeship and Employment.
Two groups well engrained in the subject matter led the workshop: Oregon Tradeswomen and Chicago Women in Trades. Both non-profits were started by advocates who wanted to help women claim their place in the trade industry. The two groups work closely together.
Among other supports, both organizations offer preparation courses with assistance from journey-level tradeswomen to help bridge the gap into registered apprenticeships and job placement.
The programs focus on economic and gender empowerment. Becoming licensed as an electrician, a carpenter or a plumber can help a woman leave behind low-paying jobs. As Linda Hannah of Chicago Women in Trades put it, getting into the trades industry "paves the way to the middle class" for participants.
Hannah referred to significant wage increases for these women after they complete the trainings—although discrepancies exist between men and women in terms of wages, with women on the lower range of the spectrum.
According to the National Center for Women's Equity in Apprenticeship and Employment, women only make up 3% of the workforce in the trades. This figure reflects the gender barrier that stops many women from accessing high-skilled, high-wage jobs in the industry.
Being able to compete with men is essential for women to find their way out of poverty. A recent study published by the Institute for Women's Policy shows that they are three times more likely to work in low-paying jobs than men. The study refers to 4.6 million women working full-time in occupations with median earnings lower than 100 percent of the federal poverty threshold (for a family of four, $468 per week in 2016). The number of men in such occupations is 1.5 million.
Breaking into a traditionally male-dominated industry can be tricky. The trainers help the women acquire skill-sets comparable to men but also focus on building self-confidence. This allows women in the program to manage the possible stigma attached to their presence on worksites and to address potential issues around sexual harassment. They are taught to build rapports with male coworkers on equal footing and are encouraged to gain peer support from other women.
Linda Hannah also encourages employers to hire a few women on each worksite, not just one, so that the new workers can help one another adapt to the culture of the worksite.
The women have to earn their place among the men. Physical fitness, knowledge and productivity are all important.
The apprentices are trained to claim their share of the work and to watch for situations where they might be offered less meaningful or seemingly easier tasks.
Working in the trades industry requires flexibility. Worksites close when projects are completed, meaning that workers need to adjust to regular moves to new sites where projects need to be initiated all over again.
Worksites have early shifts, and this sometimes has an impact on family life. Mothers learn to draw from their own circles to make sure, for example, that their children get rides to school. Such services can be exchanged or offered voluntarily by friends, neighbors or family members. A tradeswoman who happens to be a mother learns how to ask for help. She is also likely to manage a demanding schedule with early mornings on the job and an additional workload after work. Presenters for both organizations said that solidarity among women helps them overcome some of these challenges.
Image is key for the tradeswomen's groups.
Both organizations pay close attention to the way they represent women in their marketing materials. Tiffany Thompson of Oregon Tradeswomen mentioned that her group only uses pictures of women on the job who have actually been through the apprenticeship program. This is important for credibility.
"No women in helmets and heels!" as she puts it. Women wear steel-toe boots on the job and in the pictures.
Glamor or mixed messaging would not work. Helping women claim their place in the industry requires realistic portrayals and images that women seeking support to get into the trades can relate to.
Beyond getting their first jobs, the two organizations are encouraging women to start their own businesses in construction and in the trades industry.
Related
Popular in the Community