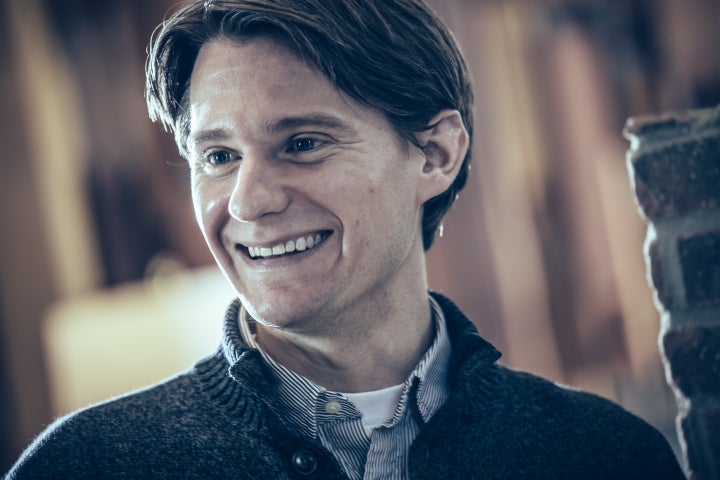 This is an interview with Jered Seibert, founder of Warrior Wear LLC, who last year left his mutual fund sales work to become a full-time entrepreneur, creating yoga products for men. Drawing upon inspiration from yoga service, and frustrated at the lack of products for male practitioners, he was inspired to start his own company. He has been practicing yoga since 2008.
Rob: What originally motivated you to do this work, and what continues to motivate you?
I'm inspired and motivated to build a brand that men see themselves in, not judge themselves against. I often feel uncomfortable comparing myself to yoga models who are more built, more flexible, and living a life unrelated to mine. Since men are typically less represented in yoga, I quickly start to question where I fit in. My practice and my corporate experience have inspired and empowered me with a sense of responsibility to give back in a way that I know how: communicate a vision, build a team, and work to alleviate insecurity rather than increase anxiety. There's a difference between inspiration and aspiration. I've been inspired by yoga to become part of something bigger than myself, rather than aspiring to become a version of someone else. That's what keeps me going.
What, in your mind, is the relationship between a yoga practice and greater social change?
This relationship is critical: the most important part of my practice is how it transcends into my life. If we can reach men who have a 'push harder, move faster, try harder' mentality, we can make an impact against anger, addiction, and anxiety. In addition, yoga can level the gender biases and highlight our similarities rather than our differences. Many households are still patriarchies, many cultures are still misogynistic, and yoga can be the great equalizer. The more I practice, the more unity I experience across all of humanity. My goal is to spread the message and promote a relatable brand that people can identify with.
How is yoga evolving in contemporary culture? What's happening to the demographics, and to the teachings? How has your own practice evolved?
I think in terms of possible change, it's exciting that men are the fastest growing demographic in yoga practice. When I think of the initial image of yoga in contemporary culture, I remember Lilias Yoga and You on public television. Culturally, it was presented to us in a way that women responded and gravitated towards. After several decades in the West, the image is changing and appealing to a broader demographic. People are uncovering more cultural benefits and sharing their experience. It's become a tool that kids use to manage emotions, a practice that athletes use to sharpen their skills, and a shared experience couples use to bring them closer together.
What do you think the role of brands is in shaping of the future of yoga and mindfulness? Can brands play a role in maintaining the integrity of the practice, and how are you contributing?
I believe that brands play an indirect role in shaping the future and can contribute to the integrity of the practice. One of my driving motivations is to create a company that can inspire a broader demographic. If we can build a masculine brand that people identify with based on their own self-experience, we can create a connection. And that is, ultimately, what this is all about. The goal is to create a lasting connection with people across the world who have a common interest in living well. We live in a capitalist culture, and we tend to turn to the market to mitigate our insecurity.
We're indoctrinated to understand that products exist for the consumer. It's likely men haven't responded to yoga because there aren't any brand identities for them to respond to. There isn't any connection. As far as the integrity of the practice is concerned, teachers and practitioners really hold the key. They are, in essence, the consumer who dictates whether the brand survives and maintains a level of integrity they support.
Are we doing a good job of keeping the practice's spiritual authenticity intact during this unprecedented period of growth and evolution?
One of my favorite teachers, Dan Peppiatt, says that everything we do in yoga should come from within. Does this increase the spiritual authenticity because of its originality, or pull yoga further away from tradition? The fact is that people are going to gravitate to a practice they can relate to or gain something from. If "party-city yoga" doesn't seem spiritually authentic to me, who am I to say that it doesn't seem authentic to someone else? A boisterous music-filled muscle toning class might be exactly what someone needs for an authentic yoga experience, and I couldn't be happier for them.
This idea of spiritual authenticity speaks to the individual and comes in many shapes, forms, practices, and styles. I believe that practitioners will decide the level of spirituality they want from yoga by gravitating to the practice they respond to internally. I feel that a commitment to honesty, integrity, and being non-judgmental of someone's practice is our responsibility. As long as we are doing that, we are doing a good job, and maintaining a level of spiritual authenticity.
What is your role and your brand's role in making the practice accessible to more people to facilitate greater social change?
My aspiration is to break the stereotypical image of yoga by making it more accessible. I want to create a brand and a voice for male practitioners that as of yet doesn't exist. We'll do that by creating a product that's ideal for men, and grow as an organization that continues to give back. The more people see themselves addressed in the yoga products market with a greater offering of products tailored for them, the more willing they'll be to try yoga. The more people we can persuade to try, the bigger the impact will be. Once that happens, I trust that we'll start to see greater social change, particularly in the way we consume products, food, and content.
What are some of your ideas about, or hopes for, the future of service yoga in America in the next 10 years?
My hope is that we start to see our similarities rather than our differences. My hope is that people come to realize for themselves what my practice has taught me, which is that we have choices in how we conduct ourselves. I envision an era in which we take the time to respond rather than react, we let go rather than suppress, and we try to understand, rather than immediately defend. I believe these small ideals can make a big difference in a more compassionate, connected, and communal America. I believe that yoga is the best-positioned platform to lead the way into this change, and I look forward to doing my part.
Are you a yoga instructor giving back to underserved populations? E-mail Executive Director Rob Schware if you're interested in being interviewed for this series. And thanks for all that you do in the name of service!
Popular in the Community