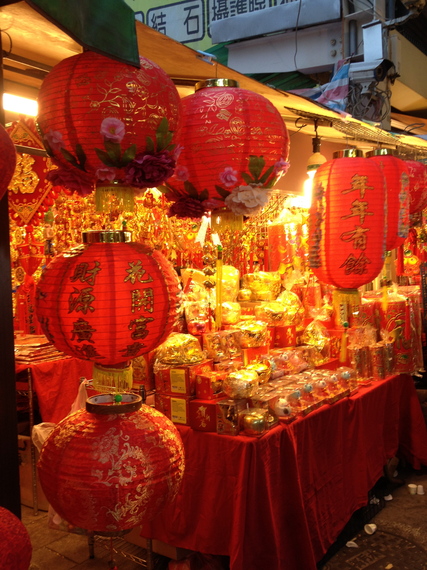 We may already be a few weeks into January, but I've just warmed up to the new year -- right in time to welcome Chinese New Year at the end of the month. In recent years, I started treating Chinese New Year as a second chance to start the year fresh. As if January 1 is the soft launch and the arrival of the next Chinese zodiac sign marks the true beginning to another annual cycle. As an added bonus, Chinese New Year extends the holiday season for me by an extra month or so.
This time last year I traveled to Taiwan from California to celebrate Chinese New Year with my 90-year-old grandmother. Born and raised in the United States, it was the first time in my 30-plus years that I'd experienced the holiday in Asia.
My mother used to say that Chinese New Year in Asia was very much like Christmas in the United States, and I finally understood why: All the shops and businesses in town were decked out in festive red (considered a lucky color), gifts, holiday cards and seasonal symbolic foods and decorations were for sale everywhere. Everyone shared seasonal greetings and traveled far and wide to gather with family and friends over feasts. It's actually more like Thanksgiving, Christmas and New Year's Eve all rolled into one, with all the gift-giving, holiday decorating, and traditional meals combined with giving of thanks, reflection on the past year, and wishes for the coming one.
I grew up in the San Gabriel Valley suburbs east of Los Angeles, in a predominantly Asian immigrant community. I was by no means a stranger to Chinese New Year celebrations and the rituals, symbolism and traditions surrounding the biggest holiday in Chinese culture. Yet, being able to observe what Chinese call the Spring Festival in its native context was eye-opening. The experience highlighted the fine line between the two parts of my hyphenated Chinese-American identity.
In Taiwan, I recognized the traditions and rituals on display all around me, but I was an outsider to my own tribe, trained in some of the ways yet not fully embodying them. I observed with familiarity, but not ingrained understanding as others hustled and bustled about, selecting appropriate holiday decorations such as festive red banners with traditional idioms wishing health, wealth and happiness emblazoned on them, and preparing symbolic foods such as whole fish (representing bounty), dumplings (representing prosperity) and oranges (also representing prosperity -- notice the theme?), to serve the double duty purpose of ancestor and deity worship ceremony offerings and as dishes for family feasts.
I'd experienced all this each year in California, but in Taiwan, my family's private rituals became a scene repeated throughout the neighborhood as well as across businesses all over town. I observed large and small business owners alike set up makeshift altars topped with symbolic food offerings right on the sidewalk outside their office building or storefront, leading employees in prayer with lit incense sticks to the deity who oversees fortune. All of this followed by the burning of ritual paper money, a rite also practiced in homes and at Buddhist temples and Taoist shrines interspersed throughout the city. Homes and businesses alike set off firecrackers throughout the 15-day festival, to ward off evil spirits. Between the paper money bonfires and the firecrackers going off at all hours, we were blanketed in haze for weeks.
Experiencing an entire population celebrating what had always been just a Chinatown holiday here impressed upon me the enduring power of ritual, tradition and faith across a culture. It was not a small-scale celebration in an ethnic enclave, but rather an entire nation honoring the occasion together. Cultural norms that were out of context in California were completely in line and assumed in Taiwan. I was a part of it, but not of it.
I realized just how American I am. I also developed a better appreciation for the hybrid identity of my parents as well, first-generation immigrants who were living in a culture very different than that in which they grew up. They have now lived over half their lives in the United States, but it speaks to the strength of family and cultural tradition that they still practice and pass on these rituals, in a pocket an ocean away.
My grandmother passed away shortly after we celebrated Chinese New Year together last year, and it's strange to think how this year she will be on the receiving end of the prayers and offerings. Her portrait now sits on the altar at the family home, alongside those of my grandfather and great-grandparents. The torch has passed to my parents to lead the family in the annual practice of rituals, based on memory and experience.
My parents are already one degree removed from their roots. I even more so. What rituals will I be able to impart reflecting my Chinese heritage, when I am so distanced geographically and culturally from those with whom I share common ancestors? Traditions take active practice to keep alive, particularly when carried on out of context. When the mantle passes to me I will attempt to share how I celebrated growing up, with the added context gained from the year I was across the ocean, practicing the rituals in the actual house and community in which my father grew up. I will show the next generation a photo of their great-grandmother whom they will have never met, and together wish her a happy new year.
Popular in the Community