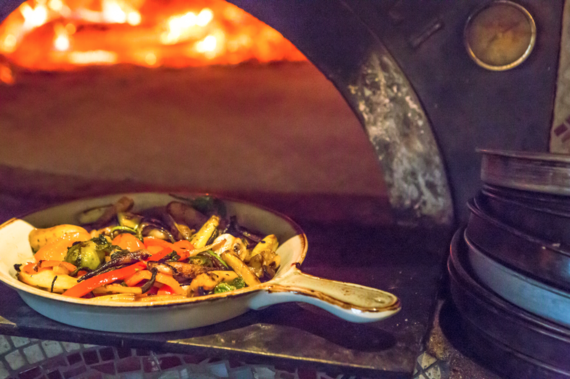 *This post was co-authored by Alyssa Chapman
The Ca' Momi food philosophy hinges on the honest rendition of classic Italian dishes― there are no secret recipes, just organically grown, locally sourced ingredients and a creative passion for crafting authentic Italian cuisine. While many modern restaurateurs favor innovative food technologies and "fusion" style menus, the food prepared at both Ca' Momi eateries reflects a strong devotion to preserving traditional Italian recipes, and honoring those recipes by executing them with the freshest, highest quality ingredients available. This past July, the owners of Ca' Momi met Peak Plate founder Julie Fineman for an interview and photoshoot at their family farm and new restaurant Ca' Momi Osteria in Napa Valley, California.
With a view of the quaint one acre plot owned and operated by the Ca' Momi team, the group discussed the evolution of what became an entire family of Ca' Momi enterprises, starting with the owners' Italian roots. Valentina Guolo-Migotto and her partners, Dario De Conti and Stefano Migotto were born and raised in Italy to families that impressed upon them early on the value of food and family. "I was raised by a bunch of Italian women who are of course very passionate about food, and about bringing family around the table," said Valentina. "Sitting around a table has always been something to look forward to, on a daily basis and on special occasions." For Valentina these kinds of childhood experiences translated into a life-long passion for crafting delicious meals that bring people together.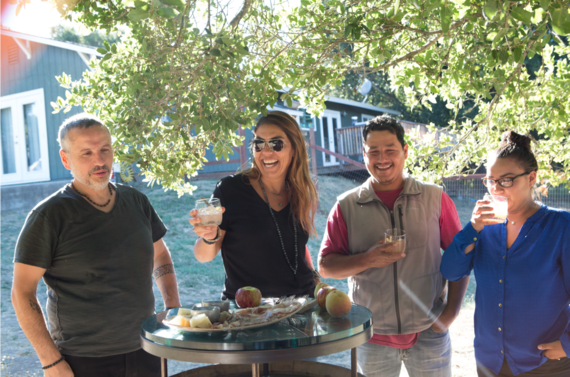 Enjoying hand-crafted cocktails at the farm with Master Pizzaiolo & Winemaker Dario De Conti, Chef Valentina Guolo Migotto, Nicadado Farm Manager Miguel Gomez & Tricia Lockridge of Fior di Sole
The Ca' Momi story itself began nearly twenty years ago, when Valentina and Stefano relocated from Italy to seriously pursue his winemaking passions. An Enology graduate of the Scuola Enologica di Conegliano with twelve years of prior winemaking experience, Stefano knew immediately that Napa Valley was the only location acutely suited for his pursuits. After their relocation, co-owner and partner Dario De Conti joined them and they worked together in the Napa wine industry for nearly a decade. During that time they recognized a serious deficit of authentic Italian flavors in the Valley. "When I moved here and I started tasting food that was supposed to be Italian, I couldn't recognize anything," Valentina recalled. "I eventually came to realize: 'We have the wine. Wine needs food."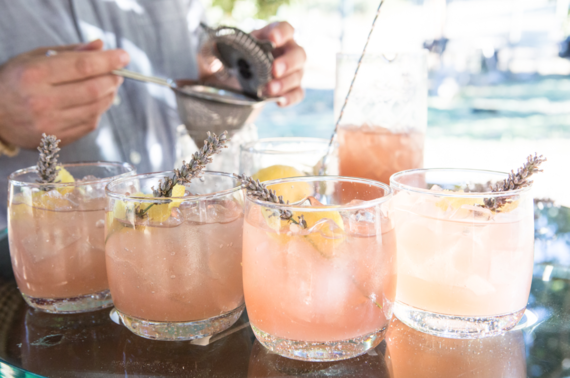 Ca' Momi Chief Hospitality Officer, Jonny Tindall, mixing La Morosa at Ca'Momi Nikadado Farm. · Bar Hill Gin · organic Nicadado Farm lavender syrup · fresh organic lemon · Cocchi Barolo Chinotto
In 2010, Stefano, Valentina and Dario opened Ca' Momi Enoteca in Napa's Oxbow Public Market with the intent of selling their wines and sharing Italian flavors with the Valley. Valentina described the overall process as a kind of addiction, commenting that before she knew it, "a couple of [menu items] started growing into a full menu. We created a restaurant out of what was supposed to be our tasting room," she continued, "then we couldn't stop." In October of 2015, the trio opened the Ca' Momi Osteria, a full-fledged restaurant in a historic 19th century building in Downtown Napa.
The Osteria continues the Ca' Momi food and wine concept that unites two seemingly conflicting notions: tradition and evolution. Valentina explained that to her, these two competing ideals are idealized by the spiral shape: a three-dimensional curve that encircles a fixed point. With regards to Ca' Momi's food philosophy, this fixed point reflects their strong commitment to preserving traditional Italian recipes. The surrounding curve symbolizes their goal of adapting organic, California-grown ingredients to recreate those authentic Italian dishes. Valentina insists that she isn't creating anything new, but instead finding the oldest and most authentic version of Italian recipes and executing them using products that are organic and locally-sourced.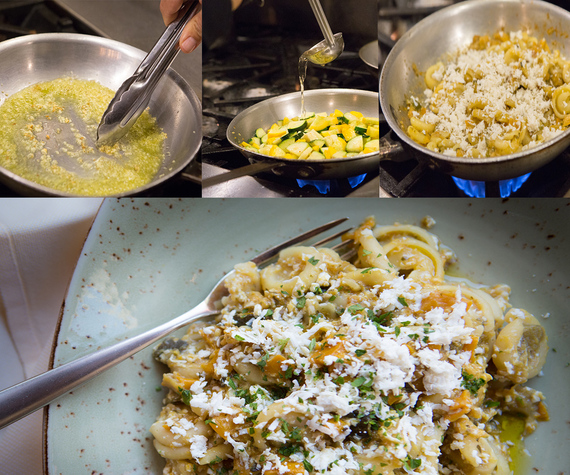 Cappelletti Con Ricotta Salata & Zucca · bellwether farms jersey ricotta · nicadado farm organic zucchini · black pepper · extra virgin olive oil
Valentina takes time to experiment with unique flavors in the kitchen. "I want to play with new flavors and see how I can choose a recipe that is appealing to our customers but also expands their boundaries at the same time," she explained. "A little bit of familiarity, but also incorporating something that gives it that edge." Bitterness, in particular, is one flavor that Valentina especially enjoys working with. "I love bringing in products that nobody knows and introducing them [to Napa]," she added. "For example, I can only find certain kinds of radicchio and puntarelle here, so we grow them from seeds imported from Italy."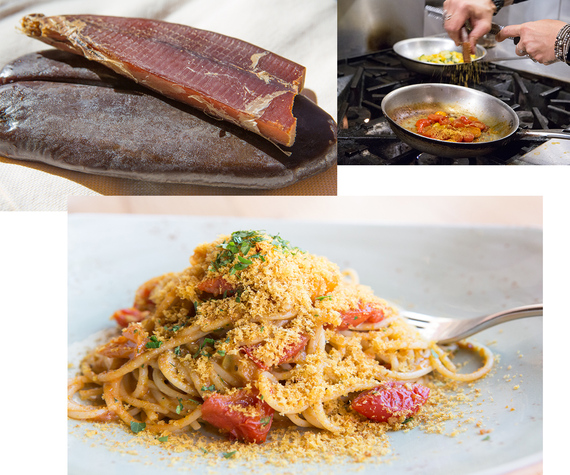 Upper Lf: Cortez Bottarga -sun cured roe of grey striped mullet Upper Rt: Graciously grating on Cortez Bottarga Bottom: Spaghetti Con Pomodorini & Bottarga · from Sardegna · Capay Farm organic cherry tomatoes · garlic· cortez bottarga · calabrian chile
Any ingredients used at the Osteria and Enoteca that not are not grown at the Ca' Momi family farm or imported directly from Italy can be sourced from local farms and ranches. To both support the local small-business economy and encourage a healthy food system, Ca' Momi partners with like-minded businesses like Capay Organics, Far West Fungi, Hudson Ranch, Central Milling, Be Love Farm and Clover Stornetta. Like Ca' Momi, these companies aim to operate mindfully through the utilization of organic practices and ethical production methods. In particular, Ca' Momi has a developed a special relationship with Capay Organics, the farm at which the majority of their fruits and vegetables are grown. "Our relationship with Capay is synergistic and in-line with our own company mission," Jonny, the Chief Hospitality Officer, explained. "They are local, organic, family owned and operated and supportive in the distribution of their own incredible quality produce as well as that of other small, local organic farmers."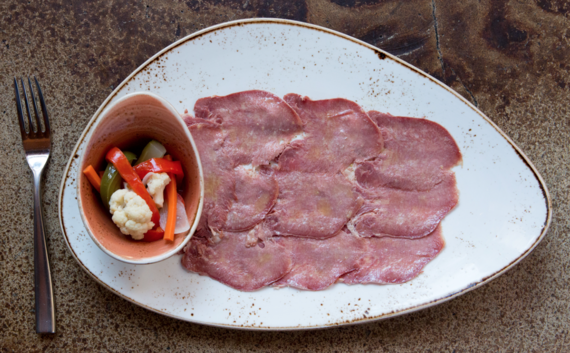 Lingua Carlatta & Giardiniera from Veneto · cured sunfed ranch organic tongue carpaccio · pickled seasonal vegetables · lemon vinaigrette
At Ca' Momi, there is not only a commitment to local sourcing, but also to recycling and food waste reduction. "We were born and raised with that mentality nothing gets wasted and nothing gets thrown away," said Valentina. "It was easy for us to come here and apply the same mentality to the way we do business." One of the ways Ca' Momi reduced its waste is by operating nose-to-tail with certain meats, meaning they use every possible part of an animal. "Being Italian, I believe in using the whole animal and not just parts of it." Valentina finds this process to also be an educational experience for Ca' Momi guests, commenting that "it becomes kind of an educational opportunity to have [unusual cuts of meat] like that on the menu, and taking the opportunity to not only explain how and why we prepared it, but also our philosophy behind raising animals and eating them."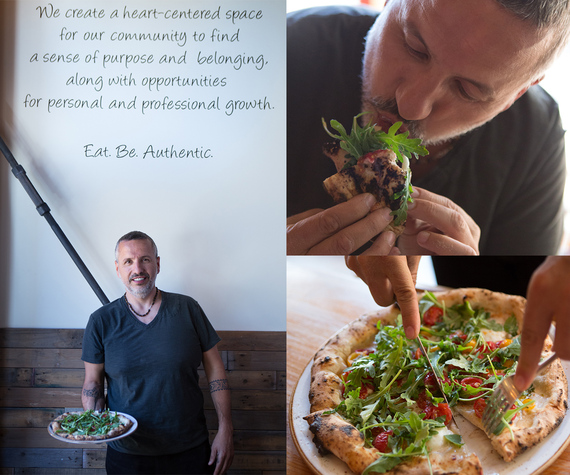 Master Pizzaiolo & Winemaker Dario De Conti shows us the correct way to eat pizza: cut in half, fold, and eat...classic Italian street food
Unlike any other eateries in the Valley, Ca' Momi Osteria and Enoteca have the Ospitalitá Italiana Seal of authenticity issued by the Italian Government to restaurants that promote traditional Italian culture and quality standards. They are also certified by Verace Pizza Napoletana (VPN) and Associazione Pizzaiuoli Napoletani (APN), two regulatory agencies that grant certificates of authenticity for the preparation of traditional pizza Napoletana. Ca' Momi even purchases batches of a custom, lab-tested blend of flour from Central Milling for their pizza dough in order to ensure its quality and authentic flavor.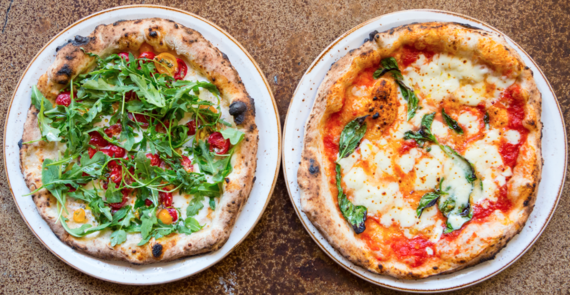 Pizza Estate · capay farm organic fresh cherry tomatoes · organic arugula · mozzarella di bufala · garlic | Margherita Pizza · organic san marzano dop crushed tomatoes · organic fior di latte mozzarella · organic Nicadado farm basil
Still under a year old, the Osteria has only just begun to establish its presence amongst an array of highly acclaimed restaurants in Downtown Napa. If anyone is up to the task, however, it's Valentina, Stefano and Dario, with their steady commitment to expanding and evolving the Ca' Momi brand while also maintaining its operational values and community spirit. "I love the challenge," Valentina said earnestly. "Every time I have an opportunity to foster something new that allows us to grow as a collective, I love it, and I can't miss the opportunity."