The Ogilvy Media Influence team conducts a survey of global media each year to gain new insights about the trajectory of the media industry and to assess the opinions of journalists from around the world. This year the survey, which assessed the opinions of more than 250 news media professionals across North America, Asia Pacific Countries (APAC), and the European, Middle Eastern and African (EMEA), uncovered an interesting and somewhat predictable shift in how journalists view the way we access news today. According to the results, worldwide, the majority of journalists surveyed (39 percent) view Facebook as the top news gatekeeper. The findings underscore that new digital media capabilities and technological advances are reshaping the way we procure news.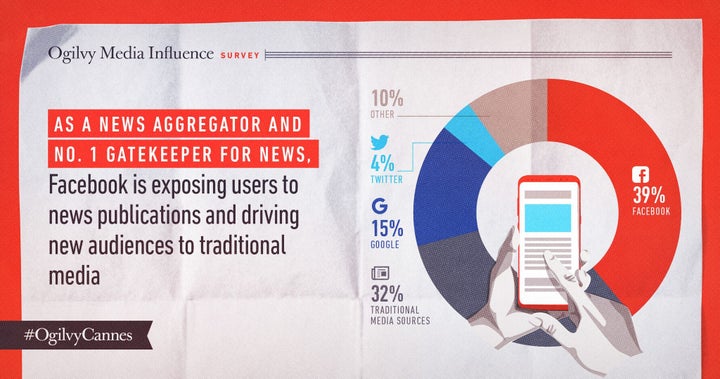 As we know, Facebook has a massive established audience. As the social media giant has woven itself into the fabric of the communications industry, more and more brands have turned to the platform to gain exposure. The news media is no exception. With traditional media sources becoming more agile with their transition to an increasingly digital world, it's clear that journalists worldwide perceive the world's most popular social network as a key news aggregator. Facebook also is very much aware of the trend and it's looking to cash in on it and so are traditional media sources.
According to The Wall Street Journal, Facebook is apparently on the path to start charging users for news content. Sources say the social media pioneer is planning to launch a feature by the end of 2017 that, for a fee, will allow users to subscribe to publishers' content directly from their mobile platform. Details around how the business and payment models will work have yet to be ironed out, but if it happens, traditional media sources may finally have an avenue to capitalize on the Facebook phenomenon. Digital subscriptions have been sought after more to help increase revenue for traditional print outlets, so the Facebook bump could help drive the revenue stream for traditional print media. Jim Friedlich, Chief Executive of the foundation behind the Philadelphia Inquirer said about the potential move, "Helping news publishers get paid for their digital content is arguably the most meaningful help that Facebook could provide to global journalism. If Facebook truly creates a successful platform for the sale of news subscriptions at scale it will be a powerful and historic game changer for the news industry."
It's important to note that the survey also showed legacy news sources like newspapers, magazines, and broadcast networks remained a top news source among a large portion (32 percent) of the surveyed journalists worldwide. Taking a step back, we can see how the results begin to paint a picture of how Facebook has increasingly become a substantial conduit for traditional media…and from the looks of the survey results, journalists clearly recognize its significance. Think of it this way, a news piece created for a traditional print outlet may be discovered on Facebook more quickly than the outlet's own digital platform; yet, the discovery ultimately drives traffic back to the traditional source. Users currently can access that content for free, but that could very well change by the end of the year.
Another significant point unmasked by the survey, which further put the findings into perspective, was journalists' attitudes about the most effective communications mix for brands to deploy in order to build reputation and generate influence. The results indicate that most journalists (40 percent) believe earned media is the most effective tool in the shed, coupled with social media (27 percent) and influencer engagement (13 percent) to shape brand character. When you put all of these pieces together, there's a clear and present message for public relations professionals (PR) –they still play a major role in helping to build and maintain brand identity for clients.
The findings also indicate that advancing digital platforms have not just impacted the way we access news, but they also are driving the way stories are told. Journalists are changing their reporting approaches more quickly than in years past to take advantage of the bold new media frontier, which includes things like live video, podcasts, digital newsletters and other new digital media platforms. The results show that journalists worldwide identify these specific mediums, along with innovations with smartphones/mobile devices as having the greatest opportunity for growth. Brands need to be equally astute at leveraging these mediums. That's one area where PR professionals continue to provide sage guidance. Also, understanding where and how journalists see their role in the digital media equation helps to contextualize today's increasing digital capabilities, as well as illustrate how experts from other areas of the media matrix (e.g., advertisers, marketing professionals, etc.) can help brands navigate the digital media landscape as it continues to evolve.
The seemingly endless stream of digital innovations can sometimes get overwhelming for brands in terms of knowing how best to leverage each platform. The good news is that communications specialists have been through a digital media revolution before and have been able to successfully find new and innovate ways to use the new tools to benefit their clients' brands. Case in point, the initial introduction of digital media into the communications mix shifted the entire traditional media model, dictating that media outlets modify their reporting and distribution strategies to keep up with consumer demands, which were largely driven by technological advancements. Media experts were able to adapt in kind, especially with print outlets, which were initially sluggish in adapting to the new technology. Interestingly enough, despite the flack print media received for not moving swiftly enough or being smart about the high-tech media ecosphere, the survey revealed that most journalists (40 percent) believe print media have been the most successful traditional platform to adapt to the evolving digital world. Television and newswires split the remaining vote; TV showing just a slight (six percent) edge over newswires.
One example of a traditional print transformation is The Financial Times, which recently increased its video output and has even more video content on the way. First, the financial news stalwart launched a video-only page called Transact targeted toward corporate decision makers, institutional investors and wealth managers, which covers the future of money. Transact also is on a YouTube Channel and, of course, a Facebook page. The publication also plans to launch three more series-led, commercialized video verticals over the next few months featuring more evergreen content. Each is reported to have its own channel and social presence focusing on data, disruption within industries like healthcare and automation, and the upsurge of artificial intelligence. Kayode Josiah, director of commercial development at the paper said FT wanted to, "bring brands in and give them a voice."
Another long-standing traditional media staple, The Washington Post recently launched Finance 202, a daily e-newsletter that covers how the debate in Washington impacts financial and economic policy, including investors and consumers. The innovation shows that as more people move toward receiving customizable digital news, WashPo is more than ready to keep pace with digital expansions. We also are starting to see traditional outlets and social media platforms converge and create partnerships that leverage the strength of each brand. For instance the new Bloomberg and Twitter partnership. The two brands recently announced that they have teamed up to stream live video news reports from Bloomberg's global bureaus, which will broadcast exclusively on Twitter 24/7. The soon-to-be-named channel is expected to begin operating this fall, but it has already begun streaming big events, such as the recent Congressional hearings.
The digital media era is continuing to revolutionize the creation, distribution, and consumption of content. Today, journalists and news media houses are more aware of the evolving media industry than ever before and are learning not only to adapt, but to innovate storytelling pathways that best reach their audiences. Facebook becoming a leading news gatekeeper is one of the newest advances in the media mix. While no one knows exactly where the digital road will lead, we do know that as modern PR professionals that we can provide strategic insights like those uncovered in the survey, and chart the waters for clients to ensure they are creating and implementing the most effective communications strategy for their brands.
* NOTE: Shareese Thompson contributed to this article.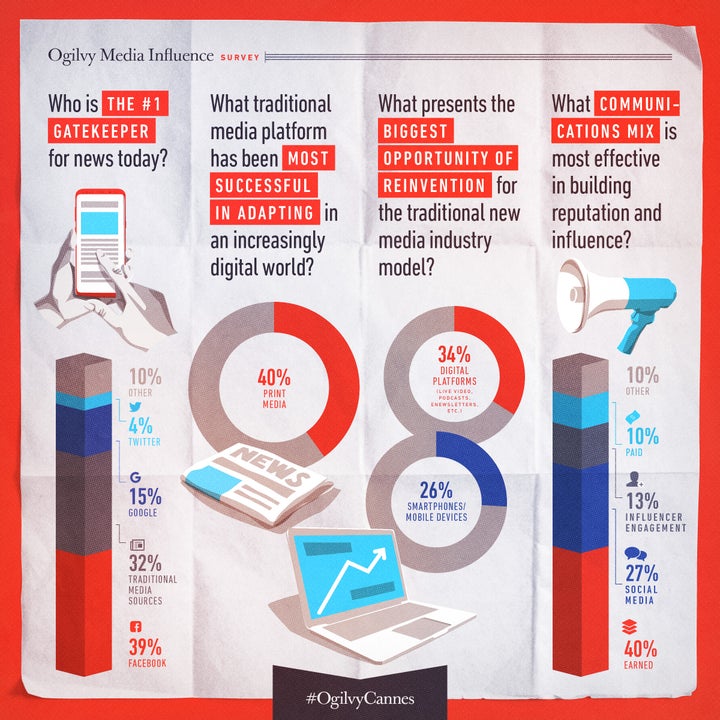 Popular in the Community