Would it make sense to pack a foil balloon in a suitcase for use two days later? Was there any precious packing room left for it to actually fit without popping? If I managed to find a way to cram it into my travel bag, would it slowly deflate in the hours before the big reveal, looking sad and dejected instead of perky and celebratory?
These were the questions taking up way too much of my brain space in the days before my daughter's 10th birthday. We were heading out of town for my 13-year-old son's baseball tournament, which meant I had to take our family's birthday traditions on the road.
When I was newly pregnant with my first child and still had long stints of free time (sigh) I read an article about the importance of family traditions, such as holiday celebrations, birthday customs and special meals or trips. It reminded me of the traditions I experienced growing up that I looked forward to year after year. Every summer we camped in Maine. We always left before sunrise, my father driving hours while I snoozed on a bed of pillows in the back seat of the car. We always picked wild blueberries and drank Coke from thick recyclable bottles before recycling was in style. Every Christmas Eve we'd have Aglio E Olio, an Italian dish with pasta drowned in garlic-infused oil. It was a strong taste for a kid, but I anticipated that one bite I could muster just the same. On Christmas, we'd always find a "lucky" orange in the toe of our stocking.
It turns out that predictable and comforting rituals and routines like the ones I experienced are associated with numerous benefits, including marital satisfaction, adolescents' sense of personal identity, children's health, academic achievement and stronger family relationships, according to a review of 32 studies published in the American Psychological Association's Journal of Family Psychology.
So I made a decision years ago that my new family would start some new traditions and embrace them. It began with birthday cake for breakfast. Let's get this party started, pronto. I had visions of my children grown, reminiscing about their great birthdays where that had sweets while still in their PJs and they'd sing songs like Bill Cosby's "Dad is great, give us the chocolate cake."

Insert "Mom is great." Insert pat on the back.
But like the Lego pile in the basement, the traditions kept growing and growing. Every year for birthdays my kids awake to see a birthday card tied to the string of a balloon next to their bed. Every year, they come downstairs to see a dining room and front door decorated with streamers and a birthday banner. Every year, they don an inflatable crown and have birthday cake for breakfast or mini cream pies or pudding in an Oreo crust, or a basin of green Jell-O... or whatever the birthday recipient most favors that year.
Holidays are no simpler. Every year, for Christmas, we make dozens and dozens of decorated gingerbread cookies. Every year, we road trip from D.C. to Philly, visiting one set of grandparents, and then on to see the other set in Boston for Christmas Eve and day. Every year, we stop on the way and have chicken noodle soup in a bread bowl and hot chocolate with a side of marshmallows. Every year, gifts that were wrapped ahead in Santa-decorated paper and hidden in trash bags inside suitcases appear under the tree on Christmas morning. Every year, in the stockings there's a new ornament (as well as the lucky orange). Every year.
My kids greatly anticipate these events and will accept no deviations. I can feel how it keeps our family unit connected. These traditions are "our thing."
And yet it's becoming harder and harder to keep track of and orchestrate the ever-growing components of our celebratory rituals. My son recently reminded me before Valentine's Day that he loves how I make them homemade valentines every year. I make homemade valentines? Every year?
It's becoming too much. That's what I was thinking, as I sat there staring at my suitcase debating the pros and cons of balloon packing. I goofed. If I could have a do-over I would make the traditions simpler. I would include more focus on helping others. I would not let them get out-of-control. And with that I decided to skip the balloon. I wrapped and packed the birthday gifts, card, decorations, crown, candles, and a breakfast party cake concoction of tastykakes, yodels and lollipops. No balloon.
Late the next night my daughter, who apparently also spent a lot of time thinking about how I would pack a balloon, leans over and whispers to me that it's ok if I didn't bring a balloon, but could I get one when we get back home because she just really, really loves the birthday balloon. It's one of her favorite parts of her birthday, she tells me, eyes all wide, dripping of sweetness. Of course it is.
I wish someone would do research on the best way to get over parent guilt. I'm thinking it may include cake for breakfast. Lots of cake.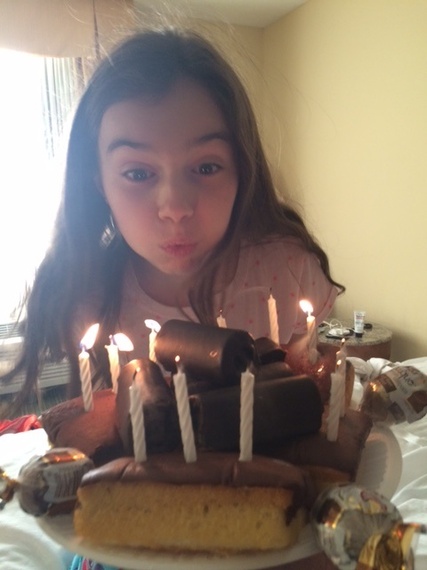 My daughter enjoying birthday cake for breakfast.
Related