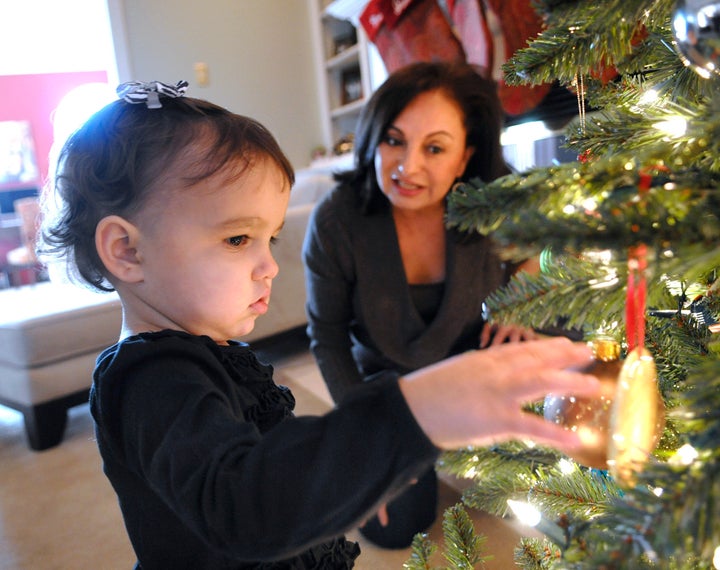 Do you remember your favorite family tradition as a child? Mine was putting up our tree the week before Christmas while listening to music from my mom's holiday albums (yes, albums!) I experienced such joy in introducing this tradition to my children, adding my own favorite songs and special touches. Now teenagers, my kids have long since taken ownership, layering our ritual with their personal embellishments.
When I became a parent, I also became a "tradition-keeper." My husband and I consciously decided which of our childhood customs we wanted to continue with our growing family. Traditions took on a profoundly deeper meaning for me in 1997, when my dear friend Mary Murphy was dying. She believed that her son would find tremendous comfort and support by continuing their cherished traditions, as well as a positive way to stay connected to her. Three months before she died, Mary asked me to help her start Mommy's Light Lives On Fund®, a non-profit supporting grieving children and teens by helping them keep alive traditions they shared with loved ones who have died.
Traditions enable us to honor the past, celebrate the present and provide a legacy for the future. Not only a source of enjoyment, they serve as the glue that keeps families united from one generation to the next and across the miles that often separate us, both literally and figuratively. They play an important role in helping children create and define a sense of self and family identity. And when we encourage the next generation's interpretation, children personalize them and eventually become their stewards.
These same traditions can serve as vital lifelines, especially for children coping with crisis or the death of a loved one. "Matthew was just four when his mother Lisa died from non-smoker's lung cancer," says his dad, Mark Carlinsky. "Before she died, a social worker introduced us to Mommy's Light. Lisa and I were pleased that she could participate in the planning of Matthew's tradition. We felt the concept was fantastic and that it would benefit him later in life when he could look back on the experience. She wanted him to have a foundation of his own memories of her."
After working for more than fifteen years with Mommy's Light's dedicated volunteers who have served hundreds of children and fulfilled nearly 1,000 tradition requests, there are several things that I know to be true about traditions:
1. Any tradition that is embraced by children, no matter how simple, can stand the test of time.
2. Traditions are a natural and joyful way for all family members to actively engage with each other, and otherwise uncomfortable or difficult conversations can "just happen."
3. Traditions are universal and transcend race, religion, gender, culture and economic status.
4. Traditions are a powerful vehicle to help children, teens and adults maintain healthy emotional connections to family members, especially to a loved one who has died or is away from home for an extended period of time.
The simple truth is that anything done repeatedly with love and joy becomes a family tradition.
Being together is the most important aspect, whether it is snuggling up for Friday movie night, enjoying a favorite dinner or making an annual trip to the zoo. If you want to start a family tradition or resurrect a dormant one, the good news is that the process is fun, easy and rewarding.
1. Involve your children. Ask what they enjoy doing as a family. Let their imaginations lead the way!

2. It's all in the details. Children remember the most specific aspects of their favorite traditions. They serve as the anchors that evoke familiar sights, sounds, smells and memories from year to year. For instance, Max, whose mother died when he was 7 years old, made it a point to continue planting blue flowers, because he loved to garden with her and she always chose blue flowers, his favorite color.
3. Stress less. I used to think of traditions as being centered around significant holidays, but kids have a broader view. In fact, it can be easier and less stressful to enjoy traditions when life is less hectic.
4.Maintain consistency. Schedule your tradition each year at the anticipated time to maintain the continuity and consistency that are building blocks for establishing traditions.
"When it comes to fulfilling a tradition, I couldn't even imagine how to attempt to do it with the level and detail that Mommy's Light does," says Mark Carlinsky. "I never even thought of the idea until I heard of it. It's brilliant. We won't want to ever stop because it's sacred. There's no other way to describe it."
I am grateful for the rich conversation, laughter and genuine connections my family derives from our traditions. They have become irresistible magnets pulling us closer together year after year, and I suspect that their legacy will carry on long after I am gone.