A couple of weeks ago, I returned from the Folk Alliance International conference with an earful of tunes and a bagful of CDs. At the conference I noted a particular orientation to traditional folk music that I've come to think of as "traditude." Traditude is having enough confidence in your traditions that you don't mind playing at the margins. You might collaborate with someone from another musical world, add unusual instruments to your band, or bend the rules of composition or arrangement. You don't just artificially combine, say, Irish fiddle tunes and Go-Go, but you don't rule out that combination if it says what you want to say.
OK, so traditude is hard to define, but I know it when I hear it.
Québec quartet Mélisande sports a moniker which screams traditude, echoing earlier bands like Malicorne, Melusine, and Maluzerne... but Mélisande is also the lead singer's first name. She trained in contemporary chanson, prog rock, and pop, then shifted to folk and promptly won 2014's traditional singer of the year at the Canadian Folk Music awards. She sings and plays electric guitar, and is joined on her "electrotrad" project Les Métamorphoses by Alex de Grosbois-Garand (of Genticorum) on voice, electric bass, and flute; Robin Boulianne on fiddle, mandolin, banjo, and voice; and Mark Busic on keyboards, loops, and programming. In their sound you'll hear echoes of what Afro-Celt Sound System did with jigs and reels, or Talitha McKenzie with Scottish mouth music, but you'll hear it applied expertly to Québec folksongs with a focus on the words rather than dance beats. Sparkling electronics, insistent grooves, and a touch of industrial noise are tempered by the organic flute, fiddle, and mandolin in an unusually well-balanced blend.
A theme pervading the songs on Les Métamorphoses is the lives of women. Two songs stand out for the richness of their imagery: "La Blanche Biche" is a hair-raising tale of a woman transformed into a white doe, while "Les Métamorphoses" describes a woman transforming herself into a variety of plants and animals to escape the amorous advances of another sorcerer. Both are old, scary, challenging songs, but worth thinking about. Mélisande has adapted some of the other lyrics to better reflect modern times. In "Sort de Vielle Fille" ("The Old Maid's Lot,") which describes barriers Québec women experience to getting married, she added a few verses indicating that her narrator's intelligence and self-confidence might scare men away, something that wasn't in the original song. Update a folksong like that, put it over a bassline and keyboard riffs that could come from an 80s pop song, strap on your electric guitar, and you've definitely achieved some hard-edged traditude!
Read more about Mélisande in Kithfolk. And check out their official video below!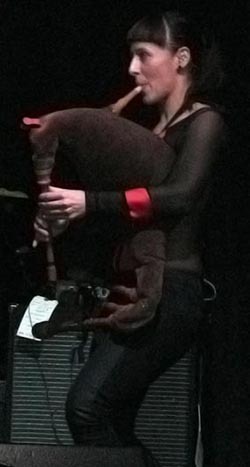 Right: Sandra Sillamaa of Trad. Attack. Photo by Stephen Winick.
Few bands are as in-your-face with their traditude as Estonian trio Trad. Attack, who back traditional songs with guitar, bass, drums, sax, and electronic sounds, as well as Estonian bagpipes, whistles, and Jew's harp. The overall sound on their self-titled 5-track EP is hard-edged pop with folk touches; their drummer is particularly good at rocking out on a full kit. The Estonian bagpipes are mellower in sound than their Scottish cousins, and make a good lead instrument on "Kooreke" ("Precious Cream"). The whistles are atmospheric and pretty on "Kuukene" ("Moon"), and the Jew's harp is great for boisterous dance numbers such as "Aitumakest" ("Thanks"). Trad. Attack owns their sound with style, skill, and conviction. As for the songs, Estonia is known for its strong traditions of folk singing and also of folklore studies, and their archives are among the richest in the world. Trad. Attack takes advantage of that, drawing their lyrics from archival recordings, primarily of spells, charms, and incantations. These songs are traditionally delivered in a hypnotic chant or drone, so the band adds melodies as instrumental breaks between verses. On some tracks, Trad. Attack uses sampled voices from the original field recordings as its lead vocals (think Moby's "Natural Blues"); on others, the band members sing the leads themselves. If there's one thing I could wish for, it's more lyrical, melodic songs, and I hope they'll expand to include some in the future. But as it stands, the album is a fascinating glimpse at Estonian magic, as well as a fun, rewarding listen, promising good things in this band's future.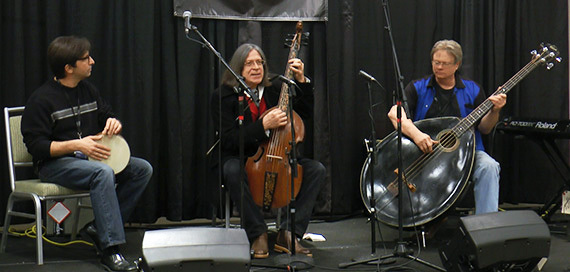 Serdar Tuncten (zarb), Gerald Trimble (viola da gamba), Bill Banks (mandobass). Photo by Stephen Winick.
Traditude isn't just about adding electronics to folk music. It's about having the courage to do things that others might call weird: combining traditions, using unconventional instruments, playing in unusual ways. A good example is the latest CD from Gerald Trimble, Uncharted. Trimble, who cut his teeth in English folk clubs and was renowned in the 1980s and 1990s as a Celtic cittern player, now plays mostly viola da gamba and happily mixes English folk, early music, and Middle Eastern melodies. Uncharted finds Trimble playing a variety of music on unusual Baroque viols, while guests add a percussion and more. The first track sets the tone: on an English dance called "Argiers," Trimble begins with a brief improvisation, presents the theme on solo gamba, then adds more viols and Turkish percussion, alternating between playing the tune and improvising around the melody, swooping up in one improvisation, down to a growly bass in another. His setting of "Greensleeves" also reflects his love of improvisation, yet never strays far enough from the familiar song to get lost. His rendition of "The Crockery Ware," a song made popular by English folksinger Nic Jones, captures the spirit and humor of Jones's version, while using none of the same instruments or techniques. These English dance tunes and folksongs rub shoulders with Turkish pieces such as "Dokumaci Kizlar Yalelli" and spontaneous Middle Eastern improvisations like the one Trimble calls "Hijaz Taksim." Trimble's fluid playing, his facility with Eastern and Western modes, and his mastery of the gamba, which can sound like a cello or a classical guitar in his hands, add up to a tremendously varied set that nevertheless hangs together beautifully.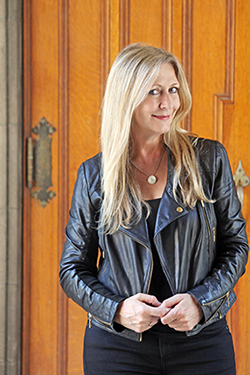 Left: Altan's singer and fiddler Mairéad Ní Mhaonaigh. Courtesy of Compass Records.
Finally, since St. Patrick's Day is at hand, I'll mention The Widening Gyre, the latest from renowned Irish band Altan. I've been listening to this group a long time; it's hard to believe, but over twenty-five years ago I recorded one of their gigs for WKCR at New York's Eagle Tavern. (Eerily, the band's singer and fiddler Mairéad Ní Mhaonaigh looks exactly the same as she did then, but I've aged!) Since then, they became one of the first traditional music bands to record for a major label (Virgin), scored gold records, and toured all over the world. After a hiatus of a few years, they came back for 2012's The Poison Glen, and just followed that up with The Widening Gyre. Named for a line in Yeats's "The Second Coming," the album may have felt like a rough beast being born; it features the band's first lineup change since Frankie Kennedy passed away in 1994 and was replaced by Dermot Byrne. Now Byrne himself has been succeeded by Martin Tourish on keys and piano accordion. The band, which recorded The Widening Gyre in Nashville, invited along a slew of country and bluegrass guests to make this (more or less) a crossover country-Celtic album. Old-time fans will enjoy an unusual ballad combining elements of "The House Carpenter" with the framework of "Gypsy Davy," which features Tim O'Brien and Julee Galub Weems, as well as the tune set including "Buffalo Gals," featuring Darol Anger. Bluegrass aficionados will love the original tune "The Triple T," which includes Alison Brown, Sam Bush, Jerry Douglas, and other Nashville greats. Country fans will like "No Ash Will Burn," on which the great Bruce Molsky sings and fiddles alongside Ní Mhaonaigh. And if Irish music is your thing, there's Altan's usual stock-in-trade: hard-driving Donegal reels and jigs, gentle songs in Gaelic and English, and even a Yeats poem, set to music and sung by Ní Mhaonaigh and Mary Chapin Carpenter. Masterful playing and clean production are married to great attention to detail in the arrangements; on "Cúirt Robin Finley," for example, ebow guitar and cello are joined by eerie, subtle fiddle effects that add an extra dimension to Ní Mhaonaigh's clear, arresting vocal. Happily, the center holds, and mere anarchy is not loosed; au contraire, The Widening Gyre is a beautiful, coherent example of Irish music with strong American influences.
And, of course, with traditude.
Related
Popular in the Community