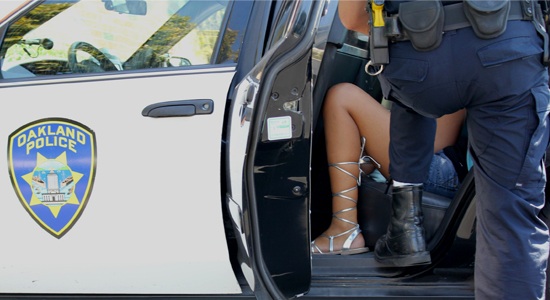 Brett Myers/Youth Radio
Originally published on youthradio.org--the premier source for youth-generated news throughout the globe--and aired on National Public Radio's All Things Considered.
By Denise Tejada and Youth Radio's Investigative Unit
OAKLAND -- For more than six months, Youth Radio has been investigating child sex trafficking in Oakland. It's a system of exploitation that's ensnaring girls across America. The FBI has said more than 300,000 children and youth per year are forced into prostitution. But perspectives from the girls themselves, who are caught up in what's known as "the game," are often missing from reports. In a two-part series airing today and tomorrow on National Public Radio's All Things Considered, Youth Radio reveals those perspectives. The story opens with two teenage girls who've been trafficked. We call them Darlene and Brittney.
Getting into "The Game"...and Getting Out

Like many girls, Darlene's boyfriend got her started working as a prostitute. "On my fifteenth birthday, he was like, 'Well you know, since you'll be staying with me and stuff, we need more food. We need to find a way to get some money.'" Out on the street, he taught her how to act. "This is how you look at the guys," he'd say, "This is what you tell them, these are what cars to stay away from, this is how much you charged."

Darlene's boyfriend would be known as a "Romeo Pimp." There's another kind of trafficker: the Guerrilla Pimp. He uses overt force and fear to get his way. Oakland police estimate a third of girls working in prostitution were abducted and forced onto the streets. Brittney was one of them. "I got kidnapped when I was 15," she said. "I decided to cut school one day. I was in Oakland on Havenscourt and Foothill, and all I heard was 'man go get that girl,' and one of them came out and dragged me by my hair and he pulled me into the car."

Brittney says she was gang raped by at least six men. She was put on the street in Sacramento by one of them - a 32-year-old who became her pimp. He took her phone, told her not to talk to anyone but johns and had his sister watch her so she wouldn't run.

Alameda County Assistant District Attorney Sharmin Bock compares the girls' situation to being brainwashed by a cult. "Remember Guyana and Jim Jones, where everybody's drinking that Kool-Aid drink?" said Bock. "Well, that's exactly what these girls have had. Let's call it pimp juice. They've all had it and they can't see past either their affection for him or their fear for their trafficker."
Listen to Youth Radio's full report here. The story takes place in Oakland's red light district, known as "The Track," and follows Darlene's and Brittney's pathways into and out of prostitution. Both have been arrested previously and now work with community organizations to help other girls escape sex trafficking.
Three Girls Still Out There (Web Exclusive)
Darlene and Brittney say that hindsight and help from community organizations have given them a different perspective in the year they've been out of the life of a trafficked teenager. For one thing, they no longer feel trapped -- whether out of necessity, fear, or both -- by the men who trafficked them. And they now see more opportunities for themselves. Back then, said Brittney, "I felt I wasn't a victim."
Last spring, Darlene interviewed three teenagers from a high school who said they were actively working the streets or the Internet. These are unconfirmed person-on-the-street accounts. Their accounts match social service findings of youth who are ensnared in sex trafficking. At times pragmatic about the lack of job options for teens in the Bay Area and other times impressed by their own ability to make over a thousand dollars a night, these are the views of three of the hundreds of girls still out there.
1. "I put it upon myself to go out there and get this money"
"Living at home for me was very hard. We didn't have many resources. Me and my little brother would go to sleep with nothing to eat. My momma didn't have enough money to pay her bills, pay for rent. My mother was doing drugs, she did it all, crack, powder... So I put it upon myself to go out there and go get this money. But at the same time, I didn't do it just for myself. I also had been wrapped around this male... I'm listening to him telling me we can do this together, we're gonna have cars, money, clothes, jewelry, everything. But it didn't come out to be like that."
2. "I'm trying to be ready for my life"
"My life is good at home. It's kinda a struggle, but it's good. My momma, she gives me money here and there, but at the same time, I'm tired of asking her for stuff. I'm trying to be on my own a little bit... I'm getting straight As, doing good, about to graduate. But at the same time, it's not getting me nowhere, it's not putting no money in my pockets."
3. "I'm not no part-time ho"
"I go to sleep with money in my pockets and I wake up with the same mentality. I'll post a new ad every day, I go to "the track" every day, and I have my tricks lined up every day. There's not a day that I don't get no money... I think I would be more into my education growing up somewhere else. But in Oakland, you got to get it how you get it. "
Tomorrow Youth Radio Investigates brings you Trafficked, Part 2. This second installment reveals a legal system with a double standard that makes it difficult to arrest and prosecute pimps and johns, and instead criminalizes girls. The Youth Radio investigation also exposes an emerging infrastructure of photo studios and marketers who promote underage prostitution online. And youthradio.org publishes a "pimp business plan" that details how one trafficker plans to move from "concrete streets to the executive suites" by selling children for sex.
Youth Radio/Youth Media International (YMI) is youth-driven converged media production company that delivers the best youth news, culture and undiscovered talent to a cross section of audiences. To read more youth news from around the globe and explore high quality audio and video features, visit Youthradio.org.
Popular in the Community