 Originally published on Youthradio.org--the premier source for youth generated news throughout the globe--and National Public Radio's All Things Considered.
Youth Radio's Investigative Unit
OAKLAND-Yesterday, Youth Radio released Part 1 of Trafficked, an investigative series on child sex trafficking on Oakland's streets and the Internet.
Reporting from a police "sweep" of Oakland's red light district, today's story examines the strategy local and federal law enforcement employ to target children who've been trafficked, in an effort to get them off the streets--and to get them to give up the names of their pimps. It's a controversial policy. Police round up and arrest hundreds of women and girls each year, but only about 20 pimps, and virtually no johns. Youth Radio has also uncovered a local infrastructure, including photo studios and marketing consultancies, that produces the online identities of Oakland's trafficked teens.
Listen to the full report here.
As with Trafficked, Part 1, Youth Radio's investigative report includes original coverage for The Huffington Post. Below is a hand-written document titled, Keep it Pimpin (full transcript), obtained by Oakland prosecutors. It's one trafficker's strategy to expand his business and profits, recruiting girls from jail houses and small cities around the country and internationally. For him, success means advancing "from the concrete streets to the executive suites" with money he's made from the sexual exploitation of girls.
Alameda County Assistant DA Sharmin Bock says Keep It Pimpin represents a larger pimp mentality. "Ultimately you do want to be doing the big ticket sales of children all over the country. And sadly today there is no better bang for your buck, no better investment on your money, no better return, than selling a child for sex."
Prosecutors say a mid-level trafficker can make more than $500,000 dollars a year by marketing just four girls. With that kind of money on the table, police say longstanding networks of gangs and drug dealers are starting to cross over to trafficking. Unlike drugs, there's no manufacturing, importing, or warehousing, and girls are often forced to "sell" themselves.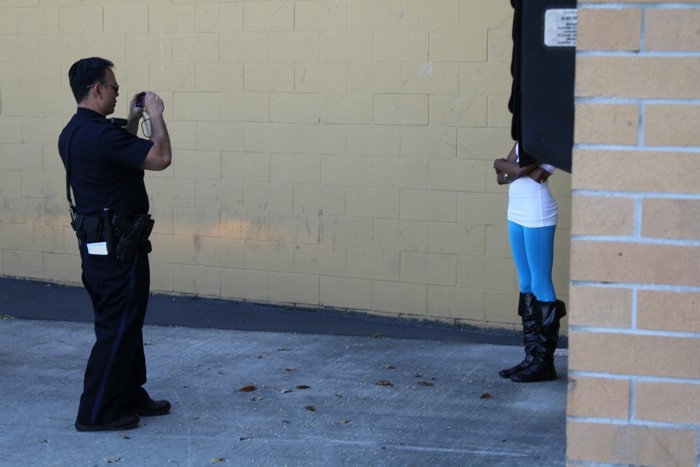 Photo credit: Brett Myers/Youth Radio
Sex Trafficking's Infrastructure--On and Off Line
There's another factor making it easier for johns to buy sex and for pimps to make money--the Internet. Craigslist has removed the section that was used for sex trade, but there are many other sites that advertise and sell sex with minors. What used to be a mostly local prostitution business is now global, and that global business has given rise to cottage industries.
Youth Radio Uncovers: Storefront Photo Studios Sell Teens
Girls and victim advocates describe photo studios in Oakland where girls pose in sets that look like bedrooms. Studios provide lingerie, wigs and makeup. For an extra fee, some studios will upload the X-rated photos and post online ads on behalf of the pimp. By posting the ads on sites based in other cities, pimps line up customers across the country and send the trafficked youth on "sex tours."
Youth Radio learned first-hand how easy it can be for a minor to tap into these resources. A researcher called a photo studio in East Oakland posing as someone wanting to break into the prostitution business. She was put in touch with a man--he called himself Jerry Blue--who offered to manage her online marketing. He said he could set up payments through PayPal.

She asked him if it mattered that she was only seventeen. He said "I wouldn't even mention it."
He said he would post ads to several of the popular online classifieds, including Village Voice Media's Backpage.com, where he had a "pretty good hookup" that allowed him to buy sponsored banner ads.
He also offered to upload photos.
"You can have a g-string on or whatever... but you don't want to get too nasty, because of the police, you know."
And he said he had a lot of experience writing his clients' personal descriptions on ads. An excerpt from the conversation:
"Are you a white girl, or black girl?" he asked our reporter.

She said she was Latina.

"Oh, even better," he said. "So you can be like, 'Exotic Latina Beauty' and have the little stats. And if you speak Spanish, you say 'Se Habla Espanol'. You can't refuse money from Mexicans that don't speak English, because they're going to be your number one callers most of the time. You just make stuff up off the top of your head. You make it like a Victoria Secret catalog, basically."
In a follow-up phone call, this same man told a Youth Radio researcher posing as a pimp that he could market girls up and down the east and west coast--Vegas, Los Angeles, DC, and Atlanta.
The Story of an Escort: from Kidnapping to "Rogue" Sex Work
Youth Radio's investigation of online sex classifieds found countless "escort reviews" like this one on a Bay Area review site, featuring partially nude photos of a young woman and the following description:
I have the charm of the girl next door, the sexiness of your newest crush, the sophistication of your business partner, and the youth of a college girl.
Youth Radio called the woman whose phone number was posted with the ad and she agreed to an interview if we didn't use her name. She said she is 24 years old and that while a pimp coerced her into prostitution as a teenager, she now worked on her own - a so-called renegade or rogue.
The woman said she routinely travels to Las Vegas and throughout California to meet with men who respond to her online ads. And yet when it comes to making a lot of money on a regular basis, meeting johns on the streets of Oakland's red light district - a.k.a. "the Track" - is her most reliable approach. Even if she said it's riskier.
"I mean, you're taking risks with your life anyway by being on the Internet and doing this profession," she said. "So if you're going to do it, do it big. Go to 'the Track.'"
The FBI says traffickers are also taking risks by bringing their businesses online, where their activities can be tracked by law enforcement. But that kind of police work is expensive. "Unfortunately," says Marty Parker, who works at the FBI's Oakland office, "There are too few people working in the FBI who work these cases."
Child advocates say the laws need to catch up with what's happening online and on the street because America's girls are out there day and night--for sale.

Youth Radio/Youth Media International (YMI) is youth-driven converged media production company that delivers the best youth news, culture and undiscovered talent to a cross section of audiences. To read more youth news from around the globe and explore high quality audio and video features, visit Youthradio.org.
Popular in the Community