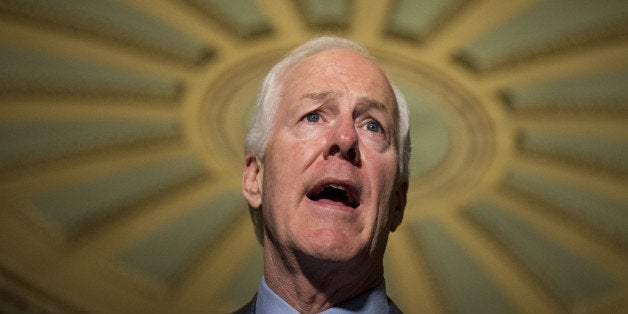 WASHINGTON -- The fate of what should have been noncontroversial legislation to crack down on human trafficking is uncertain after Democrats discovered that Republicans had slipped anti-abortion language into the bill.
The Justice for Victims of Trafficking Act, introduced by Sen. John Cornyn (R-Texas), creates a fund to help victims by using fees charged to traffickers. It easily passed the Senate Judiciary Committee with bipartisan support late last month.
But Democrats learned this week that the legislation contains Hyde Amendment language, which restricts federal funding for abortion and other health care services. They're vowing to hold up the entire bill until the controversial provision is removed.
"These provisions, my caucus did not know about," Senate Minority Leader Harry Reid (D-Nev.) told reporters Tuesday. "The bill will not come off this floor as long as that [abortion] language is in it."
Even Democrats on the Judiciary Committee said they had no idea the abortion provision was in the bill. Some suggested they had been misled.
"There was a representation that the controversial provision was not included in this bill. It turns out that it was," said Sen. Dick Durbin (D-Ill.), a Judiciary Committee member. "I don't know how that happened or who was the author of it."
"A list was sent to certain members saying, 'Here are the changes from last year.' This provision was not listed among them," said Sen. Chuck Schumer (D-N.Y.), also a Judiciary Committee member.
Sen. Patrick Leahy (D-Vt.), the committee's ranking member, chastised his GOP colleagues for using "debates about some of the most vulnerable among us to advance their own political agenda."
Cornyn had little sympathy for Democrats. He said the bill had Democratic co-sponsors, and was in the public domain for a month, giving committee members plenty of time to read it before voting.
"That leads me to believe that some of the suggestions being made now, that there were provisions in the legislation the people didn't know about, are simply untrue," Cornyn said.
Asked why abortion language was added to a human trafficking bill at all, Cornyn said the Hyde Amendment is simply the law of the land.
"All this does is maintain the status quo by making sure this Crime Victims Compensation Fund, that funds available from that fund, are constrained by the constraint that exists under all other federal law," said Cornyn.
The bill goes further, though. The Hyde Amendment is, indeed, routinely attached to appropriations bills that are approved on an annual basis. Cornyn's bill, however, is an authorization bill for five years, meaning that the abortion restrictions would be in place for a much longer period, without congressional review.
Reid spokesman Adam Jentleson argued that the bill would also "expand the Hyde amendment beyond taxpayer funds to apply to other pools of revenue such as the fees collected from perpetrators of human trafficking in the legislation currently being debated."
Planned Parenthood president Cecile Richards said women who are trafficking victims should be able to have access to safe abortions.
"A bill that was supposed to help women is instead being used to hurt women," Richards said. "The Senate should protect victims of human trafficking, but should not do so at the expense of women's access to safe and legal abortion. The majority of human trafficking victims are women and girls, and they need access to the full range of reproductive health care services without barriers."
Sen. Patty Murray (D-Wash.) said not only is wrong to tie abortion restrictions to a trafficking bill, it's "shameful."
"I know there are a whole lot of us who are going to fight hard against any attempt to expand the Hyde Amendment and permanently impact women's health," Murray said. "And Republicans know it, too."
This piece has been updated with comment from Reid's spokesman.
Before You Go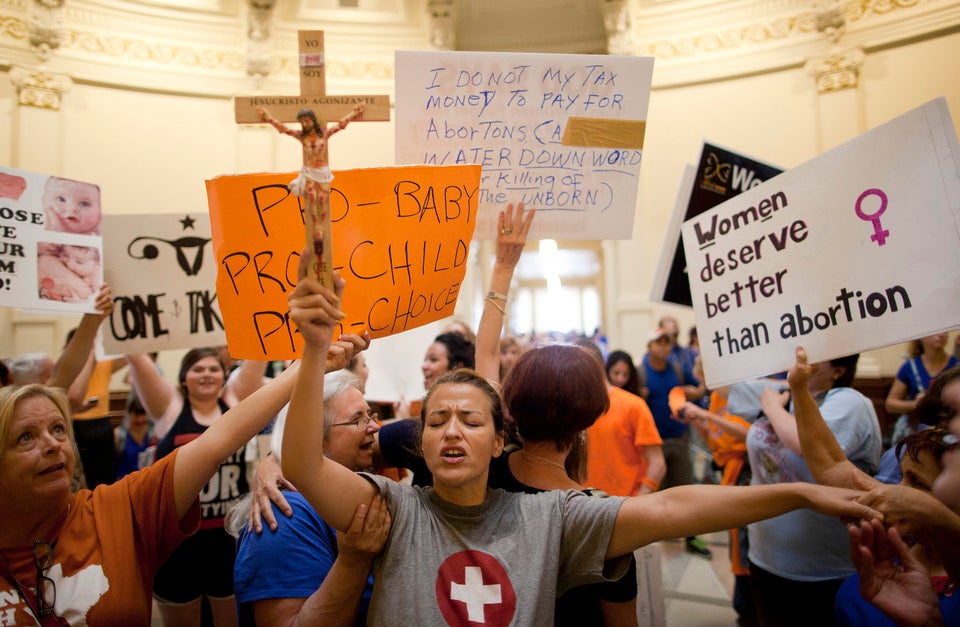 Abortion Protests Around The Nation
Popular in the Community