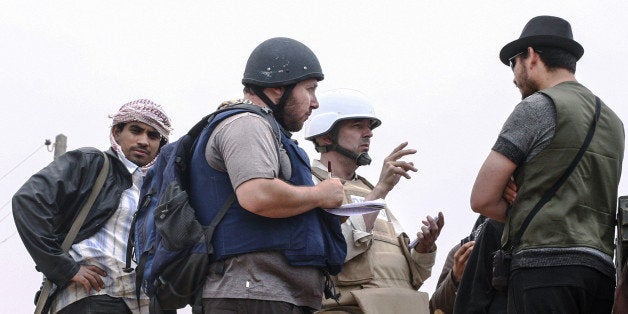 What a wrenching loss, not only for Steven Sotloff's family, but for all of us. The young journalist was just 31 years old, doing important work and what he loved in a far off corner of the world. His death feels all the more horrific not just because of the murderers method, but because they made sure the world saw what they could do... again, and with impunity -- at least for now. They are taunting and bragging, and in a most cowardly way.
There is so much in this evil-doing for us, as individuals and as a nation, to do heavy thinking about. In doing so, here's something that should not be overlooked. Young Sotloff's death -- like that of James Foley before it -- sent a chill through every newsroom in America. These indescribably horrid beheadings were meant to send a message to President Obama, however the reverberations hit especially hard with journalists and news gathering operations everywhere.
Every major newspaper editor, wire service manager or network news president heard it loud and clear: Stay away. Keep your people out. It's a message they have heard for a long time, but the stakes are so much more chillingly tangible now.
I'm reminded of the line from Dante's Inferno, "Abandon all hope, ye who enter here." That is why independent, free-press reporting today from most of Syria, and a lot of Iraq, is almost non-existent. These are places where true journalists are desperately needed to bear independent witness -- and report on -- one of the most important stories in the world. Instead, these will go largely uncovered. Who would send any of their reporters, much less their best ones, on a suicide mission? The terrorists have succeeded in making their corner of hell an enigma to the West. That they are also masters of video propaganda makes the absence of independent journalists all the more glaring and dangerous.
Sotloff, like Foley, was a freelancer, an independent contractor risking his life to tell you what is going on in the most treacherous corners of the Middle East.
The region of Iraq and Syria now controlled by the renegade band of terrorists known as ISIS is without question the most dangerous place in the world for any Westerner, but for Western journalists it is deadly.
So, how can we know what's going on in northern Syria? Western Iraq? We don't and we won't. If you're thinking this is a part of the world, and a conflict, you don't need to care about, I urge you to reconsider. We ignored Afghanistan at our peril. ISIS may make al Qaeda look like an amateur hour. Whether that proves to be true or not over time, it is -- to say the least -- dangerous. And we need all of the on-the-ground reporting by professional honest brokers of information we can get. Understanding this part of the world is critical, especially if we are on the verge of committing to a sustained military engagement.
Sotloff knew it was important. And in pieces like this published last year in Foreign Policy magazine just before his capture, he paints a frightening picture only someone who has been there, who has seen it, can capture.
I didn't know Steven Sotloff or James Foley. But we should all pause and give thanks to their memory, their work and their courage.
REAL LIFE. REAL NEWS. REAL VOICES.
Help us tell more of the stories that matter from voices that too often remain unheard.