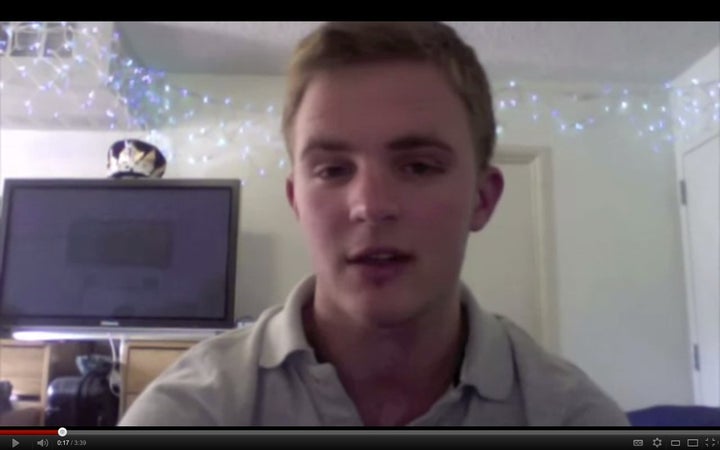 April 11, 2011: the day it all began. I sat in front of my computer, recorded a new YouTube video, and clicked "Publish" to post it to my account. I was apprehensive; I had no idea what I was getting myself into, no idea whether my efforts would be successful. What I did know, though, was that I cared deeply about this issue, and that there were others out there within Hollywood who cared, as well, and who'd be willing to put themselves on the line to speak out for the right thing, even if it was tough.
After all, putting yourself out there on an issue that, at least within Hollywood, is still extremely taboo and controversial is extremely tough, particularly when you're an actor trying to get the very establishment you're fighting to change to cast you in roles in their movies. But this is something that far outweighs any one person's career or success in the movie business; this is about saving the lives of LGBT youth, youth who need role models to stand up for them. And so a group of courageous folks came together, and the Trailblazer Campaign was born.
Looking back exactly one year later, I am extremely proud of what we accomplished. Considering we had no PR firm, no financial backing, no real infrastructure or organization, we managed to achieve some pretty amazing things. After more than 50,000 YouTube views, coverage from practically the entire LGBT news media and some of the mainstream media (including PerezHilton.com, one of the most followed websites in the world), and videos from visible faces such as Sandra Bernhard and Chad Allen, I think it's fair to say that we made a big impact in a way we couldn't possibly have imagined.
An incredible amount has changed in terms of the playing field for openly LGBT actors in the days since the campaign started. In April 2011 things were looking pretty bleak; sure, we had actors like Chris Colfer and Neil Patrick Harris starting to move things in the right direction, little by little, but we had yet to see someone huge come out, someone who could carry a film, someone whose name you might see on the top of a poster above the title, a bona fide movie star.
In the time between then and now, we didn't just get one; we got two. First, Zachary Quinto took the enormous step of coming out, right before the release of his film Margin Call (which, despite the naysayers who presented a "doomsday scenario" in which his revelation would destroy the film's chances of success, went on to be extremely successful and far exceed box office expectations). Then came Matt Bomer (who is quickly on the rise after his role in the action flick In Time, and who is about to become a megastar in the much-buzzed-about upcoming film Magic Mike, playing a straight male stripper, mind you!), who elegantly came out by acknowledging his partner and their children after accepting an award at an AIDS benefit fundraiser.
While I would never be so presumptuous as to suggest that the Trailblazer Campaign contributed directly to their decisions, I'd like to think that our campaign helped to create a broader dialogue in which this issue could be openly debated and discussed, and that we helped to create a more accepting and open environment in which these actors could finally feel comfortable enough to be who they are and no longer have the oppressive fear of career suicide hanging over their heads.
When we started out building this movement, we knew that 2011 would be a "transformation year" in which a massive social and cultural shift would take place. We wanted to be ahead of the curve and help spearhead it; we knew the tidal wave was coming, and it did. Now, in 2012, the road is brighter than ever, and we've finally cleared the way for what is ultimately the main goal: to see a young actor, out from the beginning, rise up and become his community and generation's equivalent of Sidney Poitier, a trailblazer who helps to inspire millions of youth across this country who need someone they can look up to, someone to give them hope.
There is still much work to do, and I'm going to continue working as hard as I can, both individually as an out gay actor and collectively as part of the ongoing movement we created, to make a difference. I hope that those of you who have been with us over the past year will stay active and stay passionate, and that those of you who are reading this article and learning about our cause for the first time will join us as we march forward toward equality for all people.
As the remarkable story of Sidney Poitier's ascent in Hollywood proves, idealism and faith always win out over cynicism and fear. Mr. Poitier had the courage and strength to believe in himself and his convictions, and that is what got him "over the finish line" and made him the first black man in history to ever win the Academy Award for Best Actor. "The journey has been incredible from its beginning," Poitier was once quoted as saying, and the exact same thing can be said of what we are working to achieve in this time, here, today.
It really has been incredible, and I have no doubt that it will continue to get more and more incredible as time goes by. After all, there is always a right and wrong side of history, and we know which side we are on.