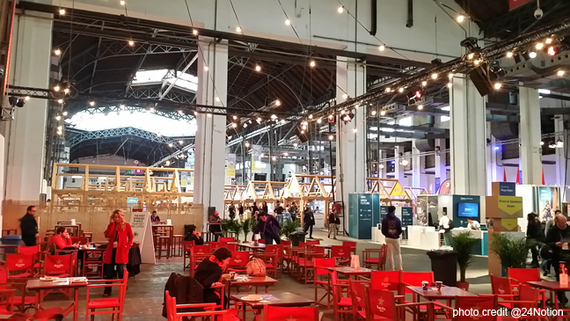 Over the last few years, I've been focusing even more on mentorship, specifically in the startup community. People who have worked with me know that I'm passionate about helping startups become trailblazers and giving back to the community, just like we do at our agency, 24Notion. It's important to pay things forward because it helps entrepreneurs to succeed plus, increases job creation and the global economy. High tech, which has had the largest amount of high growth companies, is my area of focus. I've been part of the local to global startup scene, helping new and upcoming entrepreneurs rise to the top.
A global CEO study by PwC found that 64% of CEOs are increasing investment in Corporate Social Responsibility (CSR) in 2016. I know the reason why. Giving back is my personal passion, which is why I'm excited to see over half of CEOs focusing their companies on CSR and making a difference. I want to share my journey and help others in theirs - so here are my tips on how to blaze your own trail and soar to success.
There's no secret sauce in launching your startup, but follow my 3 P's to succeed. For some products, you'll be competing with thousands of others and will have to be ready to make change at any time. It's not all about luck, though. You just need some passion, persistence and a positive attitude - those 3 P's will help you succeed even in a super competitive environment.
Gender roles don't make a difference. It might seem like a man's world sometimes, but women are just as successful. Stick to my 3 P's above and stay focused. If a woman can juggle having kids and running a business, then she can do anything.
Money is good, but creativity is better. Another myth I hear people saying is that you need money to launch a product. Wrong. Get creative in how you build your business up from scratch. I've seen some crowdsourcing campaigns that have succeeded for startups.
Make a prototype. People, especially potential investors, aren't going to just imagine your product. You have a great idea? Sorry, it won't do if you don't have something concrete to show. You should create a "working prototype."
Don't create too many SKU's. Stick to 1 type of product to launch and perfect the art of your brand to gain exposure before coming up with 5 other SKU's. Otherwise, you are just confusing the customer, and nobody is going to be successful that way.
Timing is of the essence. Whether you are launching or brewing, make it your goal to time everything right to fit the entire sales lifecycle. You don't introduce a new ice cream or gelato during winter, do you? Strategize your timing.
And, last but not least: Find the right partner in crime for launching your products. I've said it again and again that your best friend might not be a good business partner. Find someone who complements your skills and who you can trust running your startup if you had to suddenly leave.
It takes a lot of perseverance and work to become a successful entrepreneur, but keeping these tips in mind will help put you on the path for success. And once you've made it, don't forget to share your tips and experience with others. I'm happy to give back to the startup community, and I want to see you use the 3 P's - passion, persistence and positive attitude - to launch your successful startup!
REAL LIFE. REAL NEWS. REAL VOICES.
Help us tell more of the stories that matter from voices that too often remain unheard.