Inspirefest is an international sci-tech festival with diversity and inclusion at its core
This interview is part of a series on Trailblazing Women role models (Entrepreneurs and Leaders) from around the world and first appeared on Global Invest Her. You have to see what you can be.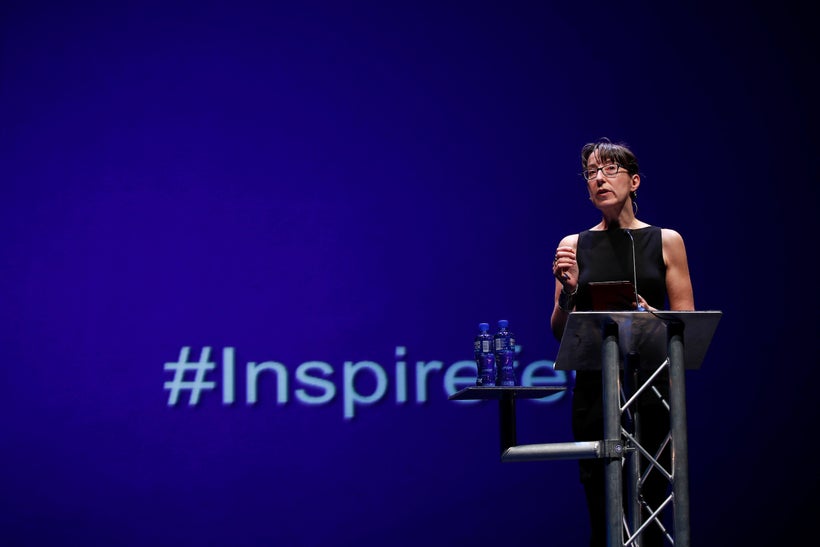 "Don't be afraid! Just do it! If you have the ambition to be something or do something, don't let anything stop you. You don't have to be brilliant at something in the beginning – you can be simply very good and learn to become brilliant. And don't be afraid to ask for help."
Co-founder of Silicon Republic, Founder of Europe's leading sci-tech festival with diversity and inclusion at its core - Inspirefest. Founder of Women Invent campaign to champion and promote the role of women in STEM (Science, Technology, Engineering & Maths). Awarded Woman of the Year, Media, at Irish Tatler Awards 2014, and Net Visionary awardee of Irish Internet Association, 2014. Honorary fellow of the Irish Computer Society, she is the first and only woman to be inducted into the Irish Internet Association Hall of Fame.
Who is your role model as a leader? 

There are just so many. If I had to pick one, it would have to be the astrophysicist Dame Jocelyn Bell Burnell who recently spoke at Inspirefest. She is such a remarkable person. She discovered Pulsar stars in the 1970's, yet her supervisors were awarded the Nobel Prize for her work (there's no question that she was the one who actually made the discovery). Today it's widely recognised in the science community as a grave injustice, but it seems to have given her that extra fight to ensure that all women who come after her, get equal opportunities, support and credit for their remarkable work. In a powerful and gracious way, she champions young women in the very male-dominated academic sphere of astrophysics. I am just lost in admiration for her as a wonderful role model in STEM. All my role models are women or minorities who remember to "send the elevator back down", to quote Kevin Spacey.
What is your greatest achievement to date? 

"My greatest personal achievement is building Inspirefest into a world-class event from the ground up with no budget, featuring incredible speakers like the great Jocelyn Bell Burnell, Cindy Gallop, Kimberly Bryant (founder of Black Girls Code), Ann-Marie Imafidon from Stemettes and Ellen Pao of Kapor Capital (speaking this year). To be doing it in Dublin, in this small country on the edge of Europe and have people come from all over the world to see 70% awesome women and minorities on stage, is fantastic."
And there isn't one woman on our stage that isn't incredibly accomplished – not a token woman in sight at Inspirefest! We also have marvellous men who are comfortable to participate in an event that is majority of women, who understand that diverse thinking is the way forward. They understand you don't get diversity of thought unless you mix it up and have every gender, age, sexual orientation, ethnic demographic and social background in the room. The innovation, ideas and connections that come out of Inspirefest, is probably the thing I'm most proud of. But also to have young women scientists and engineers come up to me and say the Inspirefest community makes them feel less lonely in STEM, that makes we incredibly proud.
I'm of a certain age (not a millennial!) and have worked in the science and technology sectors, thinking that by the time I'm 40-something, things would have changed and we would have lots more women and minorities in STEM. To my deepest disappointment, that just hasn't happened. It's why we put our blood, sweat and tears into Inspirefest, to make a difference, to provide a platform for remarkable and diverse role models, and to show that it can be done, that you can create a high-quality world-class event in Sci-tech and innovation with 70% women speakers. It gives the lie to that awful myth that pervades about 'not lowering the bar' to be inclusive. That's just BS spouted by lazy event organisers.
What has been your biggest challenge as a woman leader? 

That's a difficult one for me. From a young age, I've been quite fortunate and have been professionally drawn to find and work with people who don't do gender bias, whether that be conscious or other. I probably didn't come across the hurdles that other women I know have faced. That said, as a younger woman working in Tech, I did find it challenging to often be in the minority. I did find myself being dismissed, interrupted and patronised by men in positions of power. Generally I would have worked with people like that once and then moved on immediately. Today I would politely call it out, but as a younger woman, I was quite shy and reserved. I think it's very important when we are sponsoring, mentoring, supporting young women, that we give them the tools to politely call out bias where they see it. This can be polite but firm – it doesn't need to be the end of a professional opportunity. I think those of us who have been around a bit longer, have a responsibility to pass on these important tools. I wish I'd had them earlier.
"While the statistics are still desperately disappointing, I am optimistic though. I think in the last 5 years, there has been a sea change, but there is still much work to be done. You do still get so-called 'pinkwashing' and lip service, but there are a growing number of leaders who do understand that in order to be innovative, your organisation has to be a melting pot of difference, not just regarding gender, but all kinds of diversity. Whether your customer base is B2B or B2C, you are doing something wrong if you don't have people who look like them in your organisation."
I believe we have a fantastic window of opportunity now, which is quite short, because people are currently buying into the benefits of inclusion. The danger is that in a few years time it could be treated as just a fad, which of course it's not. We need to shake up our sectors of science, technology and innovation, and make them more welcoming of difference – everyone benefits from that. I do think there is a finite window now. If we don't normalise inclusion now, it may pass us by.
How do you grow people in your organization? 

We are a small team, working very closely together and don't have a human resources department or too formal processes. I am a huge believer in peer mentoring and reverse mentoring. The digital publishing space is so fast-moving, we all learn every day from each other. My co-founder Darren and I honestly learn as much from the team as they learn from us. It's through that principle of open innovation that we all learn from each other.
We tend to recruit based on our values and culture as much as on competencies. All our team members have similar values, not just about experience in journalism, events and publishing – but actually make a difference in the world. We have a very dynamic team and Darren and I will train together in workshops with the rest of the team. I think that's crucial, because as the leader you could lose sight of the challenges and learnings going on if you stay in your own ivory tower. I'm a huge believer in the idea that just because you are the so called 'leader', you don't know it all. It's very easy to quickly lose sight of what 's happening in your organisation, if you are not learning collaboratively.
If you could do 1 thing differently, what would it be? 

I was a terribly shy introvert when I was younger. I'm sorry that I didn't do something about that, and reach out for support and coaching to pull me out of it. I am still an introvert today, but now I've learnt to manage it and get on stage, do my talk and do what I have to do because I believe in it. That's something I try to tell younger women I sponsor/work with – if you are too shy to stand up and speak in public, then let's get you help, or training. I realised when I got older, that when you ask, people are extremely generous with their help, support and advice. I was probably far too independent in my 30's to ask for help. I do regret somewhat that, because perhaps I could have achieved more by now, had I overcome that earlier. That said, I believe regret is a wasted emotion. I tend to look to the future rather than the past, but that's the closest thing I have to a regret.
"I think bright young women in particular, find it hard to ask for help for fear of appearing weak in the workplace. If that's the case for you, then I suggest you reach out to another woman outside your own circle for help."
What differences do you notice between men and women's leadership styles?
I really think it depends. There are so many different kinds of male and female leaders and I have seen all kinds of both. If women's leadership is different to men's, I think it's principally due to historical and societal factors. Possibly because of those factors, women may tend to lead with a more open mind, and more empathetically. I really do think it's more due to environmental factors rather than something hard-wired in our DNA though. Recent research into the brain has shown the only real difference is possibly greater aggression in men, and yes, that can certainly be seen from time to time.
As we (hopefully) get to the tipping point of 30% women - on boards, in leadership teams, as managers, in politics etc – I believe leadership styles will change, as the dynamic changes between the genders. Men will raise their game to be more empathetic and women will be more confident about putting themselves forward, about being more authentic, sharing what they really think. I believe it's more about changing the workplace environment. As gender balance increases, leadership styles will change as we all learn from each other. It's very healthy for young men to see and experience more women leaders, because today they are learning their leadership styles from other men, who learned from older men before them, and so the cycle goes on. We need to break that pattern!
How would you describe your leadership style? 

I would hope my team would describe my leadership style as positive, empathetic, collaborative and values-led. I'm a great believer in people being able to bring their whole, authentic selves to work. I like to see myself as a leader who tries to understand my team, as human beings with lives ouside work, with up days and down days. When that understanding is there, you end up with a much more positive and productive work being done in the company. Like all entrepreneurs with a vision, I can be very single-minded and firm, but without being an ogre – I certainly don't believe in aggressive leadership.
Being values-led is crucial to me. I firmly believe in what Cindy Gallop says, that you can build a good and profitable business, while doing good. You can make a difference in your sector and in the world. The brightest people like to work for a company that believes its mission statement, and we do! I believe that our team stays with us because of our values as much as for the role that they do.
What advice would you give to your younger self? 

Don't be afraid! Just do it! If you have the ambition to be something or do something, don't let anything stop you. You don't have to be brilliant at something in the beginning – you can be simply very good and learn to become brilliant. And don't be afraid to ask for help.
What would you like to achieve in the next 5 years? 

I'd like to have made a major difference in the sector in which I work, to have been part of the change that ensured that brilliant young people, whatever their gender or difference, feel welcomed and supported in our industry. These areas of science and technology are where we are building and creating the future – it's crucial that we all have equal opportunity to have input or to lead in them.
3 key words to describe yourself?
open-minded
positive
determined
Can I have a fourth? Kind.
"Don't be disappointed, disillusioned or apathetic because of recent developments in the world. The only way you can make the world you want to see, is by remaining positive and determined to be part of that change. Stay hopeful and act now".
Watch Anne Ravanona's TEDx talk on Investing in Women Entrepreneurs.
Calling all HuffPost superfans!
Sign up for membership to become a founding member and help shape HuffPost's next chapter
This post was published on the now-closed HuffPost Contributor platform. Contributors control their own work and posted freely to our site. If you need to flag this entry as abusive,
send us an email
.