This interview is part of a series on Trailblazing Women role models (Entrepreneurs and Leaders) from around the world and first appeared on Global Invest Her. You have to see what you can be.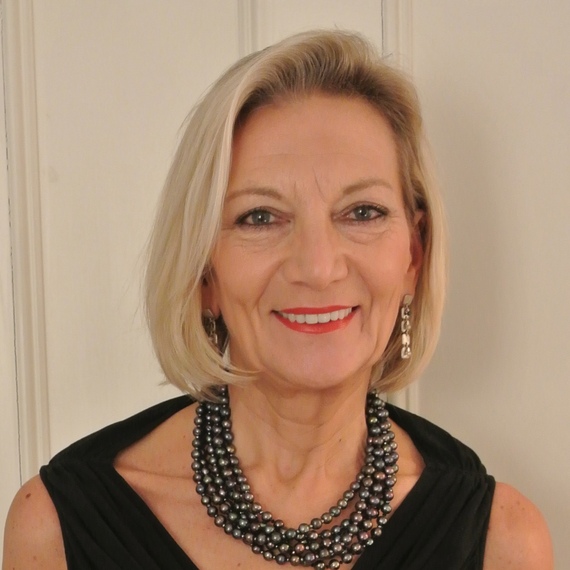 "Have total confidence in yourself and in what you want to do. Never fail to be ambitious about what you want to achieve."
Jenny Tooth OBE is CEO of the UK Business Angels Association, the trade body for angel and early stage investing, representing over 15,000 investors around the UK. Jenny has over 20 years' experience of facilitating SMEs access to investment, both in the UK and internationally. She ran her own consultancy on Access to finance for SMEs, including spending nine years based in Brussels, working closely with the EC. She has developed a wide range of investment readiness programmes, including projects supported by national and EU funding. She has also participated in a number of expert groups on access to finance and chaired the EC Knowledge Intensive Services group under DG Enterprise. In 2006 she took on the role of Director of Business Development at Greater London Enterprise. In 2009, Jenny co-founded Angel Capital Group and which incorporates London Business Angels, one of the most established and active angel networks in the UK.
Jenny sits on the Steering Group for Emerging Technologies and Innovations for Innovate UK, is on the Advisory Group for the Enterprise Research Centre , member of the Mayor of London's SME and Finance Working Group and sits on the Advisory Board for the new London Co Investment Fund. Jenny is an experienced speaker on Angel Investing and Entrepreneurship both in the UK and internationally. She has an MSc in Economics from London School of Economics and Political Science. Jenny was awarded an OBE in the New Years Honours 2015 for services to Small Businesses.

Who is your role model as a leader?
The most amazing woman in the investment community in the UK is Sherry Coutu. She is the person I admire the most as a successful tech investor. She is so amazing and has taken on real policy issues in commissioning the Scale -up report and setting up the Scale-up Institute here in the UK. She is definitely a person I would want to follow. The other role model that really stands out for me is Aung San Suu Chi - I am astounded by what she has achieved and her tenacity in the face of so much political adversity.
What is your greatest achievement to date?
Being awarded an OBE in the 2015 New Years honours. It is an amazing thing to realise that you have been recognised by your country for helping small businesses, something you are passionate about.To have that kind of public recognition and receive the medal from HRH Prince William at Buckingham Palace was truly mind-blowing. In work terms, that has definitely been a stand out for me. My personal achievement is having two amazing children and a wonderful husband!
What has been your biggest challenge as a woman leader?
Because I am not a young entrepreneur and have been around a long time, I think my biggest challenge has been to make one's voice and capacity clear in terms of the significant contribution you can make as a woman in this space. As women, our capacity is different, because we bring different talents and insights. Because the financial services sector has been an area that is largely male-dominated, with a set culture and knowledge around it, we need to enable our individual identity and personality to come through in whatever we are doing.
I think that's true of all walks of life, but when you are from an area that has had such a strong ethos around it, our biggest challenge has been how to create a clear opportunity for women to break through. Women are starting to come through in financial services, especially in more entrepreneurial areas like fintech, but there is also more to do to enable more women to get into leading positions on boards.
How do you grow people in your organisation?
I have never been part of big corporate hierarchy - I have always worked in a small business context. When you are working with small numbers of people, you have to expect a huge amount from them because we don't have layers of responsibility. I expect people to be very flexible and incredibly multi-tasking and in response to that, I am very appreciative of them, their skills and the time they give. It's important to congratulate them, pat them on the back and show that you care for what they are giving back to the organisation. I give them tasks that will be incredibly challenging, where they may have to stay late. Recognising that people learn through experience, means you have to allow them to do some things badly as well, while helping them through that. Although, in a small business, mistakes can make a bigger impact than in a larger firm.
If you could do 1 thing differently, what would it be?
If I could do one thing differently I would try not to work 7 days a week! I would tell other women to avoid it as it is an incredibly bad habit and something I am trying really hard to wean myself off.
When you are running your own business, you get into the terrible habit of being totally available and on the job, because it's your passion. If I could do something better, it would be to have a much better work/life balance. One piece of advice I would give is to try to get that right earlier in your career!"
What differences do you notice between men and women's leadership styles?
I think that women are more people-oriented. We are constantly concerned that people work with us and we want relationships to work. I think that's what differentiates us. Overall, men's leadership styles are more hierarchical. They like to have people work for them, as opposed to with them, although it often depends in the area in which you are working. I see the most fantastic collaborative working through the creative industries, with men who have built fabulous teams and brought great women alongside them. I think the new workspaces that are emerging, where people do work more collaboratively together, is helping to change things. It's interesting how the working environment is evolving and therefore influencing those patterns of behaviour too.
How would you describe your leadership style?
I like to think that I am not an overbearing, person and that I am a very people-friendly leader. I see my leadership style as collaborating, partnering, not commanding. I think that is fundamental. One has to build alignment and allegiances around what we do to be able to lead. I don't seek to command respect, I seek to collaborate and therefore do things in partnership with people.
What advice would you give to your younger self?
Get the work/life balance right! I would have liked to have been clearer in what I wanted to do when I was younger. I meet so many fantastically focused young women nowadays and wish I had that focus then. I was very exploratory in my career. If I had found my passion early, I would have been more easily satisfied.
I worked in Brussels for many years when I was younger and I think I would have liked to have worked in other countries like the United States or South East Asia. I think it would have been so inspirational to have spent more time outside Europe, in another working environment.
What would you like to achieve in the next 5 years?
I want to see the UK Business Angel Association really grow into the capacity it really has to be the leading player and voice for the angel community across the UK. I'd love to have at least 3 times the size of our team to be able to fulfil our growth objectives.
I want to see a tripling of the number of women investors in this country. We need to have at least 30% women investors if not more. In order for angel investing to really fulfil it's objectives to bring both finance and expertise, skills and talents to early stage businesses, we need a really diverse investor base. I'd also love to think that women entrepreneurs had achieved as much access to finance, help and support as their male counterparts. I want to see as many women-led unicorns and women-led successful businesses coming through in this country.
3 key words to describe yourself?
Dynamic
Inspirational
Deeply friendly and caring
-------------------------------------------------------------------------
Watch Anne Ravanona's TEDx talk on Investing in Women Entrepreneurs.
Calling all HuffPost superfans!
Sign up for membership to become a founding member and help shape HuffPost's next chapter