This interview is part of a series on Trailblazing Women role models (Entrepreneurs and Leaders) from around the world and first appeared on Global Invest Her. You have to see what you can be.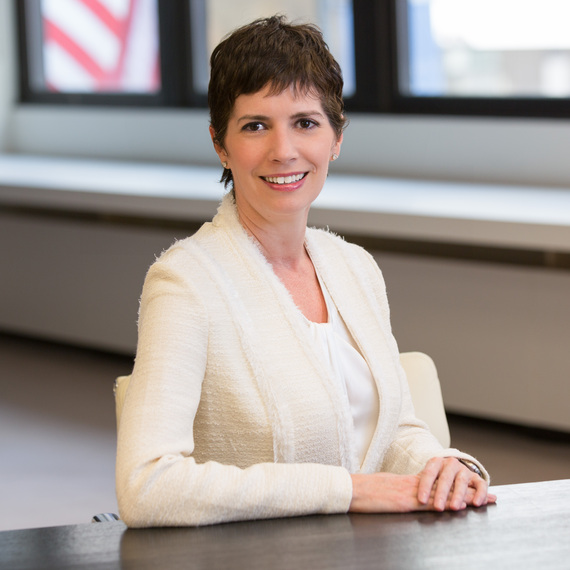 "Stay positive and keep moving forward. It's the only way we are going to make a change. There are too many things we can look back on, overanalyse and study. Enough of the negative introspection, let's move into action."
Connections and opportunity, explain how Kelly Hoey has become an investor in emerging tech companies and sought-out speaker. She's a networking expert whose first book, a modern roadmap to networking is being published by Tarcher Perigee (Penguin Random House). With a reputation for providing practical and actionable networking guidance, Kelly empowers with frameworks to take opportunities to the next level of growth. "Stop committing random acts of networking" is her frequent (and favorite) advice.
Co-founding a startup accelerator in 2011 then an interim CMO role with a startup are part of her career journey of reinvention into the world of startups and innovation. In addition to her portfolio of angel investments (Levo League, Hullabalu, Smigin, CloudPeeps, SQL Vision, flowthings.io, Jekudo), she is a LP in Laconia Capital Group.
Kelly is an Inc.com columnist and appears regularly as an investor panelist on CNBC's Power Pitch. A skilled moderator, she has guided conversations with leaders in technology, investment and innovation part of Apple's in-store Meet The Innovator speaker series. Kelly is sought out for her unique perspective into networking and community building, addressing members of the European Commission and audiences at SXSW, IEEE Women in Leadership, PGA Championship, The Walter Cronkite School of Journalism, Bank of America, Disruptors (Dublin), MoDev, MINC (Malmo), ArabNet (Beirut), ATECH (Aruba), Tech Venture Conference, TiECon (Ottawa) and Women In Tech Summit, amongst others.
Listed by Fast Company and Business Insider for her social influence, she has been sought out by for projects with brands such as The New Yorker, HSBC, Coca-Cola, ECCO, P&G, PBS, L'Oreal, HBO and New York Life.
Kelly's motto is "invest in the change you want to see in the world." She is an acknowledged leader in the startup community for actively investing in women. In 2011, Kelly co-founded the first startup accelerator focused exclusively on fast-tracking the growth of early-stage mobile technology ventures with gender-diverse founding teams. Kelly continues to advise emerging technology companies and actively mentors startups through select startup programs and initiatives. She is an adjunct professor at LIM College in New York City. In addition to these professional pursuits, Kelly is the Chief Tech Ambassador for the YWCA of NYC's Girls Geek Club.
Previously, Kelly was immersed in the professional services world, initially as a corporate attorney, and then in management, leading the development of a global law firm's alumni, professional development and women's initiatives. In 2009, Kelly became the first president of the women's business networking group 85 Broads
One of the most important things for me, is seeing other people succeed. That's where I truly get happy. My role model as a leader is Glenda Bailey, the Editor-in-Chief of Harper's Bazaar. I had the good fortune of hearing her speak about when she took the job at Harper's Bazaar. It was the first time in her career that she had not worked for a British or European fashion publication. She took the job at Harper's, moved to New York City then immediately had to fly back to London for Fashion Week. Arriving at the shows Glenda found she was now sitting on the opposite side of the runway (to where she had always sat), because now she was employed by a U.S. publication. As Glenda tells the story, she looked across the aisle and upon seeing a familiar face, she waved. What happened next, shocked her. The entire front row waved back at her! It was at that moment Glenda realised what she had done in her career. Sitting across the aisle were all the editors-in-chief of all the important British/European fashion magazines and she had mentored all of them! I'd like to have that career legacy. The other thing I love about Glenda, is that she is always dressed in a party dress. When she was asked why, Glenda replied: 'I always dress for cocktails!' So for me, the greatest leader is anyone who pulls up other people to succeed.
What is your greatest achievement to date?
"To date, my greatest achievement has been my ability to ride the career waves, shift direction and navigate change. We always fear change, but if I look back on my life, it's all about shifting tectonic plates. So my greatest achievement has been reinventing myself."
The second greatest achievement, is finally believing that I can be that leader. When I was younger, there was a question I would say to people: Picture a rockband. Who are you in the band? Lead singer? Drummer? I used to say that I was the roadie or the backup singer, because I never wanted or sought the limelight. Whether that was my own belief or one that people put in my head, who knows, but on the basis of that I think my second greatest achievement is I now need to be the role model other people see in me. Believing I am that leader is a big achievement.
What has been your biggest challenge as a woman leader?
Now, it feels like the challenges for me are fewer, as my career has had many twists and turns. I consistently give these pieces of advice to younger women:
Build your expertise, be that expert in whatever field you choose
Build your network
Build your bank account
What's more powerful than being able to pursue your own ideas because you don't need somebody's money? Because I have built those 3 things, I can say what I want. Knowing I have the expertise and the network, what's the worst thing that can happen? I'm currently writing a book, so what's the worst case scenario? For example that my book flops or that my investments don't work? Fine, I'll get a job (and yes, an executive recruiter called recently to offer me a job which sounded awfully close to what I was doing back in 2004). For me, my worst case scenario, is tossing in the towel and doing something my heart isn't invested in.
I get asked a lot about sexism in the tech industry. I'm 50, so I've got a lot less problems about being a woman in tech than many women younger than me! How you eliminate challenges is to put yourself in a position of strength and there were times when I was not in a position of strength. One of the challenges for me earlier in my career was the role people assumed I filled (i.e. was I working on the weekend because I was the "secretary" or was I there to be the lawyer?)
"The challenges of staying strong when there are things that are constantly chipping away at you and making you doubt your leadership, are particularly hard for women. It may be someone doubting your ability or asking why you are in the room. Those things can chip at you and knock you off your true north of where you are supposed to be headed."
I have the biggest crush in the world on Warren Buffet. Here's why: he knew what he needed to do and where he needed to be, in order to be successful. That's why he went back to Omaha because he couldn't do what he wanted to do in NY. I try to cultivate that intense self awareness of how and where I need to be in order to succeed. As a woman leader, I want to be taken as seriously at his age as he is! When I look at women leaders, I see that we diminish their power with age. I would like to see a change to that.
How do you grow people in your organization?
At this point, it's by example. That's all I can do. I really like to see people succeed and I want to show them how they can do it for themselves. I don't want to tell people how to do their jobs, I want to inspire them to do it their way.
If you could do 1 thing differently, what would it be?
We won't talk about my two marriages! The one thing I would do differently: I would have become technologically savvy a lot earlier. A smart short-term career strategy for me was to not be tech savvy. I graduated from law school in '91, when technology with respect to women in the workplace, was very much looked upon as the support, administrative word-processing function. I had a situation, where other than the senior partner on the deal, the guys on the team assumed I was there to be the secretary. The senior partner looked at these guys and said 'if you idiots didn't get a secretary, you'd better learn how to type fast, because Kelly is not here to be the secretary'. Plan A is where my mentor stepped in. Plan B was utter ignorance of anything technology - from arranging a conference call to assembling a spreadsheet. In hindsight, I should have taken an enthusiastic interest in technology much sooner.
What differences do you notice between men and women's leadership styles?
How we describe them - that's a big issue. When people describe a woman leader in gender terms, eg 'she's a b****, she was shrill,' I say to people - "tell me in non-gender terms what it is you do not like about this person." Give me something other than a stereotype.
"I think our biggest problem is that we describe the actions of men and women differently (and therefore value contributions differently). We have this perception of who a leader is, based on all sorts of attributes that have nothing to do with actual leadership (height, gender, race, age). It's about time we started focusing on actual actions of leadership."
How would you describe your leadership style?
Being a leader is a privilege and a responsibility. I don't take it for granted. I haven't sought leadership, but now realizing that people see me as a leader, I feel a responsibility to be the leader people see, and continue to lean in. If we want to change things, women have to stay in the game. Whatever else happens in my life, I feel a responsibility to stay active and involved in the business community.
What advice would you give to your younger self?
"Dear Kelly, we know how much you like shoes, but maybe you should put more money into your investment account!"
Actually, I would have told myself "create some more options for yourself." I would have become a lot more investment-savvy earlier in my career. I'm from the era of "put money aside for your retirement." I think now the era is one where you put money aside for your life, in terms of what is the life you want to lead and pursue. If I go back to my 3 key pieces of advice, having the expertise, network and bank account makes life a lot different. It leads to many more choices."
What would you like to achieve in the next 5 years?
When I look back on my journey so far and all the changes and transitions, I realize I'm now back in the building blocks of a new phase. The next phase is getting book one out and seeing what I can build from that. I think about how I can continue to support the issues, values and initiatives I care about in new and expanded ways. I'm looking on the horizon to what the next phase can be, because there's probably some other career transition in the cards for me!
3 key words to describe yourself?
optimistic
mentor
role model
Watch Anne Ravanona's TEDx talk on Investing in Women Entrepreneurs.
For other interviews with Trailblazing Women leaders on Huffington Post Read More Here
Calling all HuffPost superfans!
Sign up for membership to become a founding member and help shape HuffPost's next chapter