This interview is part of a series on Trailblazing Women role models (Entrepreneurs and Leaders) from around the world and first appeared on Global Invest Her. You have to see what you can be.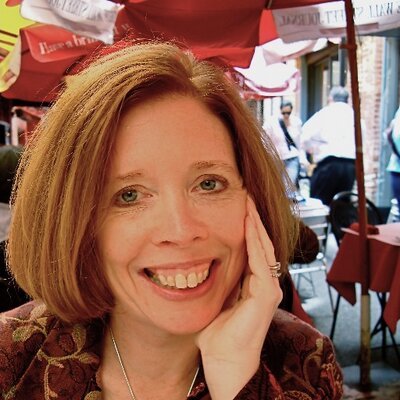 "Earlier in my career, my biggest challenge was understanding that all forms of success are not identical and I didn't need to look or behave like successful men. I could be my own person."
Leslie Jump has over twenty-five years experience building, advising and investing in new companies, products and brands, in the US and across the globe. She is the Founder and CEO of Startup Angels, a platform to inspire and enable new angel investors around the world. Prior to that, she was a Partner in Sawari Ventures, LLC, a Cairo-based early stage venture capital firm investing in entrepreneurs across the Middle East/North Africa. She continues as an advisor to Flat6Labs, Sawari Ventures' dedicated startup accelerator for seed stage investments. Leslie also serves on the Board of UP Global, a network of entrepreneurs and startup community leaders, and Ubongo, a social enterprise that creates interactive edutainment for children in Africa. She is an alumna of St. Johns College (Annapolis, MD/Santa Fe, NM), and serves on its Board of Visitors and Governors.
Who is your role model as an entrepreneur?
Two people stand out: Austin Ligon and Marc Nager. Austin is most famous for being the Founding CEO of CarMax, a Fortune 500 company he spun out of Circuit City. Today, CarMax is a $9 billion company, that's very tech-driven despite not being a technology company. What I admire about Austin is that he is someone who has been able to create enormous commercial success while at the same time inculcating a culture that sees people as human beings.

I also admire Marc Nager, the Founding CEO of UP Global (formerly Startup Weekend, now owned by Techstars), the nonprofit that supports startups and their communities. I served on their Board. One of the most exciting things about the organization is that a couple of guys in an apartment started it about 8 years ago and now there are over 300,000 people in 110 countries who have participated in a Startup Weekend, with over 7,000 volunteers leading it. They created a movement helping people understand that anything is possible no matter where you are. While attending their events I've met some of the top volunteers who gathered from around the globe - everywhere from Damascus to Dublin to Detroit.

What is your greatest achievement to date?
I was fortunate to be part of the leadership team when the commercial Internet was launched. It was 1994 and within 10 weeks we were shipping software (the equivalent of Microsoft Outlook). We launched the first e-commerce site and helped ignite the spark of more broad based interest in the Internet, raising collective consciousness to where it is today. We did the first OEM deal for the Netscape browser (with Marc Andreessen) and helped put them on the map. That's one thing I'm very proud of.

Another thing I'm proud of is being part of a group accelerating technology entrepreneurship and startup investing in the Middle East. When I began working actively on this in 2007, there were only 5 VC funds with $120M under management in the region (excluding Israel). We launched our firm, Sawari Ventures, in 2011, as well as Flat6Labs an accelerator which now has 6 locations, just as the Arab Spring started. Now there are 50 funds with $1B funds in the region. This entrepreneurial ecosystem is part of the fight against extremism and terrorism and it's very exciting to be a part of that.

What has been your biggest challenge as a woman entrepreneur?
Earlier in my career, my biggest challenge was understanding that all forms of success are not identical and I didn't need to look or behave like successful men. When I was in my 20's I worked for an incredible woman who would come to work looking like someone from the cast of Dynasty. This was the age of the power suits and she always looked amazing. She taught me it was ok to be a full-on woman and be successful in this very male-dominated industry.

Now as an entrepreneur again, in my early 50's, my greatest challenge is getting out of my own way. You know too much and have seen so many things. My co-founder graduated from college in 2010 and everyone who works for me is under 30. Working with people from different generations helps me a lot to not get caught up in my own analysis.

What in your opinion is the key to your company's success?
I'm a 'people collector'. I love understanding people and putting them in context. Before I met my husband, who was a Senior US Diplomat in the Middle East, I knew nothing about that part of the world, so I decided to learn as much as possible about it. I was nurtured to learn this way at home, but I also went to St John's College where the entire curriculum is prescribed (obligatory) and every subject is taught through the Socratic method. The combination of being naturally curious, enjoying engaging with people, and feeling like there is no subject matter I can't take on if I want to are all traits that have led to a lot of success.

If you could do one thing differently, what would it be?
Recognizing when I've had enough. There is a line between tolerance and insanity. We've all been in places in our career where you work like crazy -- to a point of going overboard -- and think you are being ambitious. There were definitely moments in my career where I have been guilty of that and it's resulted in less-than-ideal decisions at times. Now I try to hit the reset button on myself, take vacations, workout regularly and do things I need to do for myself, husband and my family. It's important to recognize your own limits.

What would you say to others to encourage them to become entrepreneurs?
Encourage and celebrate your natural curiosity. A lot of people have great ideas or think about things and think 'that can't work' or 'I live in a society where that's not acceptable'. What defines a successful entrepreneur versus other people in the world is that they are unwilling to let any of those things stand in their way. I think that the two countries in the world who are off the charts for entrepreneurship are the United States and Israel. What both countries have in common is that they are filled with immigrants. It's linked to risk tolerance - being willing to throw away everything that is familiar.
How would you describe your leadership style?
I've been told that I am like the toughest university professor you will ever have, which is probably true! I'm pretty demanding and ambitious for my team and myself. One of the things that blows people over when they first start working with me is my own personal output. That can be a flaw and you have to be really careful about that. Another strength is that I'm very empathetic. I'm in the trenches with them. Empathy helps me to look holistically at an individual and understand how to best work with and support them.
What advice would you give to your younger self?
Don't take it all so seriously! For most of us, what we do every day isn't a matter of life and death. I remember having an early conversation with the UP Global guys. They were worked up about something and I said, "Time out. Were shots fired? No, was tear gas fired? No. Did somebody die? No. It's been a good day! Don't worry about it so much".


What would you like to achieve in the next 5 years?
I would like to lead a group of people interested in transforming the way early-stage investment happens across the globe. I am convinced that the system for early-stage investing in technology is fundamentally flawed. If you look at it as an asset class, it doesn't work and it drives all kinds of negative behaviors. Unfortunately, those behaviors get the majority of airplay and some angel investors feel they need to imitate that. But the reality is that venture capital only goes to 1% of companies, and it only works 1% of the time.

The bottom line is there are a huge number of entrepreneurs around the world -- 95 new companies being formed every minute. But the number of investors and the amount of capital is highly consolidated in a few places. If you look at venture capital, almost half of the world's venture capital is in Silicon Valley. This flaw in the system in the way it works. People need to understand that there are smart people, capital and innovators in every city. If you get them to throw off the constructs that exist in the newspapers and tech journals, and think about what you need to do to grow a company, they'll create new models and ways of doing it that are relevant in their local markets.
3 key words to describe yourself?
Smart
High energy
Empathetic
---------------------------------------------------
Watch Anne Ravanona's TEDx talk on Investing in Women Entrepreneurs.
REAL LIFE. REAL NEWS. REAL VOICES.
Help us tell more of the stories that matter from voices that too often remain unheard.