This interview is part of a series on Trailblazing Women role models (Entrepreneurs and Leaders) from around the world and first appeared in Global Invest Her. You have to see what you can be.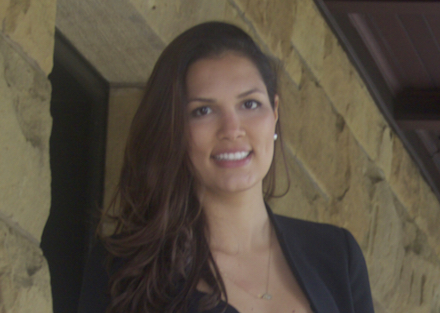 "Have faith in yourself and your potential - everything is possible! Don't look at what you don't have. You are much more than who you think you are. Don't limit yourself!!"
Lorrana Scarpioni is the CEO and co-founder of Bliive, the world's largest network of time exchange. Global Agenda Council in Creative Economy and Global Shaper from World Economic Forum. MIT TR35 Brazil winner, Bachelor's in Law and Public Relations; also studied Management at Stanford University and Human Rights and History of Political Ideals at University of Lisbon, Portugal. As a social entrepreneur, developed social projects in women's health and poverty reduction. Today she is leading Bliive's operation in Brazil and United Kingdom, supported by UK Trade and Investment initiative Sirius Programme.

Who is your role model as an entrepreneur?
Because I am a social entrepreneur, I have always had activists as role models. For example, I always had a strong connection to Martin Luther King, who spoke up for a cause he believed in that was just. I also admire Bunker Roy who created the Barefoot College in India for poor people. He has a lot of knowledge in the energy field. Other entrepreneurs who inspire me are Richard Branson because he dreams big and is fearless.
I love the way that Jessica Alba (the Honest Company) is working with strong values, in a way that I also want to keep our values strong too. I like the way she's developing her business as a woman entrepreneur. She is young, is beautiful and her company is very successful, doing something that a lot of people thought was silly and that the market would not have space for this. She was not taken seriously at first and look at her now!

What is your greatest achievement to date?
Getting 100,000 people to know that a new type of time currency is possible, is my biggest achievement as an entrepreneur so far. When I started the project, it was all about telling people we can live our lives differently. Sometimes the way we make decisions/our drivers all revolve around money. We tell people that money is not the only way to live new experiences, develop services or develop themselves. I am proud to tell people that all this is possible through collaboration. Everybody has a talent and something to give. On a personal level, I am very happy that I am still learning, developing and building myself into the person I want to be, where I can add value to the world. I see myself still growing and this very important on my journey. I'm not done yet.
What has been your biggest challenge as a woman entrepreneur?
For me now, it is running a company with different sides to it. The first part of our business model is focused on companies and universities offering time-sharing exchange groups to their employees/students. We customize our platform for them. The second part of our business model is exchanging with brands too.
I didn't start this company to make money. I started it to change the world. A big challenge is how to stay connected to that why and to share with others about the collaborative economy and how people can value themselves, their time and talent.
For the past year and a half I have been doing sales, which has been challenging, as I am a lawyer by trade. You are always running to make the business model happen, to pay the bills and keep the your cause running. Sometimes you are so connected with business that you can forget the cause, and why you are doing it. My biggest challenge is to always remember the 'why'. We want to change the world, where people collaborate with each other in a more collaborative way. Also, I travel so much with my job and have been to the US, Dubai, Europe and all over Brazil. I am involved with the World Economic Forum and will be travelling to China and Abu Dhabi for that in the autumn. I love travelling, but not having a routine is also a big challenge. It's difficult to find a balance, be healthy and sleep enough! To me, having a relationship with God is important. Sometimes we easily negotiate the best for our company, but other times you need to think about yourself.
Take time to read, sleep, spend time with yourself and your friends, otherwise, if you keep going without stopping, you will not be you anymore.

What in your opinion is the key to your company's success?
The way we inspire and empower people at the same time. Time is an asset everybody has. If you use it wisely, you can get things done. Stop complaining that you don't have money -- there is a different way!
It's easy to say you can live a different more collaborative life without money, where you are valuable and your talents can be shared. You can inspire people easily with that, but to empower them is a challenge. It's about showing them the way to share their talents, skills and getting things done using collaboration. Our platform does both - we inspire and empower people and show them the way give you the power to do good things using time as a currency. We are such a money based-society. When there is a crazy startup in Brazil telling people that time can be a new currency, people can easily share and believe in this. Our values are very clear on our platform and communications and the way that we value people.

If you could do 1 thing differently, what would it be?
I would communicate better. When you travel a lot and have a big team, sometimes you are rushing and have no time to chat or explain things better, build relationships vs just sharing checklists with one another. Sometimes I felt that my communication was not good because I didn't invest enough time to communicate with everybody. It's important to understand each other's expectations and it is very important to care, especially when you are working remotely. It's a big challenge! I need to learn how to communicate more and better.

What would you say to others to encourage them to become entrepreneurs?
I love the entrepreneurial life.
It's incredible that you are free to have an idea and make it happen. If you believe it, you can do it. It's a lot of responsibility, but it's a very interesting way for you to feel in charge of your life. Develop a strong relationship with yourself and know your impact on the world.
In a normal company, your boss needs to approve resources and budgets. This freedom to create and be mad sometimes is great! It's about knowing who you are and what you are capable of. You also need to know how your mistakes affect other people. Use your strong points to be a better person. Entrepreneurship is all about going out of your comfort zone. You can feel empowered. It doesn't matter if your company grows or not, you will know what you are capable of.
How would you describe your leadership style?
I love the 'servant leadership' style, where you get the best out of others by making them feel valuable. I really use this style, especially when I am with a co-located team, face to face, where I can build connections. It's so good to recognise people on a daily business. When I'm working remotely, I use a more inspirational style, where you inspire people, share your vision, show your best side. I miss being with people. Now that I am doing more remote team working I help my team connect with our vision and mission about why Bliive is so important for the world.
What advice would you give to your younger self?
Enjoy the journey! We keep focused on the prize eg when we will have Xmillion users, when we will get this type of funding... I have already lived through so many nice steps, being a global shaper, winning prizes, meeting so many nice people all around the world.
Sometimes I don't live in the moment because I am thinking about the future. So I would tell myself to enjoy the journey and just be happy with what you have. All the things that are happening to you are so nice that if you lose them and let them go by because you are thinking of the future, you will regret it.
Enjoy those small beginnings. The other thing is to align your expectations with those of others. Everyone has expectations, so get very clear about your expectations and make sure everyone is clear about what they expect from each other.
What would you like to achieve in the next 5 years?
I want to reach over 1 million users exchanging time using our Bliive platform! To have a company with a strong value proposition for both the client companies and the people who are the end users of the platform. I want to have a company that I see adds value to the world. Later I want to also build an NGO from the company and build a social business in the company to share the profits. I want to see Bliive have an impact in other fields of social change. I also want to become a better entrepreneur and have more balance in my life. To serve others and do things that make me feel happy. Bliive is on a long journey and we have a lot to do over the next 5 years!
3 key words to describe yourself?
For other interviews with Trailblazing Women leaders on Huffington Post Read More Here
Calling all HuffPost superfans!
Sign up for membership to become a founding member and help shape HuffPost's next chapter