An Interview with Nancy Duarte, Principal of Duarte Inc.
This interview is part of a series on Trailblazing Women role models (Entrepreneurs and Leaders) from around the world and first appeared on Global Invest Her. You have to see what you can be.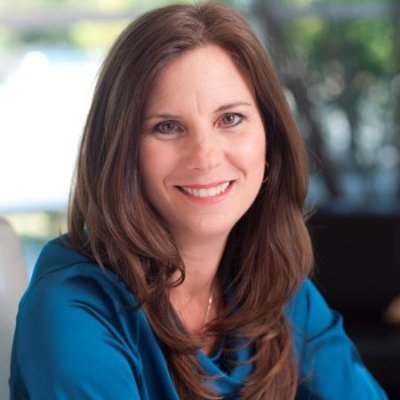 You can have a great idea, but if you don't communicate it well, it will go nowhere. We need to be more careful in how we communicate and not just what.
Nancy Duarte is a communication expert who has been featured in Fortune, Forbes, Fast Company, Wired, Wall Street Journal, New York Times, LA Times and on CNN. Her firm, Duarte, Inc., has created more than a quarter of a million presentations for the world's most influential businesses, institutions, causes and authors. As a persuasion specialist Nancy developed a unique methodology, which applies storytelling and visual thinking principles to business communications that shift audience beliefs and behaviors. Her latest book, The HBR Guide to Persuasive Presentations, is currently HBR's most purchased guidebook.
Duarte, Inc. is the largest design firm in Silicon Valley, as well as the fifth largest female employer in the area. Nancy has won several prestigious awards for communications and entrepreneurship, and was awarded "Entrepreneur of the Year" by the University of Southern Mississippi in 2013. She has been a speaker at a number of Fortune 500 companies and top business schools, and teaches classes at Stanford University several times a year.
Nancy has 20 years of experience working with global companies and thought leaders, and her firm has influenced how the world perceives some of the most important brands, including Apple, Cisco, Facebook, GE, Google, HP, TED, Twitter, and the World Bank. Nancy is the author of three award-winning books. The HBR Guide to Persuasive Presentations provides tips to help business communicators create powerful messages and visuals, win over tough crowds, and strike the right tone in any situation. Resonate: Present Visual Stories that Transform Audiences identifies the hidden story structures inherent in great communication, and spent more than 300 days on Amazon's Top 100 Business Book bestsellers list. Slide:ology: The Art and Science of Creating Great Presentations teaches readers to think visually and has been translated into eight languages.
Nancy has three grown children who walk in their destiny and a husband who has loved her for over 30 years. She has two grand-dogs, Bear and Necessity.
Who is your role model as an entrepreneur?
I had nobody for a long time. I was buried working in my business not on the business and didn't have time to reach out and pull people into my hurricane. I hired a President in 2006 and decided to go on a journey of my soul. When at a TED event, a beautiful woman came in, dressed in an Indian Sari. She was looking for executive women from Silicon Valley to go on a trip to India. India had been on my to do list for years and I went on the trip with 10 other women who became my soul sisters.
These women were all very successful, VC's or top executives on the board of Fortune 500 companies and they poured their life into me to make me successful. We have become so close and call each other to help each other. I used to avoid hanging out with other women and felt they could be whiny and complain about their husbands. I used to think that women created drag, until I found a tribe.
This tribe keeps me sharp, keeps me on the straight and narrow and makes sure I'm only focusing on what's best for my business. They are not afraid to call me on things that feel off base. I can easily get excited about things, it's my entrepreneurial nature and they remind me if something is too far from my business, that it's a distraction. They don't just care about my business success, they care about me, making sure I have balance, the tools I need, that I meet the people I need to know. They are deep friends, who help me be successful in my job and are my inspiration. They make me confident and comfortable in exploring new business models for my business.

What is your greatest achievement to date?
I am most pleased with my children. As women, we go through so much guilt and questioning -- was I a good mom? Was I there enough?
I have three grown kids, a son, a daughter and a son-in-law. They can look you in the eye with massive conviction that they are walking in their destiny. They all have this 'I can change the world mindset' and that for me, means that I did OK. It means that they liked and admired that I worked, and actually enjoyed the table conversation about my job and what I was struggling with. They learned a lot.
I don't know that I realized or accepted that I was successful for a long time. I think that's because I was raised in poverty and came from a poverty mindset. I felt I was running and running towards something and never knew what would be the moment that would prove to myself that I had arrived. I think as women, we don't care only about ourselves, we care about the greater community. I deeply care about my 135 employees. When I leave the office, I look at every car in the parking lot and say, what can I do next to ensure everybody that works for me can make their car payment. I never stopped to say, wow you made it, because I don't know what that looks like! It's one of my goals to say 'you made it!'

What has been your biggest challenge as a woman entrepreneur?
I don't feel that my gender has played any role in my success or lack thereof. I used to think that women who talked about a glass ceiling were weak because I was the external consultant. At my own firm, I built an atmosphere without gender bias, so I lived in a kind of bubble. When I got to know this tribe of women executives and heard their hardship in the corporate world, I realized this ceiling must exist. That's how much of a bubble I was in!
As a young 28-year-old, I was very comfortable going in to speak to a CEO and advise him what to say and how to say it, I was comfortable in my own personal sense of authority. I only have a high school degree so I think everything about me is an anomaly. I wanted to thrive in business so badly, I read all the latest strategy books and Harvard Business Review magazines. I always had fresh knowledge and was ready to bring the newest insights into CEO meetings. People just assumed I was competent.
What is interesting is that men are better at 'posturing' while they are winging it, while women tell people 'I'm just winging it.' Now I feel called to be an advocate for women who feel being a woman in business is a struggle. We are hosting 'lean-in' circles for women in our company. I want to invest in my high potential women of child bearing age, get them into a high position of power and salary, so that they choose to come back to work here. I never want to be told that I have gender bias in my own company.

What in your opinion is the key to your company's success?
We solved the problems of an incredibly painful medium. There was a big vacuum of great presentations. We also worked very hard at serving the client. One of our values is, 'the show must go on and be great'. That client has to walk on stage and feel confident and amazing. We would do anything we needed to do to make that happen, even if it meant showing up at their rehearsals with sheet marks on our face from not getting enough sleep!
I feel that I am a 'seer' and have prophetic imagination which helps me clearly see the future. I know beyond a shadow of a doubt, where my team needs to be in six months. I can confidently say the general direction we all need to march in 5 years. We have had 7 different re-inventions in 25 years and they have all been right. I am a currently writing a piece about what it's like to be a business prophet.

If you could do one thing differently, what would it be?
I would hire people smarter than myself sooner. Once I could afford to hire people smarter than myself, I set myself free. Now I'm getting to do the things that energize me every day at and they do too. As entrepreneurs we can fall into the trap of wanting to do everything ourselves, because we are pretty good at a lot of things.
I was so overwhelmed when we had 36 people. So I hired a general manager who observed me for a couple of weeks and then started to write job descriptions based on what he saw me do. Each time he wrote a job description to take off of me, I would take it home, read it, weep and mourn the loss of that role in my life. I knew if I didn't consider it as dead to me, I would try to control the person who was going to be hired to do it. That was a pivotal moment in my life and company, when I started to let go of roles where someone else could do it much better than me.
What would you say to others to encourage them to become entrepreneurs?
Run the other way unless you have determination of steel! It takes a lot of moxie (courage) and obsession. My husband would say sometimes he comes in second to my love for my business. That doesn't sound encouraging! (laughter). I absolutely love what I do and who I am. How I can take an invisible concept and make it real. How I can change policy and truly change lives. You put so much of yourself into it and that also comes at a cost. You need to have some return at the end or else it's just not worth it. With great risk is great reward. I've had a company fail gloriously and know what that feels like too.
I would say you have to be very good at falling down, skidding your knees and getting right back up into the race. It's a special temperament and you need to be wired a special way.
How would you describe your leadership style?
I'm driven, yet inspirational. I try hard to keep people inspired. My direct reports would say my style is like a hummingbird -- I'm very non-linear. My team reports on what's going on and then I 'hummingbird' all over it. I have my own development plan because I tend to think out loud and am learning to be more effective 1:1. I'm a heartfelt communicator but am not an empathetic one. I'll jump in and start talking without considering how others may receive my thoughts. I was raised by a narcissistic mom and research says that narcissists are missing the 'empathy' gene. Now, my body of work is about how to have empathy and I am personally working hard on that. That's a big personal project for me to be a more intentional listener as my mind tends to wander off into the future, due to my visionary side. It's hard for me sometimes to have empathy about the present because the future is so fascinating to me, in my head! A leader's role is to be more future-facing than present-facing. A CEO is like a scout-of-the-future and then you need to build an executive team in your organization who is more fully present. I'm fully future and my president is fully present and it's a great way to operate.

What advice would you give to your younger self?
The first 7 years of my marriage I tried to change my husband to be more like me. I wish I had spent those 7 years differently. Once I realized that the thing that attracted him to me was that he was my opposite, and I let him be himself, he became more beautiful to me.

What would you like to achieve in the next 5 years?
I would like grandchildren, but that's completely out of my control! I want to calm my workload down a bit, so I could have more family time. Granted, that'll be tough to do, because I'm now looking at launching a software company! The reason I'm launching it, is because I want to have the 10x to 100x return so that I can give a good financial return to the Duarte employees who have worked so hard over the past few years. My next book is co-authored and might be the last one that has my name on it. I may endorse books and there are a few 'Duartians' who are writing some books at the moment that fit in the presentation space and I'm excited about that. I feel like I am entering a season of raising up others, which is really fun. As my beloved employees have taken on more responsibility for running the company, it makes me a very happy lady. Let's see how it goes.

3 key words to describe yourself?
liberator
conqueror
communicator
For other interviews with Trailblazing Women leaders on Huffington Post Read More Here
Popular in the Community