This interview is part of a series on Trailblazing Women role models (Entrepreneurs and Leaders) from around the world and first appeared on Global Invest Her. You have to see what you can be.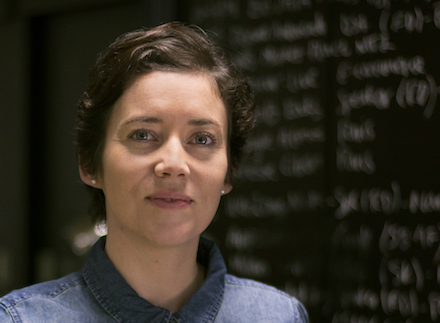 "We are only at the beginning of technology and what we can achieve to craft a better world. I want to be part of shaping that."
Rachel is the General Manager and co-founder of BIME Analytics, a pioneer in SaaS Cloud Business Intelligence (BI) startup originally located in Montpellier, France. BIME Analytics was recently acquired by Zendesk in October 2015.
As a young, female financial controller she saw a real business need for BI tools in the age of Big Data, leading her to found BIME in 2009. The company offers true cloud BI service and was the first front-end analytics partner of Google BigQuery. Prior to BIME, Rachel held finance positions at Carrefour and FM Logistics Russia. She holds a Master's finance degree from the Euromed business school in Marseille.
Who is your role model as an entrepreneur?
My role models are: Elon Musk, Jane Poynter, Marie Ekeland, three folks from Denmark who created a unicorn in a very short amount of time in California (Zendesk cofounders!), and Calamity Jane. I am a big fan of space opportunities as a business and what people are trying to achieve there. Elon Musk is investigating options on Mars to also ensure his own children have enough resources when there will be too many people on Earth! Jane Poynter - I love the type of business she is building where everyone will be able to afford a trip into space in future! She did it to shock people, because those who do go to space realise how fantastic our world is and that we really need to preserve it. Getting more people into space will hopefully shock more people into action to realise we are living on a fantastic planet and we've got to protect it.
Marie Ekeland is a real role model for me. She is a French investor who is passionate about investing in startups and watching them grow. She has been very vocal with the French government to make sure that companies are heard. Marie is a very smart, approachable woman who has that fantastic mix of human magic, pure business and finance who has been very helpful to startups in France. I really like the fact that she started her own fund (Daphni) with more humanity and is a strong women's advocate too. Finally, Mikkel from Zendesk is a role model for me. When they acquired us, they were only two years older than us! It's crazy to see how you can build a business that motivates the team, keeps customers happy and remains cutting edge. My final role model is Calamity Jane! I love what she represented by wearing mens' clothes and helping Native American Indians - she was such a role model from Frontierland, when it was so difficult for a woman to assume that role.
What is your greatest achievement to date?
"I am very proud of creating real value for my customers and jobs for my growing team. The fact that the whole team of millennials stayed on with us after we were acquired by Zendesk and that after five years we still have the same people on board is something I am very proud of."
It's an everyday struggle to keep our team happy, which we do by sharing our ideas and vision. Millennials can be hard to manage because they are so smart, yet they bring out the best in you. This year, several members of the team have had babies - it's wonderful to see the team growing with you - literally!
On a personal level, I was so frustrated that our solution didn't exist, that wecreated it ourselves with my cofounder. I am very proud that our customers liked BIME (now Explore as part of Zendesk) from a technology and branding point of view and that our loyal team believes in our vision and sees us all growing. We all know why we get up in the morning - it's a virtuous circle! We try to stay as normal as possible, while keeping a close eye on the big picture too.
What has been your biggest challenge as a woman entrepreneur?
We work in a very male-dominated industry and I took advantage of being a woman to stand out and make a difference in this analytics world. It's hard to smash the clichés - already the software industry is very male dominated, and the analytics space even more so; there are even fewer women there. To be honest, I haven't seen a big difference in then number of women going to analytics conferences from 2009 to today: there are very few women CEO's and women speakers on the topic. It's a pity. In the past, at some meetings with new prospects, many of them didn't realise I was the CEO and would say things like "you are so passionate about your product, your boss must be so proud of you" So many clichés in two sentences! When I told them I was the CEO, they were so surprised. It happens so often, that now I say to myself, 'that's life'! So now I use my gender to my advantage to stand out in this industry, while at the same time not over-playing the fact I'm a woman. I never try to be a victim - I always stand up for myself as a woman.
What in your opinion is the key to your company's success?

The fact that we have managed to keep the same team for so long means we have been something right!
Three things have been key to our success:
1. Internal Communication. Always try to improve it.
2. My cofounder's vision has been key from a technology/product standpoint.
3. Good execution with a long-term and loyal team.
Nothing's perfect, but we always try to give the right communication at the right time, be as transparent as possible and keep everyone in the loop. When we were first approached for the at the acquisition, we took the risk of telling the team early in the process, to show them we really trusted them. Good communication is an everyday fight - the more you grow, you need to have communication on a daily basis. We followed our vision from the beginning. A lot of people say you have to really listen to paying customers - we also kept our vision and stuck to it, shared it with the team and made sure they followed it. This transparent communication and bringing talented people to the team to help us sell and grow have made us what we have become.
If you could do 1 thing differently, what would it be?
I would have spent more time on marketing execution from the beginning. Even though we are based in France, we mostly sold our solutions abroad and built everything in English from the start (not French). We were very creative with the resources we had before Zendesk. When you build a business on a global scale you need to have global markets on the other side too. The reality is that companies in the U.S. are better funded than companies in Europe. I should have approached that differently and would have invested in global marketing, sooner. The whole world is your playground when you have a cloud business, which is great in terms of opportunities but you need global marketing as well! I also discovered how you have to adapt your global marketing in different countries.
What would you say to others to encourage them to become entrepreneurs?
I have two personal mottos:
"On est jamais mieux servi que par soi meme" => "if you want something done right, do it yourself."
"la valeur n'attend point le nombre des années" => "value does not depend on how old you are."
My younger sister (10 years younger than me) is thinking of starting her own business and was stressing out a lot about how much she didn't know what to do. I told her - think about the problem you want to solve and the product first - you don't need to know everything. You may think you need to go back to school and learn via classes but that's bull**** All you need is talented people and execution - don't spend your time with your head in books - don't be afraid you are too young or old to start! If you are willing to work, are smart, creative, you can start a fabulous business - be sure to focus on execution.
How would you describe your leadership style?

It's important to stay humble and keep your feet on the ground. Stay humble enough to execute tasks at all levels, while being bullish on important and strategic topics, challenges & targets. When I heard the French President Hollande was going to California with several entrepreneurs, I told my team that we had to be part of this trip, even though it had all been set up. I worked so much on it (= harassed the President's team!) and I did it - was part of the French Delegation representing BIME. My team didn't believe it. I wanted to show them that if you want, something, you can do it! This trip gave us a lot of credibility. It also taught my team that you can always hustle to get things done, don't be afraid to be pushy (without crossing the line and harassing!).
What advice would you give to your younger self?
"Focus on these things in this order: People, product and profit. You won't find the entrepreneurship recipe in books. Spend your time building your product first, be confident in your vision and execute your business asap, go fast. ..and listen to your paying customers, not the other ones."
With my co-founder we won an award from the Ministry of Research that we were able to leverage to on-board business angels early in the process, so I knew I didn't need to be fighting for money to build my business. Be careful not to spend all your time on raising money because it's more fashionable - in reality - it's all about the problem you want to solve and your product to solve it.
What would you like to achieve in the next 5 years?
Make my family happy (am the proud mother of two beautiful children).
Become a great business angel.
Become the de-facto online analytics choice on a global level...which is happening thanks to joining forces with Zendesk.
We have the same culture fit and vision about analytics, which is enabling us to get from A to B more quickly. I love the fact Zendesk took a bet on us - for me it's like a 'modern wedding'. I am now the General Manager of Explore (former BIME Analytics ) at Zendesk - this is where I want to be and feel at ease to spread our analytics message to the world.
3 key words to describe yourself?
Passionate (life is short right ? )
Team first
Execution
Special mention to my cofounder (who is also my husband).
Watch Anne Ravanona's TEDx talk on Investing in Women Entrepreneurs.
Calling all HuffPost superfans!
Sign up for membership to become a founding member and help shape HuffPost's next chapter