An Interview with Prof. Susan McKenna-Lawlor, Leading Irish Scientist and founder of Space Technology Ireland.
This interview is part of a series on Trailblazing Women role models (Entrepreneurs and Leaders) from around the world and first appeared on Global Invest Her. You have to see what you can be.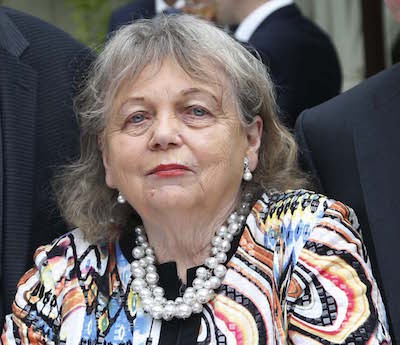 I would like to invite all the Irish people, including those making up our diaspora, to join in the excitement and adventure of building and operating Ireland's first spacecraft. This is a mission for EVERYBODY, not just our scientists and engineers but also our poets, musicians and --- sponsors !!!

Ní neart go cur le chéile - there is no strength without cooperation. »
Professor Susan McKenna-Lawlor D.Sc. Founder/ Managing Director of the SME Space Technology Ireland Ltd. (1985-present). Principal Investigator for Ireland's EPONA experiment on the Giotto mission to Halley's Comet (1986). PI/Co-PI/Co-Investigator for experiments launched/to be launched by five space agencies (European, American, Russian, Chinese and Indian) to such destinations as: the Moon; Earth; Mercury; Mars; Venus and Jupiter. Developed mission critical hardware for Rosetta's Philae Lander on comet 67P Churyumov-Gerasimenko. Member of the Lander Steering Board. Leader within the International Academy of Astronautics of a Cosmic Study concerning the effects on humans of space radiation. Author/co-Author of over 250 refereed publications and several books.
Read her Full Bio : Full Bio Susan McKenna-Lawlor. June 262015 . For more details on sponsorship and partnership opportunities for Ireland's first spacecraft, please email Professor McKenna-Lawlor at stil@nuim.ie

Who is your role model as a leader?
Since I have not travelled the road least travelled but rather the road that had not been travelled before in Ireland by a woman, I have no role model.
Also, I believe that people should not try to model themselves on another person. In the Jungle Book Man Cub is told by an ambitious animal "I want to walk like you, talk like you etc." If you reflect on this who would want to emulate that kind of mindset?
What is your greatest achievement to date?
There have been a number of occasions which made my heart sing. Just now I am exceedingly excited by the performance of the Electrical Support System (ESS) which has handled communications between the Rosetta Orbiter and its Lander Philae during a ten year Cruise Phase to, as well as on the surface of, comet 67P/Churyumov-Gerasimenko. The ESS, which was designed and built by my Company Space Technology Ireland Ltd., is classified as Mission Critical Hardware and it was a very gratifying thing to be told by the tracking team that, throughout the Cruise Phase and during landing operations, the ESS always responded "very sweetly" when called upon to issue commands to the ten Lander experiments aboard Philae as well as to collect the precious data acquired by these experiments during 58 hours of science operations on the cometary surface.
What has been your biggest challenge as a woman leader?
I do not particularly like the term "woman leader". I consider myself to be a leader and that is that. On the day that an experiment is brought to a Space Agency the questions that are asked are: is it working and is it on time? Not 'what is the gender of the person making the delivery'?
Thus, I did not before and do not now see a challenge in being a woman in what up to very recently was called a man's world. I just do it.
How do you grow people in your organisation?
I let them be themselves and take responsibility for what they do. Sometimes a person will walk through my door and say " this one I cannot solve it is for you" and I then intervene and consider how we can best address the problem together.
If you could do 1 thing differently, what would it be?
I am not really in the business of "what if". I do what I can as well as I can at the time and do not speculate on what might have been.
How would you describe your leadership style?
"Softly softly" although people refer to me sometimes as 'the lady with the steel backbone'.
How would you describe the difference between men and women's leadership styles ?
Every man and every woman has his/her own style. I would not generalize.
What advice would you give to your younger self?
Do not assume that somebody else knows better than you do about a particular issue. Look at the advice and at the experience behind it and judge its value for yourself.
What would you like to achieve in the next 5 years?
"I would like to implement my plan to involve students and young people in the schools in constructing and operating the first Irish spacecraft."
This would provide them with the skills required to function, with their contemporaries abroad, in state-of-the-art space science as well as within the space industry.
3 key words to describe yourself?
Reliable; In the business of building, delivering space destined instrumentation it is important to reliably fulfil one's part of the complex jig saw of tasks that, taken together, make up a particular mission. There is no room for error or delay so one should be a reliable contributor.
Imaginative; I like to think "outside the box" and to come up with innovative ideas - not to follow trends.
Cultured: I try to keep the two pillars of civilization (the sciences and the humanities) balanced in my life. In this context music, poetry, history, archaeology etc. add background richness and colour to my personal endeavours in the fields of space science and technology.
For other interviews with Trailblazing Women leaders on Huffington Post Read More Here
Popular in the Community